BNOTEBOOK IN BLOOM
CUADERNO EN FLOR
Onirial Color
Onirial Color

Monday, 3 Dec 2018
Este es el resultado final de una idea sencilla que me rondó la cabeza por mucho tiempo pero que por algún motivo encontraba difícil de ejecutar: reinterpretar las piezas de joyería en porcelana de mi colección Onirial con color.
This is the final result of a simple idea that haunted me for a long time but, for some reason, I found difficult to execute: reinterpret the pieces of porcelain jewellery from my Onirial collection with colour.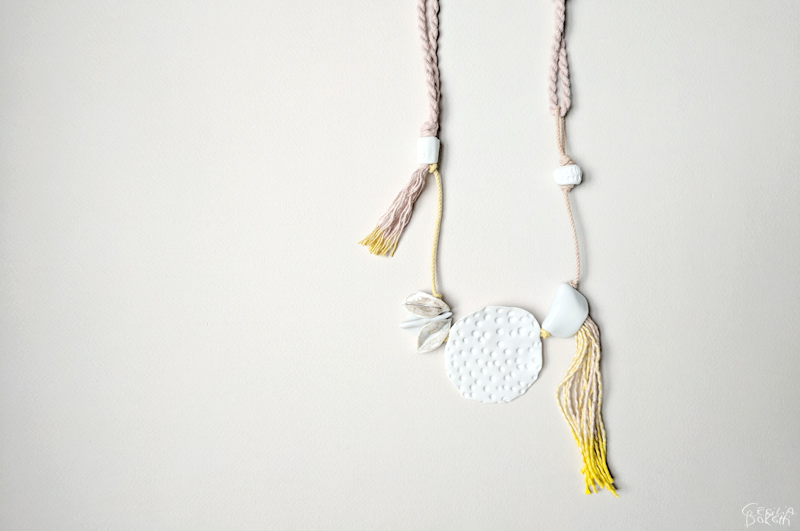 Collar Strelitzia, dijes de porcelana esmaltada y cordones de algodón teñidos con palta y cúrcuma.
Strelitzia necklace. Handmade and glazed porcelain beads and cotton cords tinted with avocado skin and turmeric powder.
El primer intento se llamó Tropicalia pero pronto pude comprobar que, a pesar de partir de la idea de trabajar con tonos oscuros, las piezas que comenzaban a salir a la luz tenían una clara relación con la colección Onirial y finalmente no pude resistir la tentación de, simplemente, recrear esas primeras piezas con dijes esmaltados y cordones teñidos con tintes naturales. Paradojicamente, cuanto más intentaba repetir aquellas formas, ideas nuevas llegaban.
The first attempt was called Tropicalia but soon I could see that, despite starting from the idea of working with dark tones, the pieces that were coming to light had a clear relationship with them and finally I could not resist the temptation to recreate those first pieces with colour glazed charms and laces tinted with natural dyes. Paradoxically, the more I tried to repeat the original forms, new ideas arrived.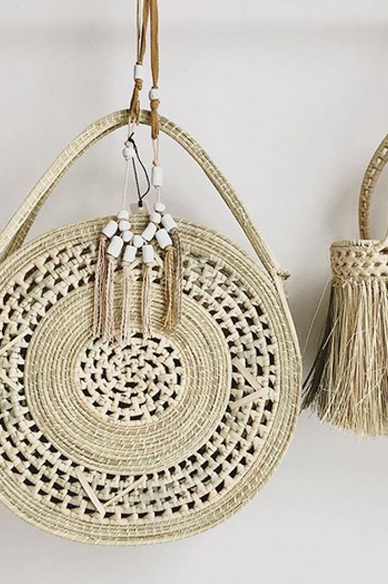 Cuentas cilíndricas y cordones con tintura de cáscara de cebolla junto en Merecido.
Cilindric beads and onion skin tinted cotton cords at Merecido.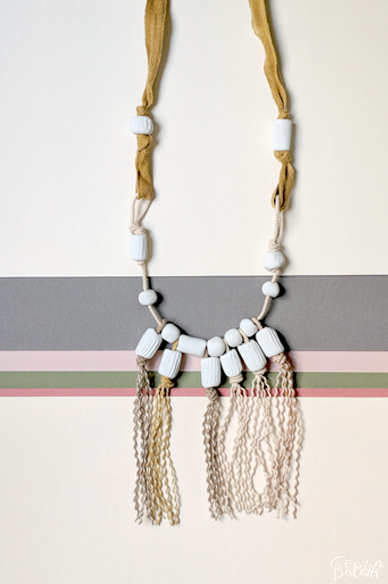 Cilindros de porcelana y flecos de cerca.
Porcelain cylinders and fringes close up.
Las primeras piezas de esta nueva serie fueron realizadas para Merecido Home Decor, la tienda creada por la fotógrafa María Eugenia Daneri, muy apropiadamente ubicado en el paseo porteñao Rue Des Artisans.
En Merecido, María Eugenia presenta una selección de objetos hechos a mano que ella va recolectando en sus viajes y en sus recorridas por los talleres de artes y oficios de Buenos Aires.
The first pieces of this new series were made for Merecido Home Decor, the store created by the photographer María Eugenia Daneri, very appropriately located on the Rue Des Artisans. There, she presents a selection of hand-made objects that she gathers in her travels and in her visits to the arts and crafts workshops in Buenos Aires.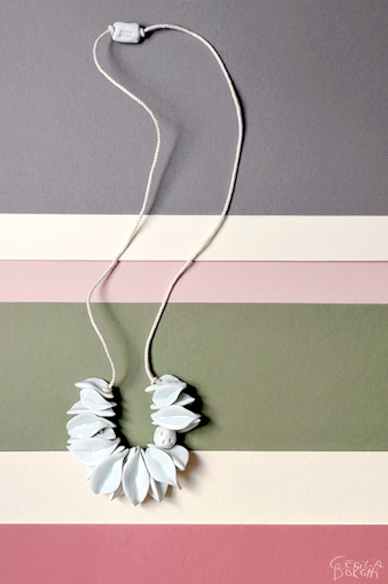 Una de las piezas originales de Colección Onirial con esmalte celeste pálido.
One of the original designs from the Onirial collection in a pale blue glaze version.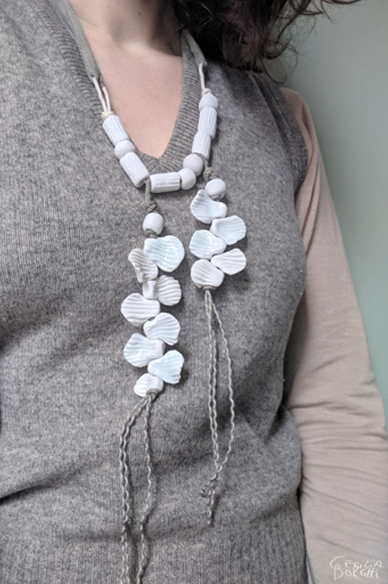 Collar Glicina, con cordones teñidos con nogalina y sales de hierro.
Wisteria necklace with cotton cords tinted with walnut and iron salts.
Pero, a mi modo de ver, la novedad está en la forma en que María Eugenia los presenta, alejándose de la estética rústica que tradicionalmente caracterizó a los objetos artesanales, ella les da una vuelta de tuerca creando combinaciones sofisticadas y sensibles, privilegiando una paleta de colores claros donde predominan los tonos rosas, púrpuras, verdes secos y amarillos.
But, in my opinion, the novelty is in the way that María Eugenia presents her selection of items, moving away from the rustic aesthetic that traditionally characterized artisanal objects, she gives them a twist by creating sophisticated and sensitive combinations, privileging a palette of light colours where pink, purple, dusty green and yellow tones predominate.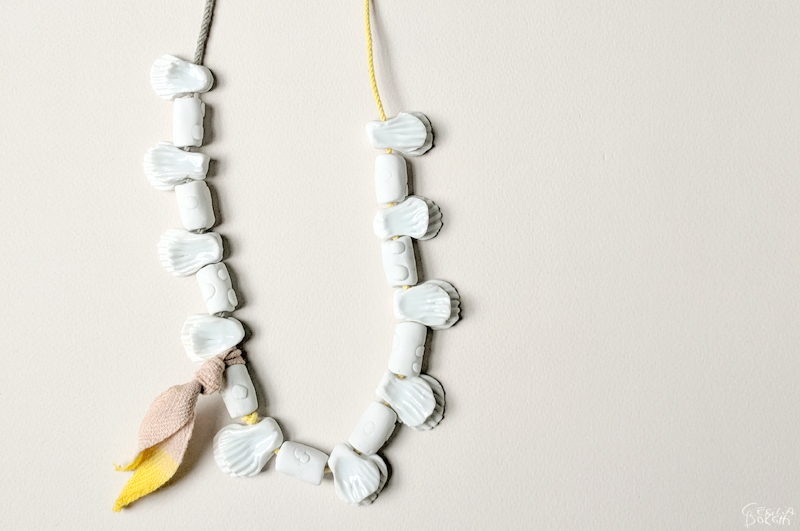 Collar Pez con cinta bicoclor teñida con palta y cúrcuma.
Fish necklace with avocado and turmeric tinted ribbon.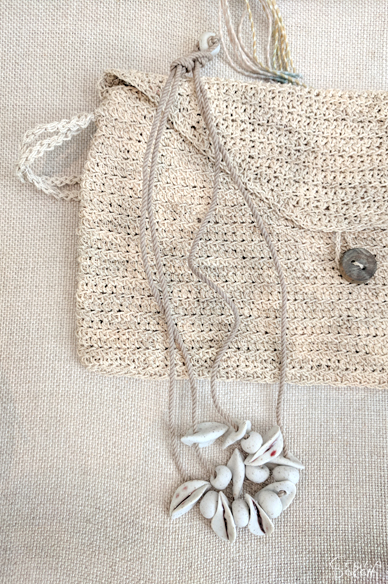 Collar Hojas con dijes esmaltados y cordón teñido con Nogalina junto a bolsas tejidas a mano en Merecido.
Leaves necklace with glazed beads and dyed cotton cord at Merecido.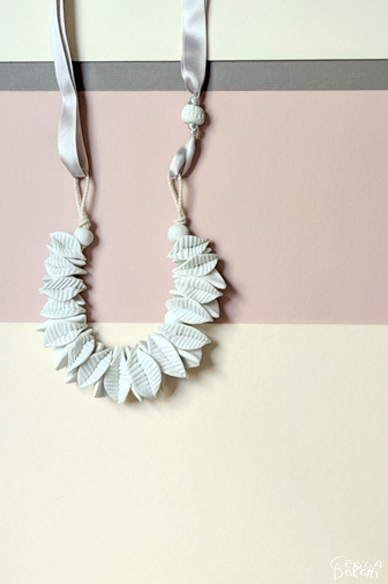 Versión texturada del collar Fronda grande con cinta de raso teñida con vino tinto.
A textured version of Fronda large necklace with satin ribbon tinted with red wine.
Las primeras cinco piezas de Onirial Color ya están disponibles en Merecido Home Decor:
Arenales 1239, Rue Des Artisans, Recoleta, Ciudad de Buenos Aires.
The first five pieces of Onirial Color new series are already available at Merecdio Home Decor:
1239 Arenales st., Rue Des Artisans, Recoleta district, Buenos Aires.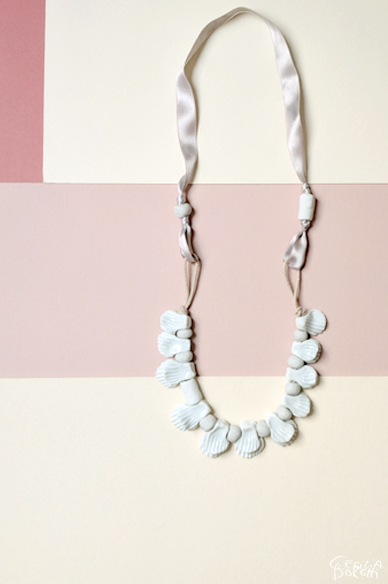 Pétalos de porcelana esmaltada, dijes esféricos pigemntados y cinta de raso teñida con nogalina.
Glazed porcelain petals, pigmented beads and satin cord tinted with walnut dye.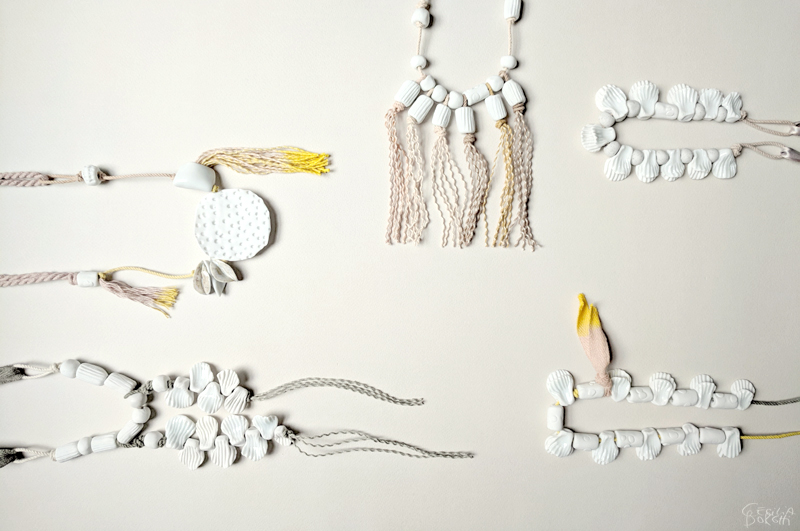 Las primeras cinco piezas de Onirial color ya están disponibles en Merecido.
The first five pieces from Onirial Color porcelain jewellery series are available at Merecido.