BNOTEBOOK IN BLOOM
CUADERNO EN FLOR
Anemones
Anémonas

Thursday, 18 Aug 2016
"I discovered in nature the nonutilitarian delights that I sought in art. Both were a form of magic, both were a game of intrincate enchantment and deception."

"Descubrí en la naturaleza las delicias de lo inutilitario que buscaba en el arte. Ambos son una forma de magia, un juego intrincado de encanto y engaño."

Vladimir Nabokov, SPEAK, MEMORY.


En mis años de estudiante de pintura me obsesionaba poder combinar áreas perfectamente planas con otras trabajadas de manera clásica con relieve y sombras. No tenía una explicación, una tesis. No era algo nuevo o algo inexplorado, era simplemente una habilidad técnica que deseaba adquirir para plasmar mi mundo propio.

Fui del óleo al acrílico pasando por el temple, experimenté con pastel tiza y decidí que no me gustaba el pastel al óleo.
Años más tarde dedicaba horas a enmascarar la tela con diseños intricados hechos en cinta de papel para obtener zonas perfectamente planas que se integraran a la composición general a través de tramas.
A veces sentía que lo había logrado, pero nunca quedaba completamente satisfecha.

Lo que buscaba era un espacio plano, quieto, que tuviera el poder de contener la fuerza cargada y barroca de los temas que me gustaba representar (retratos, bailarinas, edificios, barcos, bodegones, paisajes, jardines, según pasaban los años).
Apenas unas semanas después de decidir que solo colores poderosos como el rojo o el negro podían cumplir este propósito comprobé que también el rosa brillante y el violeta claro funcionaban perfectamente.
No había llegado a ninguna conclusión...
"I discovered in nature the nonutilitarian delights that I sought in art. Both were a form of magic, both were a game of intrincate enchantment and deception."

Vladimir Nabokov, SPEAK, MEMORY.


In my student years I was obsessed about making paintings that combine perfectly flat areas with other more classically embossed ones. I did not have an explanation or a thesis. It was not something new or unexplored, it was just a technical skill I wished to acquire to shape my own world.

I went from oil painting to acrylic, I experimented with pastel chalk and decided that I did not like the oil pastel.
Years later I spent long hours masking the canvas with intricate designs made on paper tape for perfectly integrate areas of plain colour to the overall composition through frames.

Sometimes I felt that I had accomplished it, but I was never completely satisfied.
I was looking for a flat, quiet space that had the power to contain the force and Baroque themes I liked to represent (portraits, dancers, buildings, boats, still lifes, landscapes, gardens, as the years passed).
Just a few weeks after deciding that only powerful colors like red or black could serve this purpose I found that also the bright pink and light purple worked perfectly alright too. Ihadn't arrived to any useful conclusion...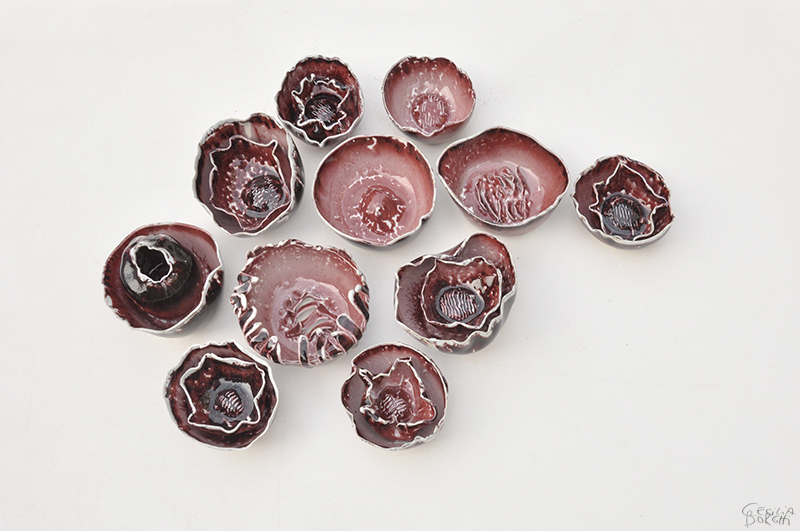 Años más tarde, trabajando en la fábrica de mi familia aprovechaba la moldería para hacer mis primeras flores de porcelana, flores gordas, llenas de pétalos texturados y cubiertas con los tonos oscuros y de tinte color sangre de los esmaltes que mi papá desarrollaba.

Y cuando tuve que decidir de qué manera mostrar estas piezas, colgarlas en la pared fue la solución más lógica para mí, porque asi se mostraba todo lo que había hecho durante once años de corridos de estudiar pintura.

Por su puesto no había aportado nada nuevo al mundo del arte, pero para mí era un descubrimiento importantísimo, porque de pronto tenía todo lo que tanto había buscado: un tema perfectamente detallado, con su volumen, sombras y colores y un enorme plano liso para compensarlo: la pared.
Years later, working at my family's porcelain factory I took advantage of the materials avialble to make my first porcelain flowers, fat flowers with textured petals filled and covered by the dark tones and blood-colored glazes that my father developed.
And when I had to decide how to display these pieces, hang them on the wall was the most logical solution for me because it was the way I had showeds my work during eleven consecutive years of painting studies.

Of course I had not brought anything new to the art world, but for me it was a very important discovery because, suddenly, I had everything I was looking for: a theme perfectly detailed, with its volume, shadows and colors and a huge flat surfice to compensate them: the wall.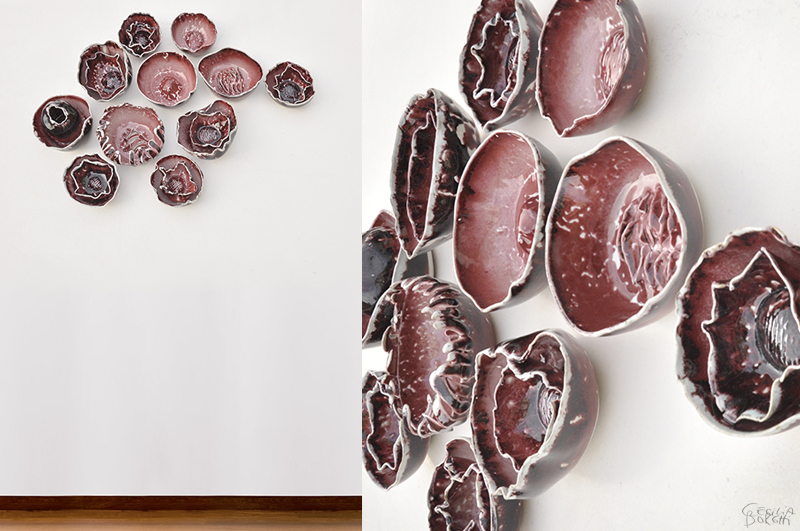 Aunque exhibí mis flores sobre paredes tanto claras como oscuras, de a poco empecé a sentir que el blanco funcionaba a la perfección para mis porcelanas ya que los esmaltes a base de óxidos revelaban las arístas de las piezas dibujando líneas blancas que integraban el fondo y la figura de la misma forma que lo haría en una pintura.
Although I showed my flowers on both light and dark walls, slowly I began to feel that the white surfaces worked to perfection for my porcelains as oxides based glazes revealed the edges of the pieces drawing white lines in them that integrated background and figure in the same way I would have made it in a painting.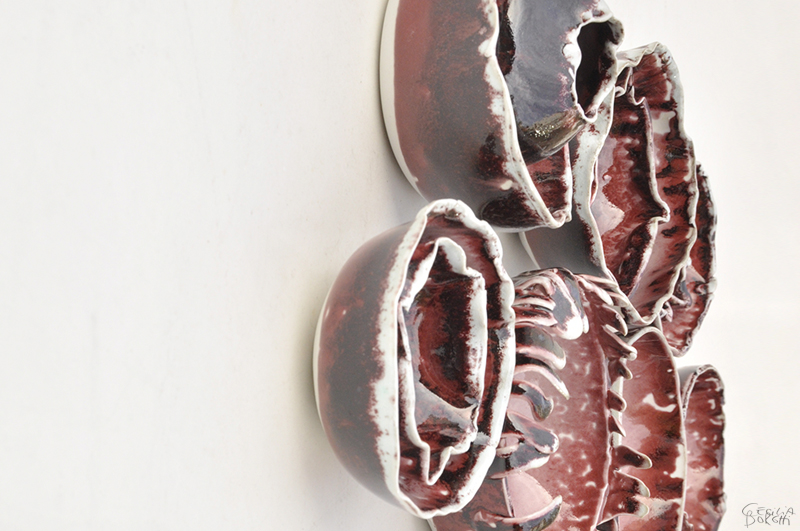 En estos últimos tres años el trabajo manual minucioso con que modelaba los primeros ejemplares fue dejando lugar, por falta de tiempo y espacio, a una terminación más expresiva (o desprolija, si se prefiere) que le da movimiento y cierta vida a esos pétalos de un material tan rígido.

Las últimas que hice, las Anémonas, están inspiradas en animales de mar (Actiniarias) que se adhieren a las rocas del suelo marino y semejan un género particular de flores (Anémone) del cual toman su nombre común.
During the last three years the detailed manual work I used to put into modeling my first porcelain specimens was leaving room, for lack of time and space, to a more expressive finishing (or untidy, if you prefer) that infuses them with movement and some idea of life,

The last series I did, the Anemones, are inspired by sea animals (Actiniarias) that stuck to rocks at the bottom of the ocean and resemble a particular kind of flower (Anemone) were take their common name from.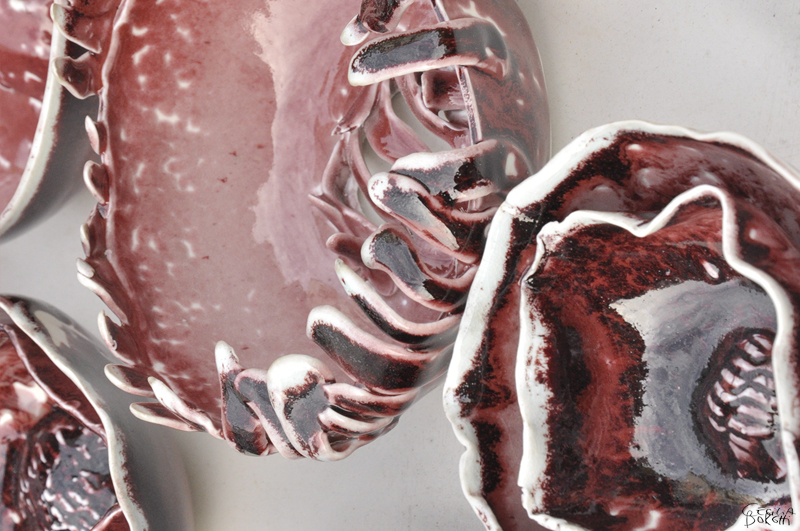 Me tomé el atrevimiento de elegir una frase del
escritor y entomólogo (dedicado específicamente al estudio de las mariposas) Vladimir Nabokov
, quien conocía a la perfección los mundos del arte y las ciencias naturales, y la saqué completamente de contexto para atribuirle mi propio significado.
Sin tener más que conocimientos básicos acerca de las ciencias naturales, otros pocos sobre cerámica (aunque sí bastante práctica) y haber pasado más de una década de mi vida pintando y dibujando siento la felicidad de haber encontrado la excusa perfecta en estos animales-flor para plasmar con las manos algo que había estado metido en mi cabeza por tantos años.
I dared to choose a phrase from
writer and lepidopterist Vladimir Nabokov
, who knew perfectly both the world of art and natural sciences, and completely pulled it out of context to attribute it my own meaning.
With not more than some basic notions about science, few others on ceramics (although a lot of practical skills aquired through years of work) and having spent more than a decade of my life painting and drawing, I feel the happiness of having found the perfect excuse in these animals-flower to capture with my hands something that had been stuck in my head for so many years.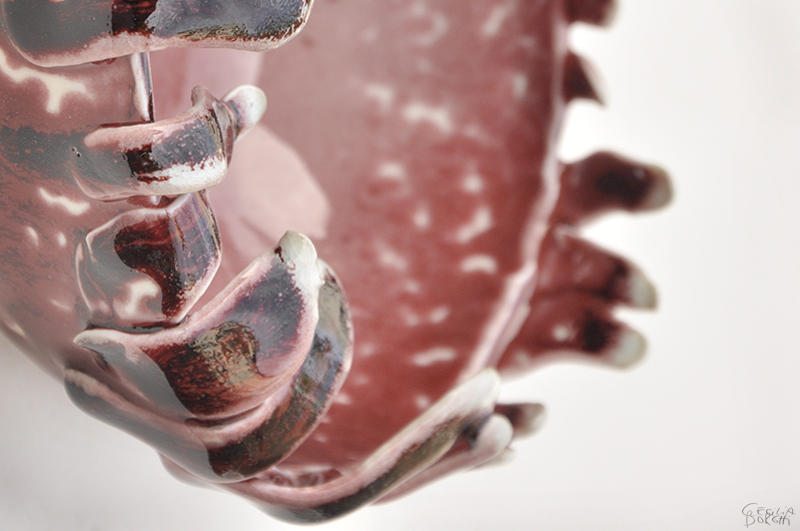 TAG: el ritual de la rutina / the ritual of routine,