NOVEDADES


NEWS
MAYO 2023 / Vidriera
Tienda Patrón me invitó a realizar una vidriera para ilustrar mi modo de trabajo.
En ella incluí la variedad de materiales que utilizo y la acompañé con un post en mi blog, CUADERNO EN FLOR, que incluye un desglose de las diferentes labores e imágenes del proceso.

Pueden pasar a verla durante todo el mes de mayo en PATRÓN, Malabia 1644, Palermo, CABA. ​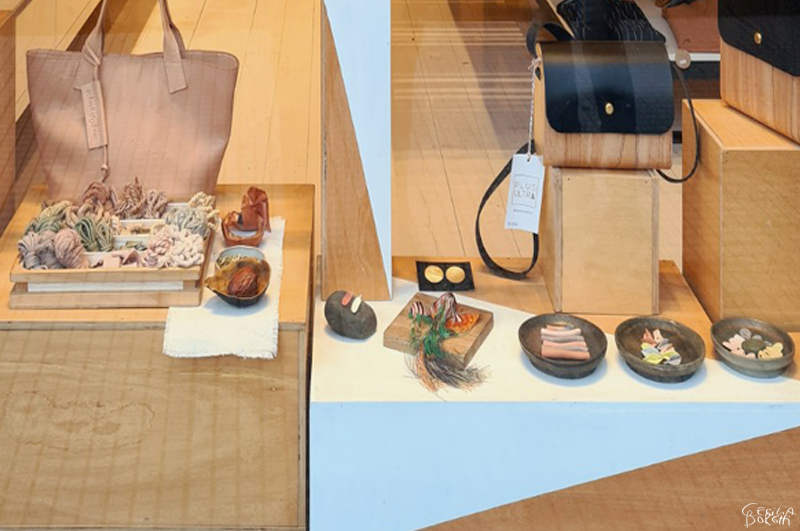 MAY 2023 / Window Display
Patrón, a store located in the Palermo district, Buenos Aires, with a wide selection of goods by Argentinian designers and crafters, invited me to illustrate my working process with window displays that include the different materials that I use for my jewellery pieces.

On view during May at PATRÓN, 1644 Malabia St., Palermo district, Buenos Aires City, Argentina. ​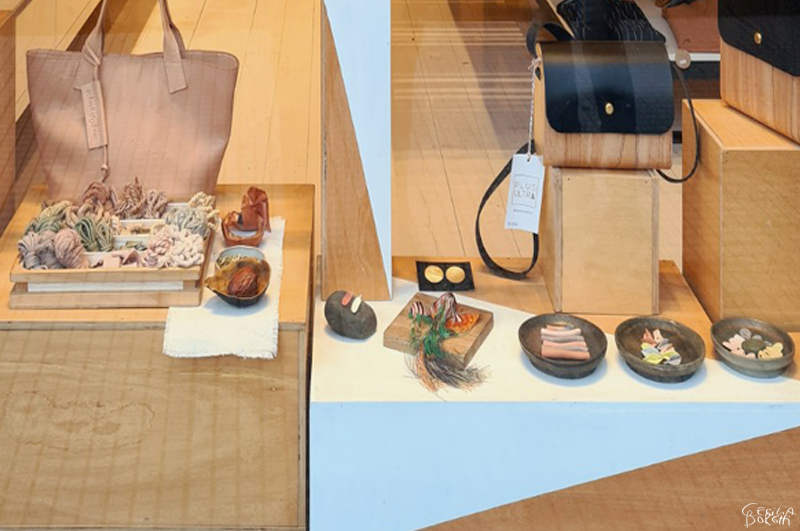 MAYO 2022 / 14° Simposio Internacional De Cerámica

Fui invitada a participar del 14 Simposio International de Cerámica organizado por el Instituto Municipal de Cerámica de Avellaneda.
Los días lunes 9, martes 10 y viernes 13 de mayo podrán encontrarme realizando una obra paso a paso. Es una actividad gratuita abierta al público.
Lxs esperamos!
Lugar: Av. Bartolomé Mitre 2724, Sarandí, Provincia de Buenos Aires.
Apertura: lunes 9 de mayo a las 18 hs.
Horarios: Martes a viernes de 15.30 a 21 hs. Sábado de 10 a 17hs.
Cierre: sábado 14 de mayo de 2022.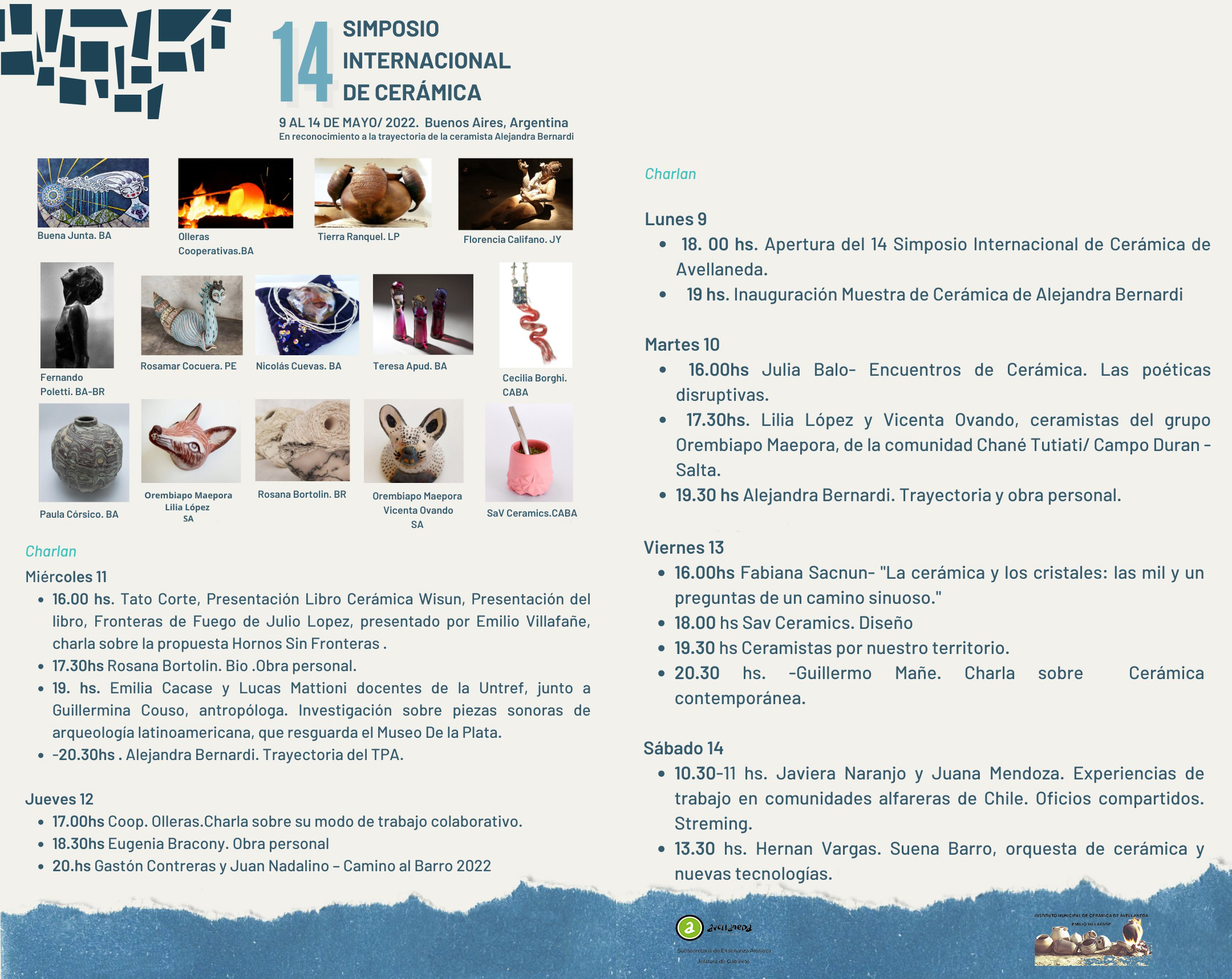 MAY 2022 / 14th International Ceramics Symposium

I was invited to participate in the 14th International Ceramics Symposium organized by the Municipal Institute of Ceramics of Avellaneda in Buenos Aires Province, Argentina.
On Monday the 9th, Tuesday the 10th and Friday the 13th of May you can find me doing the work step by step. It is a free activity open to the public.

Place: 2724 Bartolomé Miter Av., Sarandí, Province of Buenos Aires, Argentina.
Opening: Monday, May 9 at 6:00 p.m.
Hours: Tuesday to Friday from 3:30 p.m. to 9:00 p.m. Saturday from 10 a.m. to 5 p.m.
Closing: Saturday, May 14, 2022.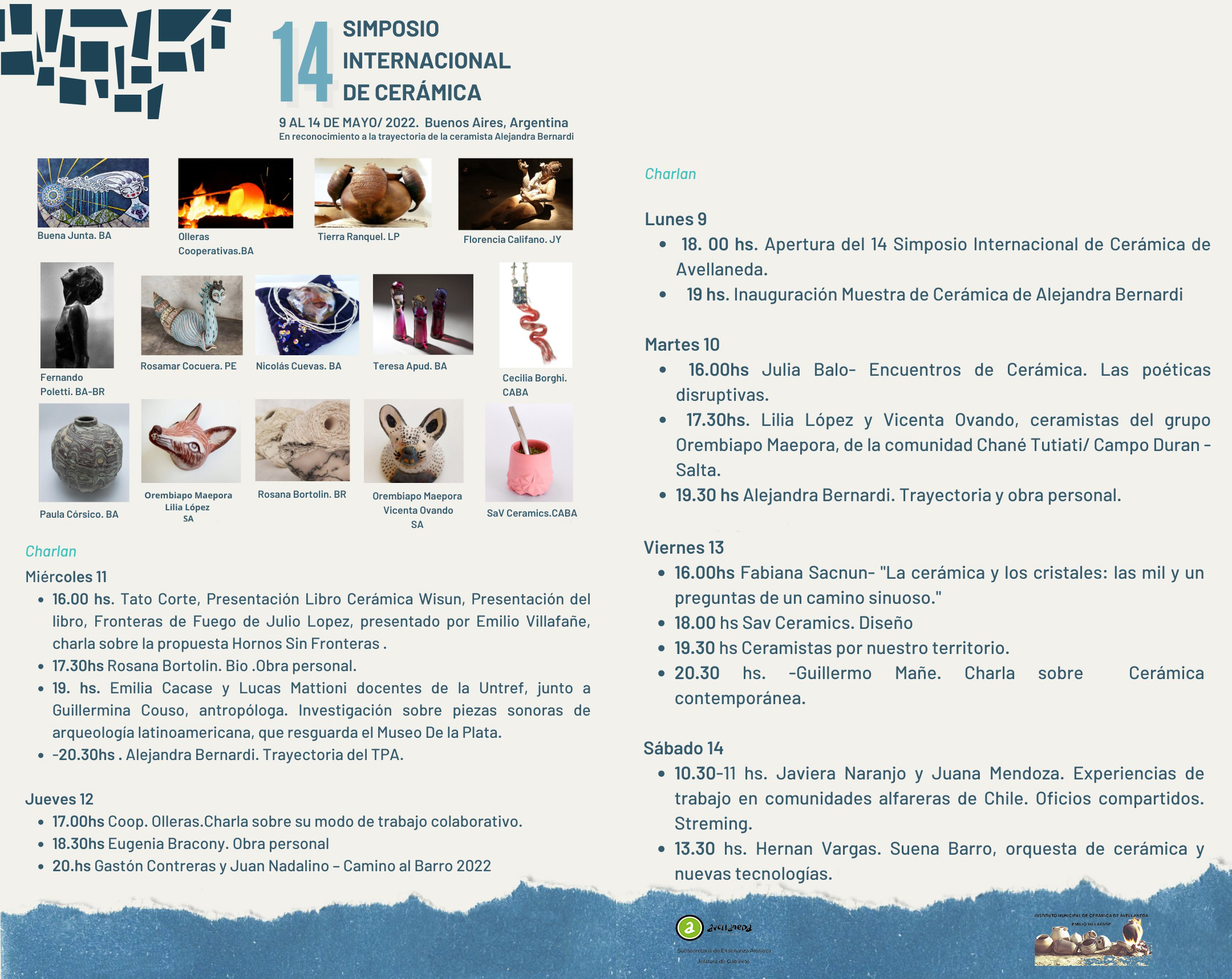 MARZO 2022 / Abran cancha
Desde el miércoles 9 de marzo queda inaugurada la segunda exhibición del concurso de la III Bienal de joyería latinoamericana titulada Abran Cancha.
Tuve la fortuna de que dos de mis collares formen parte e la muestra y podrán verse junto al total de 114 obras pertenecientes a 73 artistas de México, Colombia, Brasil, Chile y Argentina. La propuesta fue que miráramos nuevamente nuestra obra y buscáramos en ella los elementos que le infunden su esencia sudamericana.

Lugar: Museo de la Historia del Traje, Chile 832, CABA.
Días y horarios: Miércoles a domingo, de 13 a 19 hs, sin reserva previa.
Cierre: 30 de abril de 2022.