BLOG: NOTEBOOK IN BLOOM
BLOG: CUADERNO EN FLOR
Embroidering ideas
Bordando ideas

Tuesday, 25 Jul 2017
Estoy investigando el tema de la intersección entre arte y política en relación al textil.

Encontré un artículo que vincula desde las arpilleras de Violeta Parra y Bordamos por la Paz hasta gente en Chile que está trabajando con los refugiados de Argelia y el bordado siempre aparece como un elemento silencioso que recicla una energía y resulta sanador. Es además comunitario.

Y todos estos proyectos de activismo y bordado que estoy investigando son comunitarios. ¿Por qué?
Porque para que se produzca esa situación de activismo tiene que haber un grupo de gente que cosntruya una memoria y que, en ese tiempo y en esas situaciones de insistir desde lo pequeño, hace que se genere algo que después se sostiene en el tiempo.
I am researching the subject of the intersection between art and politics in relation to the textile.

I found an article linking from the hucksters of Violeta Parra and Bordamos por la Paz to people in Chile who are working with Algerian refugees and embroidery always appears as a silent element that recycles an energy and is healing.
It is also community.

And all these activism and embroidery projects that I'm investigating are community-based. Why? Because for this situation of activism to take place there has to be a group of people that builds a memory and that, in that time and in those situations of insisting from the small, generate something that is later sustained in time.
Algunos artistas trabajan solos pero involucran a otra gente y a mi modo de ver tambien están haciendo una especie de activismo.

Por ejemplo en Tucumán, donde el bordado tiene su importancia, existe la randa, un bordado típico europeo que lo tomaron las hilanderas tucumanas y que ahora es una cualidad del bordado en esa provincia donde se instaló y se llama randa solo ahi y las randeras son propias de ese lugar. Viene de todo lo que es el bordado a bolillo y se toca un poco con lo que hacen en Paraguay que es el ñandutí que se trabaja con una cerda más dura y las randas son siempre blancas, el ñandutí es de color.

Ahi estuve con

Archivo Broderie

, y registré para mi proyecto una obra de la artista Carlota Beltrame que trabaja con randas en las que borda frases políticas, desde el Che Guevara hasta Alfonsín y el "que se vayan todos". Armó una muestra con esos bordados enmarcados que se llamó Utopías. Ella tiene una mirada política muy directa que atraviesa toda su vida, desde que nacio hasta la actualidad. Hace como un recorte político y lo borda sobre randas. Trabaja sola, pero yo me preguntaba si es eso activismo. Y lo és, porque tiene mucho compromiso con su obra en la cual incorpora elementos históricos y frases de otros.

Sería interesante poder redefinir qué es activismo pensándolo desde lo comunitario.

Pensaba también en mi performance donde la gente borda sobre mi pollera, lo que transforma mi vestimenta en soporte de la obra y yo me salgo del lugar de la oratoria. El bordar está en relación con la vestimenta y por ende con el cuerpo. Los límites son borrosos.

Son todas preguntas que me van surgiendo y creo que lo más interesante es transitar por esos lugares.
Some artists work alone but involve other people and in my opinion they are also doing some kind of activism.

For example in Tucumán, where embroidery has its importance, there is randa, a typical European embroidery that was taken by the tucumanas spinners and which is now a quality of embroidery in that province. It is called randa only there and the randeras are from that place. It is similar to the paraguayan ñandutí that is very colorful while randas are always white.

There I was with

Archivo Broderie

, and I registered for my project a work by the artist Carlota Beltrame who works with randas in which she enbroiders on political phrases, from Che Guevara to Alfonsín and the "let everyone go". She had an exhibition that included some of those works called Utopias. She has a very direct political view that goes through her entire life, from the time she was born to the present. She works alone, but I wondered if that's activism. And yes it is, because she has a lot of commitment to her work in which she incorporates historical elements and phrases from others.

It would be interesting to be able to redefine what activism is thinking about it from the communal perspective.

I also thought about my performance where people embroiders on my skirt, which turns my clothes into support of the work and I leave the place of oratory. The embroidery is in relation to the dress and therefore with the body. The boundaries are fuzzy.

These are all questions that are emerging to me and I think the most interesting thing is to walk through those places.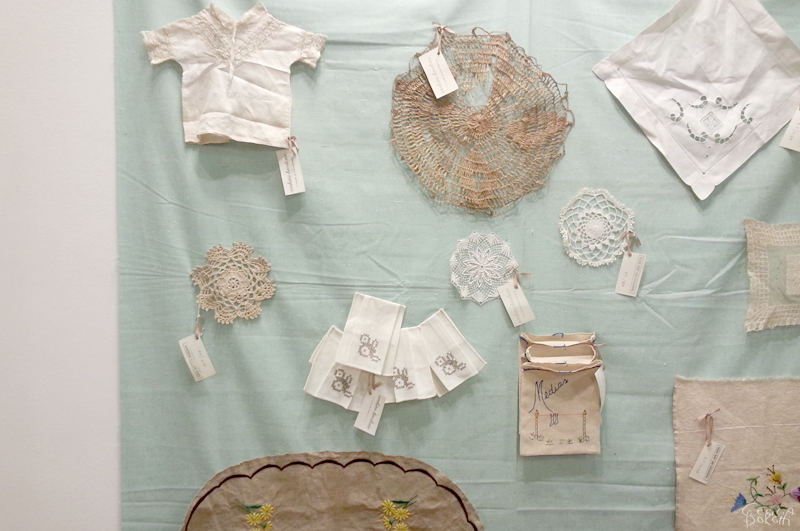 Es importante resaltar que en todas las comunidades donde estuvo prohibida el habla y la comunicación entre mujeres, el bordado fue el idioma que se utilizó.
Inclusive ahora, las bordadoras de Bordamos por la Paz en México (que no son sólo mujeres pero sí lo inció una mujer) se juntan en las plazas a bordar los nombres de los muertos por la violencia mexicana pero nunca los corrieron. Lógicamente es una actividad donde la gente está en grupos pequeños, bordando sentados y en silencio y aunque estén en un lugar público el contenido del bordado pasa inadvertido y se tolera. Todos saben lo que ellos hacen y hasta se publicó un libro sobre el tema, no es un secreto.

Lo que creo que pasa con el bordado es que es casi invisible porque se camufla demasiado con lo cotidiano, es silencioso, ocupa poco espacio y es portatil. Entonces si hubo mudanzas, si hubo exilios, el bordado permaneció.
It is important to note that in all communities where women's speech and communication were prohibited, embroidery was the language used.
Even now embroiderers of Bordamos por la Paz in Mexico (who are not only women but a woman started it) gather in the plazas to embroider the names of those killed by Mexican violence but no one ever banned them. It is an activity where people are in small groups, seated and embroidering in silence and although they are in a public place the contents of the embroidery goes unnoticed and is tolerated. Everyone knows what they do even a book about the subject was published, it is not a secret.

What I think happens with the embroidery is that it is almost invisible because it camouflages too much with the everyday, is silent, takes up little space and is portable. Then if there were changes, if there were exiles, the embroidery remained.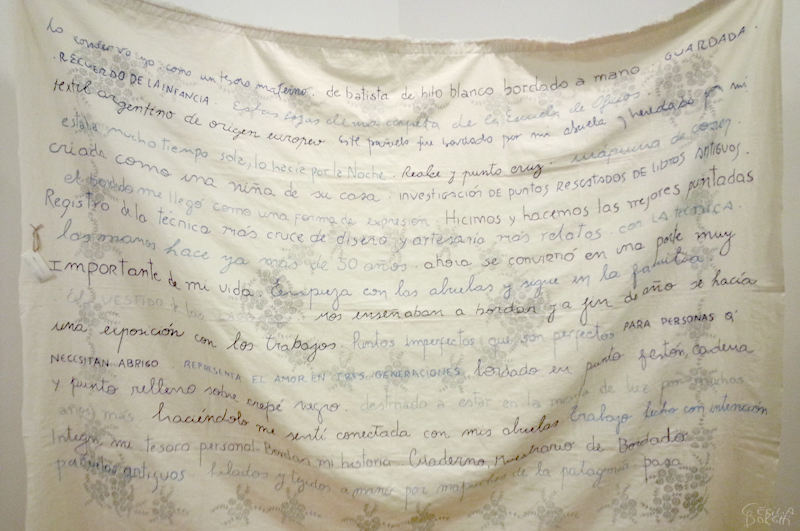 TAG: lo que inspira / what inspires,
Comentarios
nilda rosemmberg
25 Jul 2017, 4:16 PM

Gracias a vos Nil! Y que se repita pronto :-) Besos!!!

cecilia
27 Jul 2017, 8:27 PM