BLOG: NOTEBOOK IN BLOOM
BLOG: CUADERNO EN FLOR
the most beautiful moment
El momento más hermoso

Saturday, 5 Aug 2017
Desde hace ya diez años dibujos casi exclusivamente plantas y flores. A veces siento que hay muchas explicaciones para esto (la herencia familiar de un oficio, haber vivido mi infancia en una casa con jardín, el gusto por los perfumes, etc) pero la que suelo preferir es la má simple y llana: dibujo flores porque me gustan.
Y era ésta mi respuesta favorita hasta hace muy poco,
cuando escuché al chef brasileño Alex Atala explicar lo que para él representa la flor
:
For almost ten years, my drawings have been almost exclusively about plants and flowers.
Sometimes I feel that there are many explanations for this (my family inheritance of a trade, having lived my childhood in a house with a garden, the taste for perfumes, etc.) but the one I prefer is simple and plain: I draw flowers because I like them.

And this was my favorite answer until very recently, when I heard brazilian chef Alex Atala explain what the flower represents to him:
Una noche tuve un sueño, yo caminaba por la calle como un chico que va de la mano de su padre o madre, alguien mayor que me guiaba.
Y yo le preguntaba a esta persona más grande cuál es el sentido de la vida. Y el me mostraba círculos, cíclos de vida. Y después me mostraba una flor. ¿Por qué? Una planta tiene un ciclo. Una semilla se transforma en planta que da flores y se transforman en frutos. Los frutos cáen. Hay otra semilla y la semilla crece otra vez. Eso es un cíclo. Y yo digo: ya veo, ahora entiendo. ¿Pero por qué me mostraste una flor? Y el contestó: la flor es el momento en que nosotros vivimos, el momento más hermoso del ciclo. El momento más hermoso. Contémplalo.
One night I had a dream, I was walking in the street like a kid who has the hands of the father and mather. someone bigger guiding you. And I was asking to this bigger person what was the meaning of life. And he showed me circles, circles of life. And then he showed me a flower. Why? A plant has a circle. A seed becomes a plant that has a flower, transforms into a fruit. The fruit drops.There's another seed, and the seed grows again. This is a circle. And I said: I see, I understand. But why did you showed me the flower? And he said: "The flower is the moment that we live, the most beautiful moment of the circle. The most beautiful moment. Contemplate this.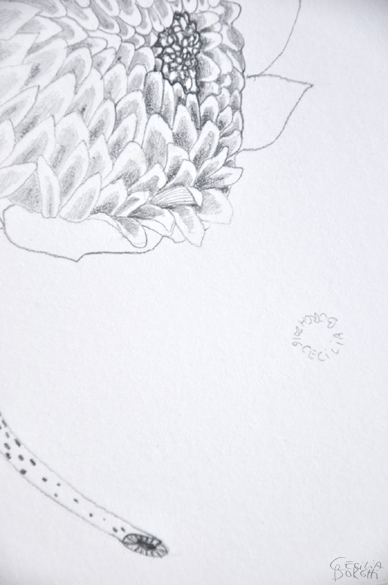 Como forma de ejercitar mi mano y mantener la línea ;-) deicidí hacer un ejercicio y dibujar con grafito flores tomadas de las obras de Giovanna Garzoni, pintora italiana pertenciente al período barroco, quien desarrolló su trabajo con gran maestría en una época donde las artes eran cosa de hombres. Sus naturalezas muertas con frutas y flores son de una belleza exquisita y de una gran delicadeza y riqueza de color.
As a way of exercising my hand and keeping it in line ;-) I decided to do an exercise and draw with graphite flowers taken from the works of Giovanna Garzoni, an Italian painter from the Baroque period, who developed her work with great mastery in an era where the arts were men's things. Her still life paintings with fruits and flowers are display an exquisite beauty and great delicacy and richness of colour.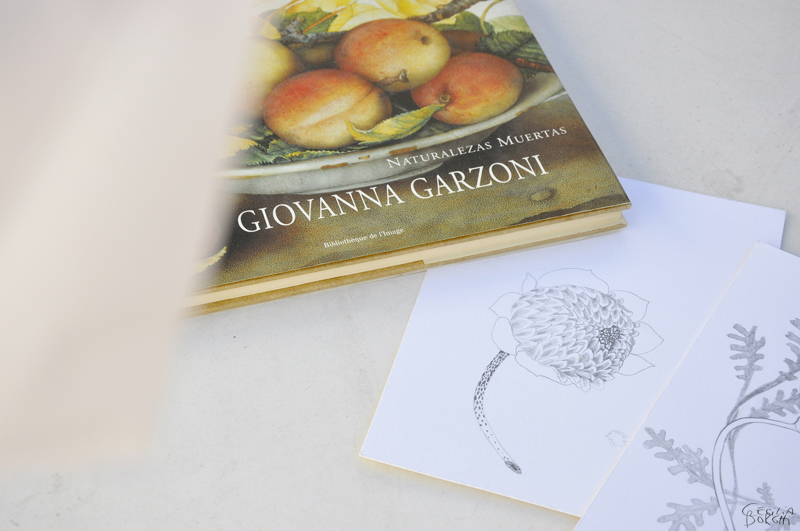 Mi ejercicio consistió en elegir flores de sus pinturas y representarlas en grupos o aisladas pero siempre rodeadas por un espacio blanco en reemplazo de los entornos detallistas y descriptivos.
La historia relatada por Alex Atala la escuché mucho después de haber realizado los primeros dibujos de la serie y sin embargo llegó en el momento exacto cuando no encontraba las palabras para darle un contexto a estos nueva serie. La idea la flor como representación de nuestra vida y como parte de un cilco más grande, la brevedad y lo efímero de la existencia, fueron ideas que resonaron en mí. El trabajo en detalle de las flores que elegí reinterpretar simboliza lo complejo de la vida con sus vueltas y recovecos y el espacio blanco a su alrededor es aquello que no podemos ver pero que igual existe, lo que nos sostiene y envuelve, aquello más grande de lo cual formamos parte.
My exercise consisted in choosing flowers from her works and representing them in groups or isolated but always surrounded by a white space as a replacement for the descriptive backgrounds.
I heard the story told by Alex Atala after having made the first drawings of the series and nevertheless it arrived at the exact moment when I could not find the words to give a context to these new series.The idea of the flower as a representation of our life and as part of a larger cycle, the brevity and the ephemeral essence of existence were ideas that resonated with me. The detailed work of the flowers that I chose to reinterpret symbolizes the complex of life paths with its twists and turns and the white space around it is what we can not see but may exist, what sustains and envelops us, that something bigger and powerful of which we are part of.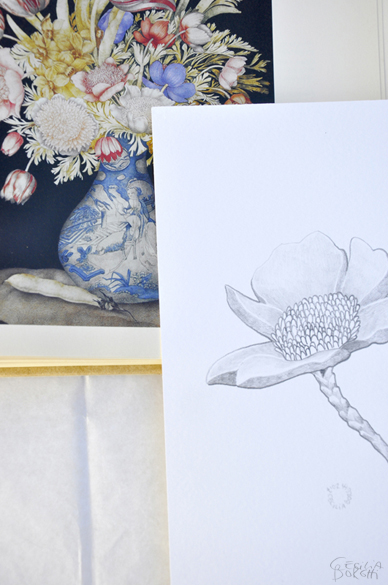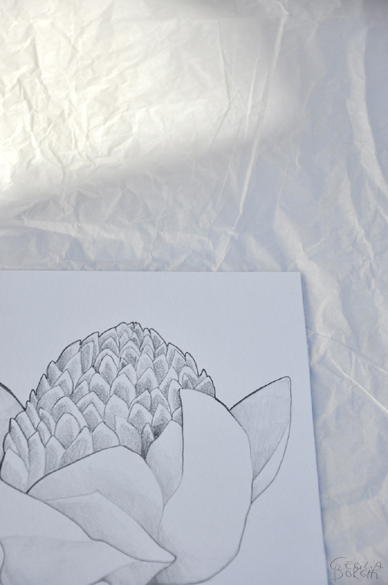 Cuando
Kenia Mihura
me invitó a participar de su nuevo proyecto no estaba muy segura de qué tipo de imágenes serían las adecuadas. Ella eligió tres dibujos de la serie Las flores de Giovanna y algunos otros trabajos míos que hoy, junto a la obra de otros artistas forman parte del catálogo de
Pulso
un espacio dedicado a la venta de dibujos y pinturas sobe papel en pequeño y mediano formato el cual ella define de la siguiente manera:
When
Kenia Mihura
invited me to participate in her new project I was not sure what kind of works would fit. She chose three drawings from the series Giovanna's flowers that today, along with the work of other artists, are part of the catalog of
Pulso
a space dedicated to the sale of drawings and paintings on paper in small and medium format which she defines as follows:

El dibujo siempre ha estado presente en nuestras vidas de manera espontánea, creo que todo artista descubrió su vocación improvisando gestos sobre una hoja en blanco. A pesar de la especialización en otras técnicas, el dibujo siempre aparece de alguna u otra manera como ejercicio, boceto o estudio de formas. La hoja suele ser menos intimidante que una gran tela. Esa libertad de expresión que encuentro en las obras en papel me atrapó desde que empecé a trabajar en la gestión de proyectos de arte hace más de quince años. Quiero difundir esos trabajos que suelen tener poca exhibición en espacios comerciales, lograr que habiten nuevos espacios y que los disfrute más gente.
Drawing has always been present in our lives spontaneously, I believe that all artists discovered their vocation improvising gestures on a blank sheet. Despite the specialization in other techniques, drawing always appears in some way or another as exercise, sketch or study of forms. Paper is usually less intimidating than a large canvas. That freedom of expression I find in the works on paper caught me since I started working on the management of art projects more than fifteen years ago. I want to present those works that usually have little exhibition in commercial spaces and get them to inhabit new spaces for more people to enjoy them.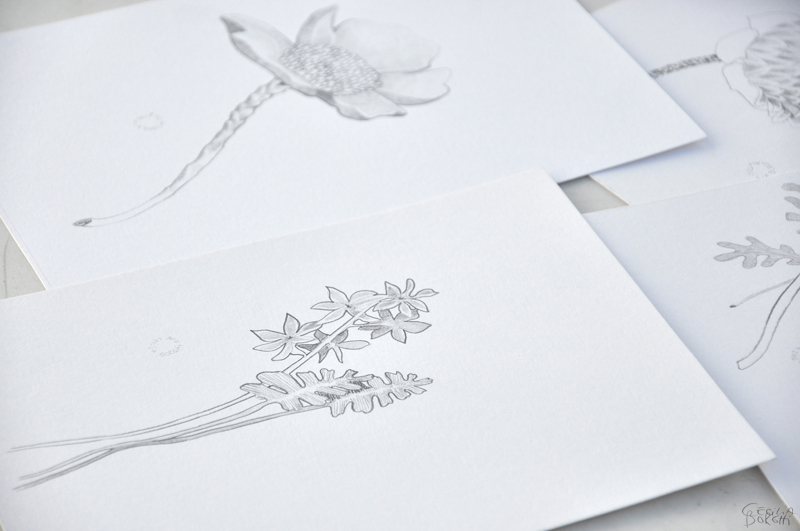 TAG: mi trabajo / my work,