BNOTEBOOK IN BLOOM
CUADERNO EN FLOR
Optional line
La línea decantada

Wednesday, 24 Jan 2018
Hoy me decanté por la línea.

Qué es la línea sino una gran abstracción del mundo, de todo lo que se puede conocer y también de lo desconocido. El único problema suele ser encontrarla. Mi secreto es no perseguirla en el vacío, sino ir a lo lleno, lo abarrotado, donde la multitud convoca a la confusión y los ojos se esfuerzan por establecer la orden creando la línea en esquemas comprensibles (difícil evitarlo, los ojos parecen haber sido hechos para ordenar el mundo).

Bueno, eso hice hoy. De una serie de manchas y grafismos en tinta comencé a sacar líneas para unir las partes y que se manifestaran las imágenes. Lo que apareció fueron trazos y manchas de tinta que fueron cobrando forma y fuerza hasta empezar a moverse por el papel. Sentí que tenían dinamismo y algún tipo de vida.
Today I opted for the line.

What is the line but a great abstraction of the world, of all that can be known and also of the unknown. The only problem is usually to find it. My secret is not to pursue it in the empty space, but to go to the crowded space where confusion grows and the eyes strive to establish the order bringing the line out in understandable schemas (it's difficult to avoid it, the eyes seem to have been made to tidy up the world).

Well, I did that today. From a series of ink stains and graphics, I began to draw lines to join the parts and let the images to manifest. What appeared were strokes and ink spots that took shape and strength to start moving through the paper. I felt that they had a dynamism and some kind of life.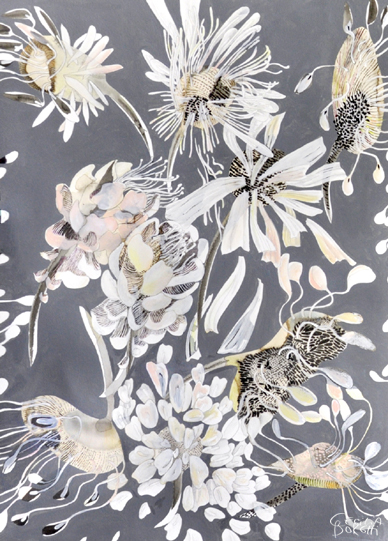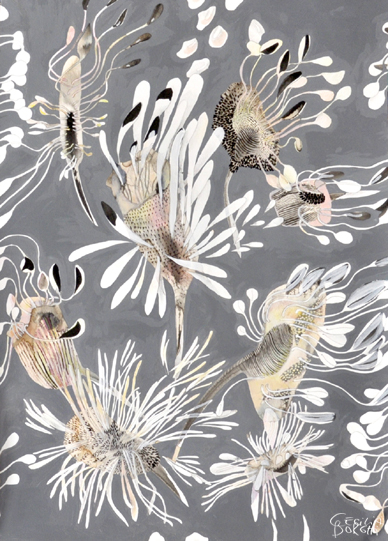 Al principio
Asi comenzaron los dibujos que realicé para Victoria. Soñando con obras que completaran un espacio en su hogar me encargó un díptico con flores y fondo gris al estilo de la obra
"Fantasía floral"
que realicé el año pasado. Pero cada dibujo que hago resulta diferente al anterior, incluso aunque me proponga seguir los mismos pasos.
In the beginning
That's how the drawings I made for Victoria began. Dreaming of works that completed a space in her home she commissioned me a diptych with flowers and grey background in the style of the work
"Floral fantasy"
that I made last year. But each drawing I do is different from the previous one, even if I intend to follow the same steps.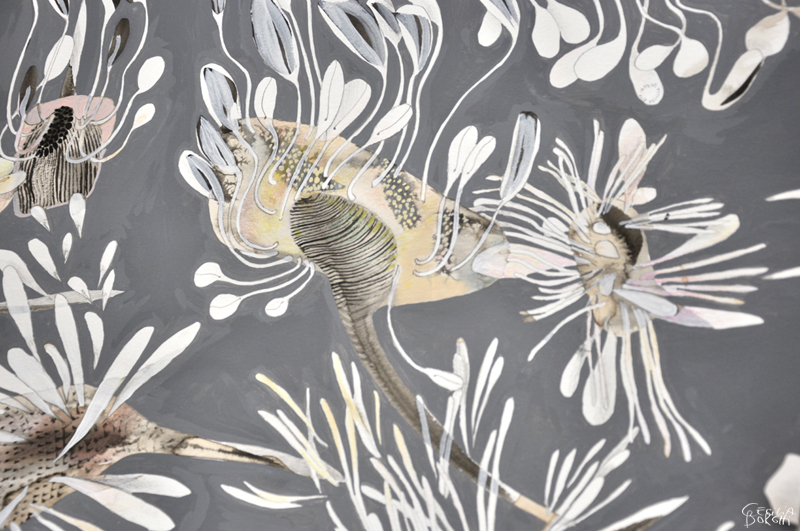 Comienzo manchando la hoja con aguadas de tinta negra y nogalina que se esparcen y forman imágenes mientras demoran en secarse. El agua marca el camino y por eso, desde su concepción, cada obra resulta única. Y luego las líneas decantan, caen suavemente sobre las manchas y comienzan a definir imágenes abriéndose paso entre luces y sombras. Surgirán pétalos,hojas, estambres y pistilos. Algunos se superpondran a otros o se escaparan y se develará un entramado vegetal irrepetible.
I begin by staining the paper with strokes of watery black and walnut ink that spread and form images while they dry slowly. The water leads the way and for that reason, from its conception, each work is unique. And then the lines decant, fall gently on the spots and begin to define images breaking through between lights and shadows. Petals, leaves, stamens and pistils will appear. Some will overlap others or escape and unveil an unrepeatable vegetal pattern.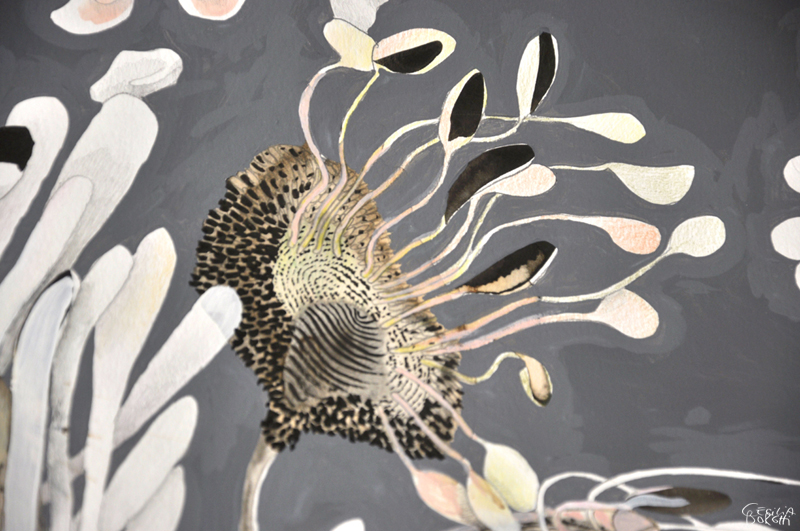 En detalle
La flores que dibujé para Victoria son todas ellas diferentes,
pintadas en tonos pastel
que contienen, con su suavidad, la fuerza del movimiento que las une en feliz convivencia. Realicé cada dibujo sobre hojas de papel blanco y grueso de 50x70cm y los titulé
"Vida secreta de las flores 1 y 2"
, de la serie del mismo nombre.
Ambas partes se unen desde todos sus lados para formar 16 dípticos posibles.
Porque el encanto está también en permitir al otro elegir la forma de experimentarlos.
In detail
The drawings I made for Victoria have flowers that are all different,
painted in pastel colours
that contain, with their softness, the force of the movement that unites them in happy coexistence. I made each drawing on 50x70cm thick white paper and titled them
"Secret Life of Flowers 1 and 2"
, from the series of the same name.
Both pictures can be joined from all sides to form 16 possible diptychs.
Because the charm is also in allowing the other to choose the way to experience them.