BNOTEBOOK IN BLOOM
CUADERNO EN FLOR
Dr Jekyll and Mrs Hyde
Dra Jekyll y Sra Hyde

Monday, 15 Apr 2019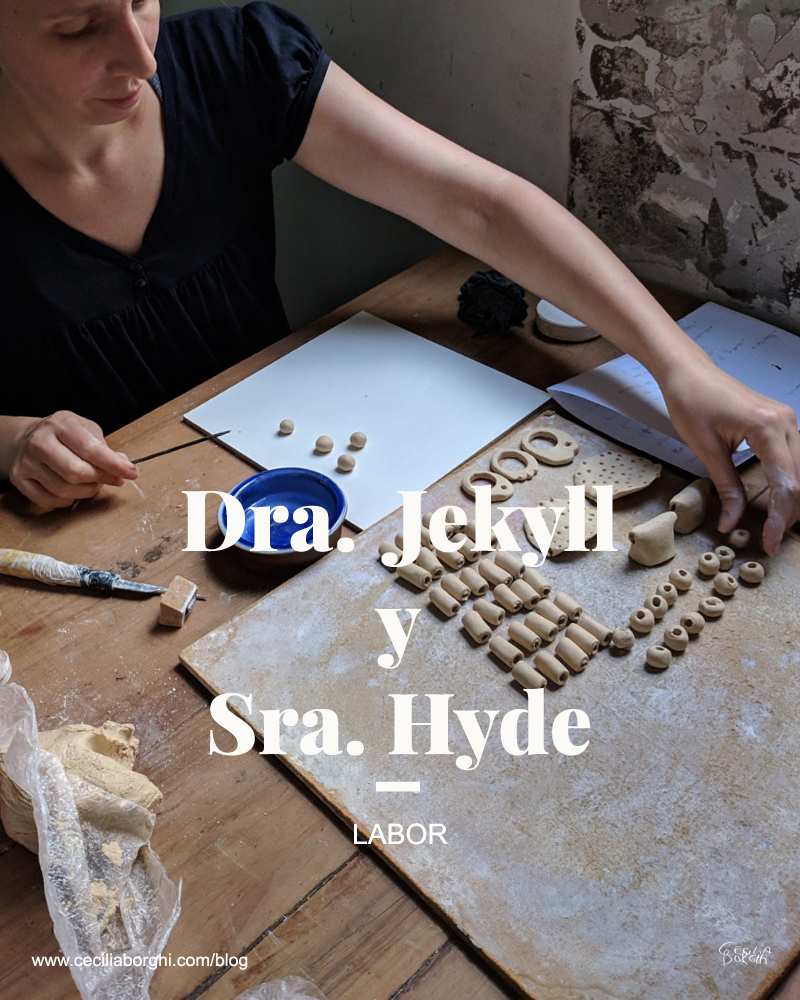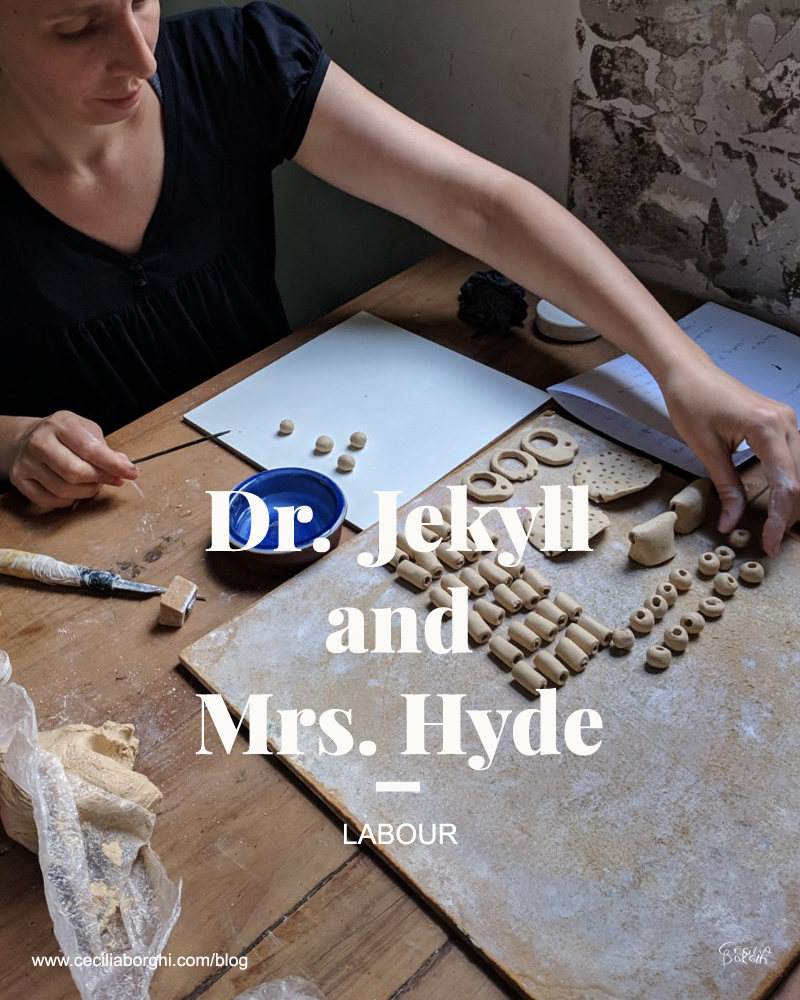 Hay artistas que se comportan como tales. Y después hay personas como yo, que me muevo en una suerte de limbo entre el arte y el diseño y que me comporto como… una ama de casa.

Siempre preparo todo con anticipación. No tengo un taller, aprovecho rincones de mi casa los cuales transformo repentinamente en espacio de trabajo y cuando termino no dejo rastros, todo vuelve a la normalidad, ningún juguete queda sin guardar.

Los años se dividen en meses, los meses en semanas, las semanas en días y los días en casilleros de la agenda. Y la agenda siempre está completa, con frases infinitivas como "comprar tinta negra" o " llamar a la librería y consultar si tienen papel de 420gr".

Como buena ama de casa, organizo cada día según las actividades que yo misma me asigno, como si estuviera transcribiendo un cronograma escolar.
Repaso mi agenda con la mirada:
- lunes de 9 a 11: armar collares
- martes de 14 a 15.30: cortar hojas y las mancharlas con tinta
- jueves de 10 a 12: fotografiar piezas terminadas
La lista continúa hasta llegar al fin de semana, momento en que la emoción al contemplar esos dos días de supuesto descanso que prometen tantas horas continuas de trabajo, se nubla al recordar una serie de compromisos postergados que, acto seguido, pasarán a rellenar el total de los casilleros ubicados bajo los nombre Sábado y Domingo.

No me llena de orgullo ser una "ama de casa del arte", tampoco me avergüenza. No es más que una realidad, la mía, la de alguien que tiene que hacer malabares con el tiempo para poder hacer lo que considero "mi trabajo".

Hay quienes trabajan aprovechando repentinas rachas de inspiración que aparecen y desaparecen sin mayores explicaciones. En mi caso, lo que más tengo es preocupación, la inspiración es algo que le pasa a los otros. Mientras tanto, continúo con mis tareas y si la inspiración llega, mejor que me encuentre trabajando.
There are artists who behave as such. And then there are people like me, who move me in a kind of limbo between art and design and I behave like ... a housewife.

I always prepare everything in advance. I do not have a workshop, I take advantage of corners of my house which I suddenly transform into a workspace and when I finish I leave no traces, everything returns to normal, no toy is left on view.

The years are divided into months, months into weeks, weeks into days and days into boxes in my planner that is always cramped with infinitive phrases such as "to buy black ink" or "to call the art supply store and check if they have 420gr paper."

Like a good housewife, I organize every day according to the tasks that I assign myself as if I were transcribing a school schedule. I look through my planner:
Monday from 9 to 11 am: putting necklaces together.
Tuesday from 2 to 13.30 pm: cut paper and stain it with ink.
Thursday from 10 to 11.30 am: photographing finished pieces.
The list continues until the weekend, when the excitement of contemplating those two days of supposed rest that promise so many continuous hours of work, is clouded by remembering a series of delayed commitments that, immediately, will fill in the total of the lockers located under the names Saturday and Sunday.

I'm not proud of being a "housewife of art"; I'm not ashamed either. It is only my reality and I have to juggle with time to do what I consider "my work".

There are those who work taking advantage of sudden gusts of inspiration that appear and disappear without further explanation. In my case, what I have the most are worries, inspiration is something that happens to others. Meanwhile, I continue with my tasks and, if inspiration strikes, better to find me working.