BNOTEBOOK IN BLOOM
CUADERNO EN FLOR
Little Parenthesis
Pequeño paréntesis

Thursday, 20 Jun 2019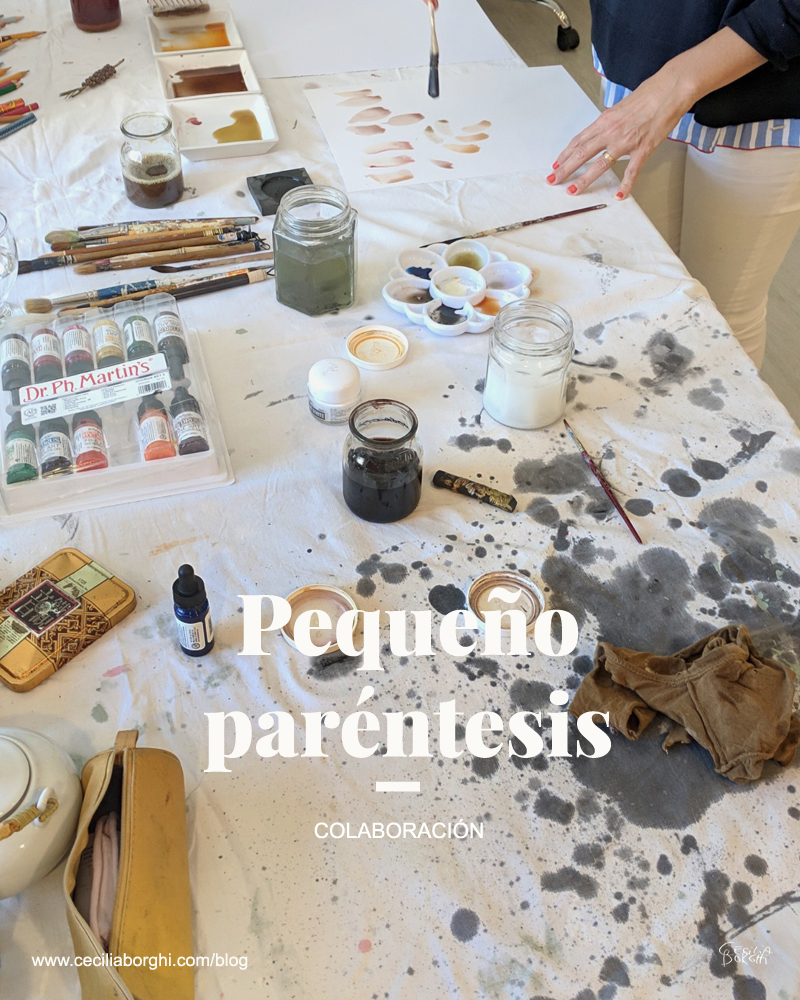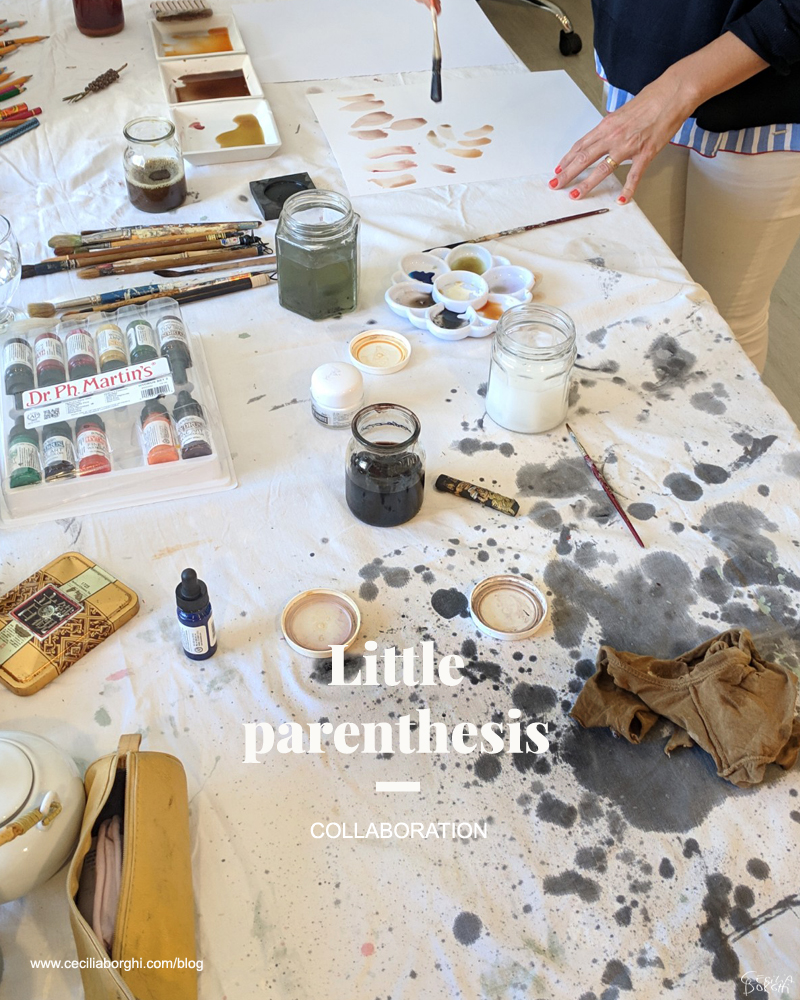 Mi trabajo suele suceder en solitario y aunque a simple vista pueda parecer un monólogo, es en realidad un intento de diálogo que se activa cada vez que alguien se acerca para ver lo que hago, contarme lo que hace y empezar a ver puntos en común. Esas personas que me permiten dialogar e intercambiar son las que me empujan a hacer cosas nuevas.
My work usually happens while I'm alone and although at first glance it may seem like a monologue, it is really an attempt at dialogue that is activated every time someone pays attention to what I do, tell me what they do and start to find common ground. Those that allow me to dialogue with them are whose push me to do new things.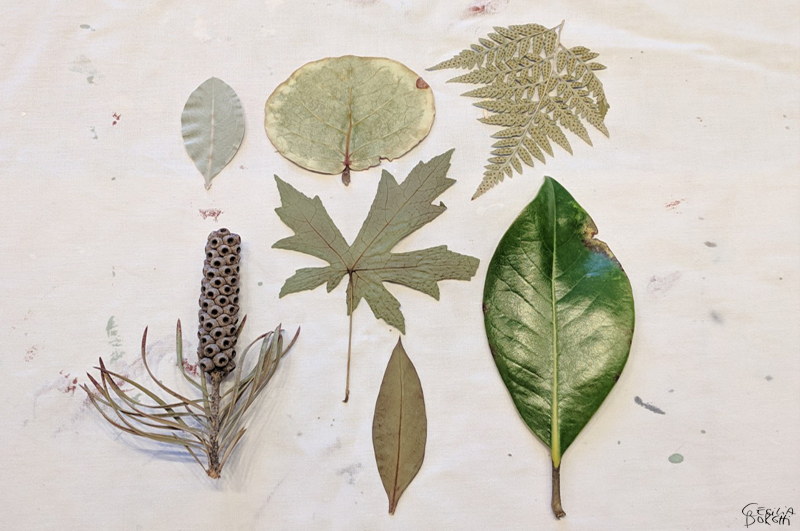 Elementos de inspiración que Nati trajo a nuestro encuentro organizados en paleta de verdes.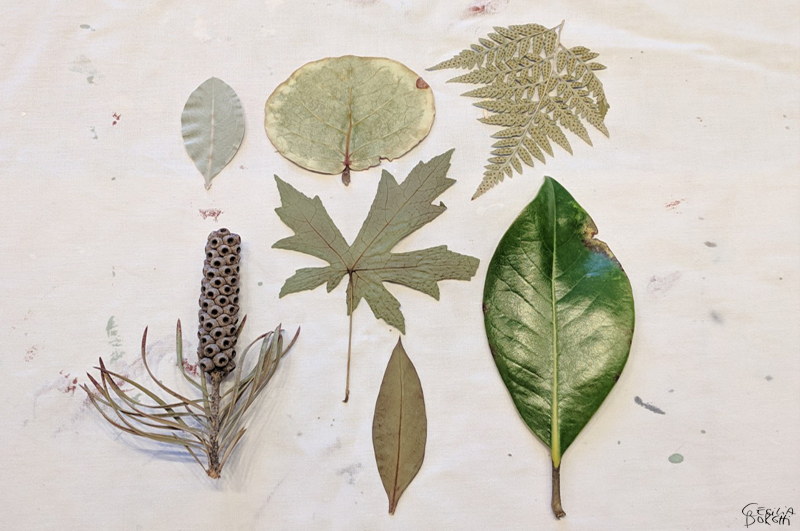 Leaves and pods, inspiration material for our art meeting organized as a palette of greens.
Así me encontré con Nati Petrozzi de Aguais Art, con quien comenzamos a dialogar como sucede hoy en día, a través de una red social. En algún momento me sugirió que ella quería tomar clases conmigo, pero dar clases es algo que no hago desde hace mucho tiempo y en ese lapso mi trabajo fue cambiando y mi técnica también. El proceso de enseñar requiere cierta distancia y reflexión sobre la propia obra y aunque estoy trabajando en eso, cuando Nati me pidió que le armara una clase, sentí que todavía no estaba lista.

Pero dado que ella es en realidad una colega que hace años trabaja en los campos del arte y el diseño gráfico sentí que era una buena oportunidad para ensayar un posible proyecto de clase y acordamos hacer un intercambio: yo le mostraría las técnicas que utilizo para dibujar con tinta y ella me ayudaría a transformarlas en una clase gracias a su experiencia enseñando acuarela. Y así lo hice, dedicando horas a desglosar mi práctica para acercarle algo que pudiera resultarle útil o inspirador.
That's how I met Nati Petrozzi from Aguais Art, with whom we began to chat, as it happens today, through a social network. At some point, she suggested that she wanted to take classes with me, but teaching is something I have not done for a long time and meanwhile, my work was changed and my technique too. The process of teaching requires some distance and reflection on my own practice and, although I am working on that, when Nati asked me to set up a class, I felt that I was not ready yet.

But since she is a colleague who has been working in the fields of art and graphic design for years, I thought that it was a good opportunity to put together a class project. So we made an agreement: I would present her the techniques I use to draw with ink and she would give me some feedback based on her experience as a watercolour teacher. And so I did, devoting hours to examine my own work and my practice to bring something that might be useful and inspiring for her.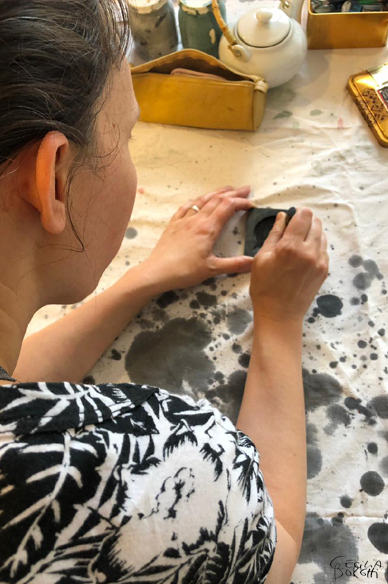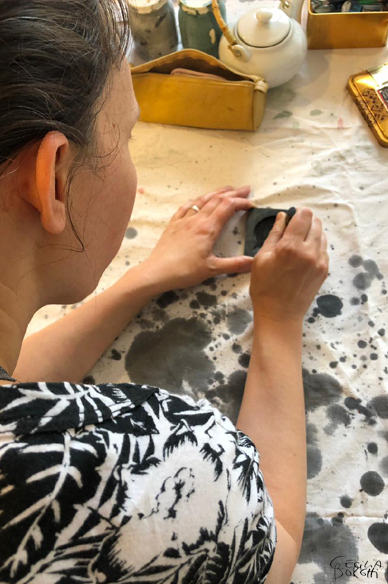 Yo, preparando tinta china en barra para comenzar a dibujar.
Me, prepearing indian ink to start drawing.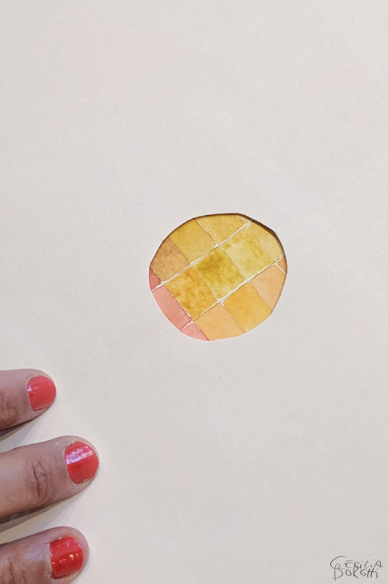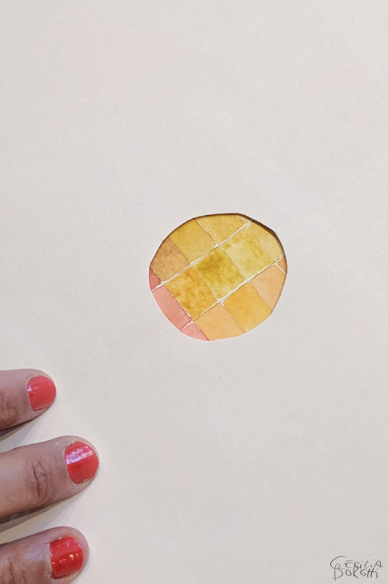 Nati seleccionado paletas de color.
Nati, selecting a colour palette.
Nos encontramos por primera y (hasta ahora) única vez en persona en un hermoso día de enero en el barrio de Parque Patricios, hasta donde se acercó viajando desde Mar del Plata. Y no sólo fue un día placentero sino que fue muy enriquecedor para mí. Encontrar a alguien dispuesta a escuchar lo que yo tenía para compartir con ella es invalorable. Y descubrir a alguien tan parecida a mí y con tanto para compartir desde su lado también. Fue un intercambio de experiencias, ideas y estéticas.
We met for the first time in person on a beautiful and sunny January day. And not only was it a pleasant meeting but it was also very enriching for me. Finding someone willing to listen to what I had to share with her was invaluable. And discover someone with similar interests and so much experience, was a prize.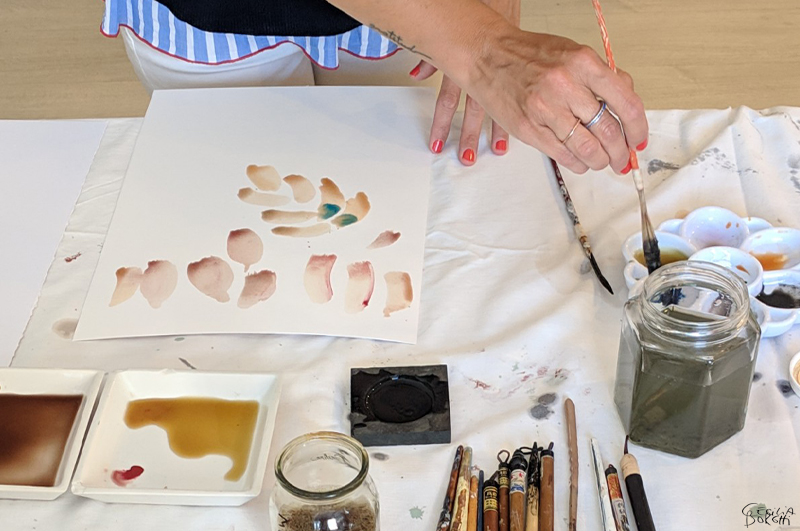 Nati en pleno trabajo con tintas.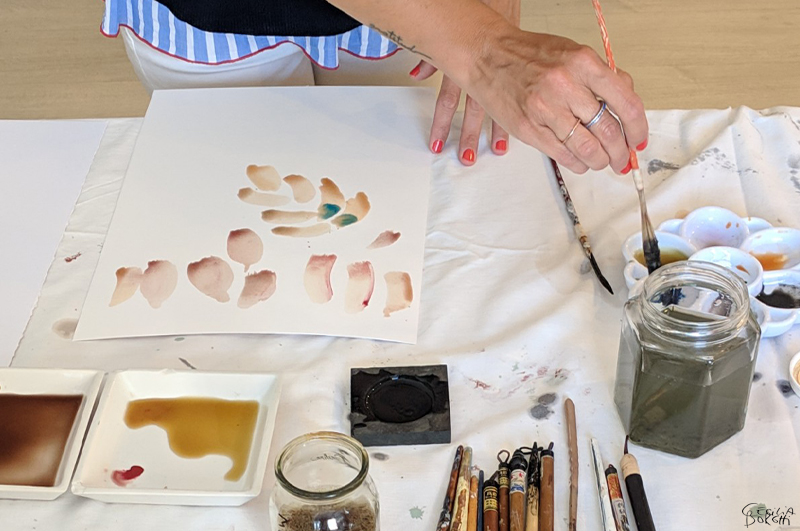 Nati at work.
Mi otro gran premio ese día fue partir con un proyecto de clase bajo el brazo, uno aprobado por la alumna más exigente, esa que sabe tanto o más que yo. Espero poder ponerlo en práctica pronto y animarme a contar cómo hago lo que hago y compartirlo.
That day I left with a class project under my belt, one approved by the most demanding student, one that knows as much or more than me. I hope to put it into practice soon.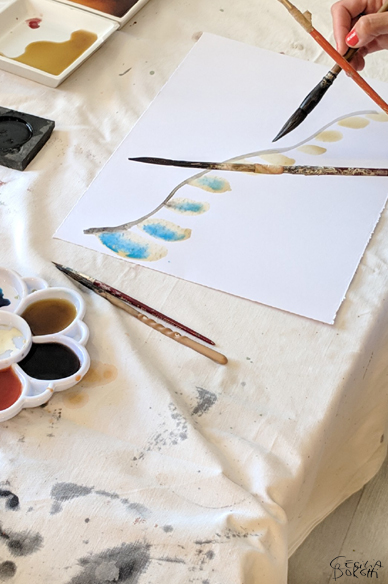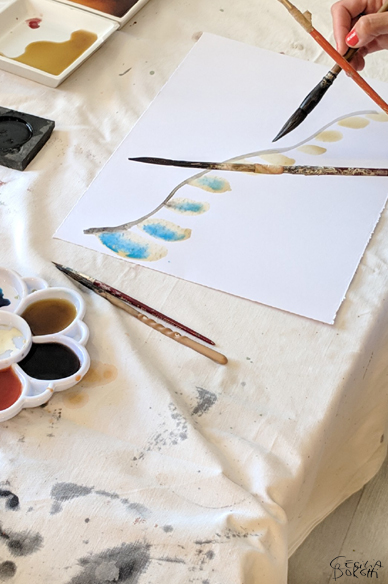 Dibujando formas orgánicas.
Drawing organic shapes.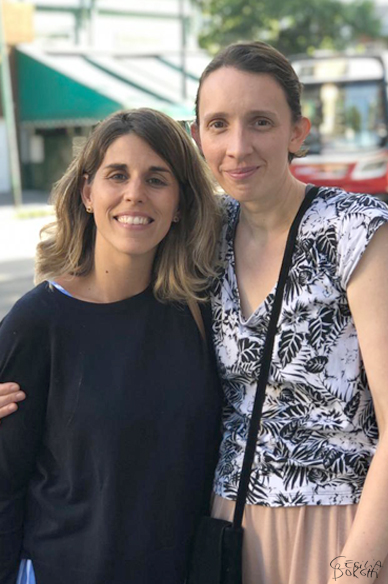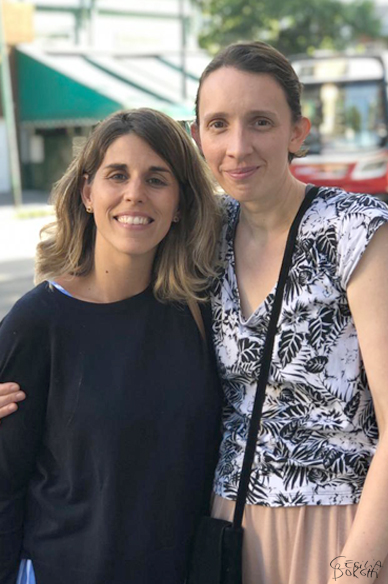 Pequeño paréntesis.
Little parenthesis.
Afortunadamente nuestro encuentro no quedó ahí, esta historia sigue su rumbo en la forma de colaboración entre Nati y yo a la cual bautizamos Pequeño paréntesis. La idea es simple: compartir nuestras miradas y experiencias en nuestro camino zigzagueante en esto de ser artistas independientes, donde no hay manual porque la experiencia de cada artista es única e irreplicable. Y no existe la forma correcta de ser artista, debemos inventarla a medida que andamos, porque si nuestra trayectoria se parece a la de otros u otras, estaremos dejando en evidencia nuestra falta de creatividad.

Los invito a conocer Pequeño paréntesis, a través de los posts mensulaes sobre diferentes temáticas que iremos publicando en el Blog de Puentestudio que gentilmente nos cede el espacios y en nuestra cuenta de IG:

https://www.instagram.com/pequenoparentesis/
ortunately, our meeting did not stop there, this story continues its course in the form of a collaboration between Nati and me, which we decided to call Little parenthesis. The idea is simple: share our views and experiences gained throughout the zigzag path of the independent artist's career, one that has no follow instructions because the experience of each artist is unique and irreplicable. And there is no right way to be an artist, we must invent it on the go because if our trajectory is similar to that of others, then we will be showing our lack of creativity.

I invite you to visit Little parenthesis through the monthly posts (in Spanish) about different topics related to an independent art practice that we will be publishing in the Puentestudio Blog (that kindly gives us space) and in our IG account:

https://www.instagram.com/pequenoparentesis/