BNOTEBOOK IN BLOOM
CUADERNO EN FLOR
Warp as dialog
La trama como diálogo

Tuesday, 27 Aug 2019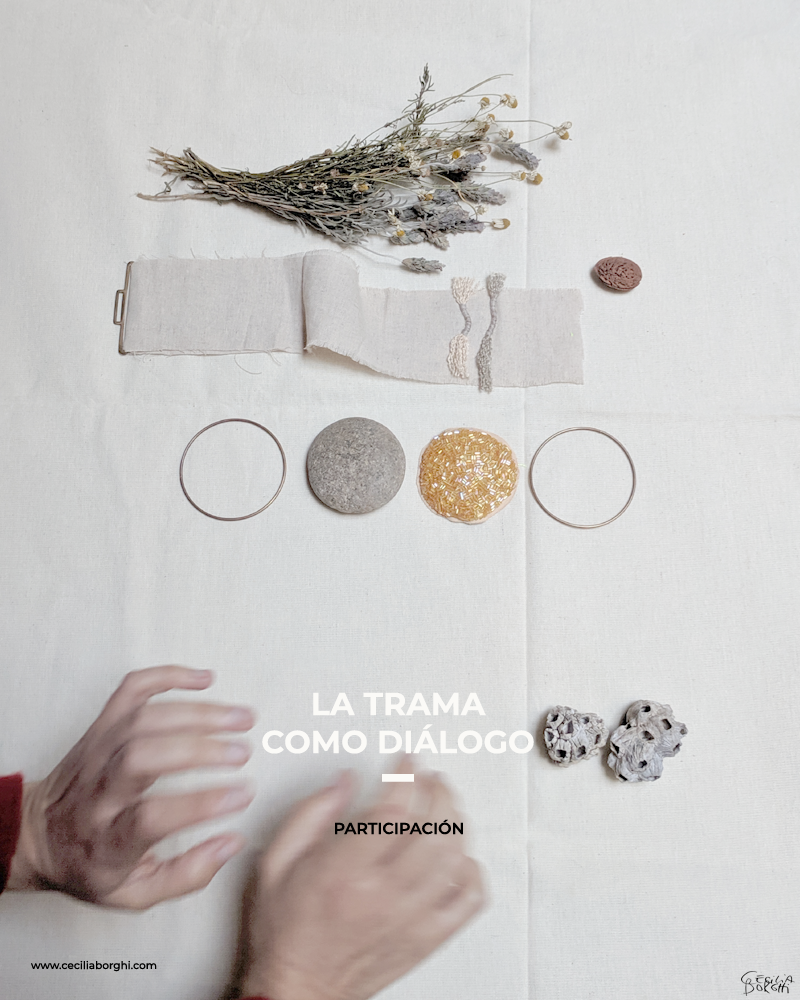 A comienzos de este año empecé a asistir a los encuentros coordinados, por Nilda Rosemberg en Entre Dos Patios- casa taller. Conozco a Nilda desde hace ya 4 años y siempre me atrajo su forma de relacionarse con otros artistas, su manera de pensar, abierta e inclusiva.

Hasta ahora nunca había podido participar de sus propuestas por falta de tiempo, pero finalmente encontramos una modalidad que podía funcionar para mi y me sumé junto a Ceci fernandez, artista plástica, diseñadora textil y bordadora apasionada, a las tutorías mensuales "En Diálogo". A lo largo de los encuentros las dos fuimos desplegando nuestras investigaciones textiles, pequeño experimentos que hablan de nuestra curiosidad por diferentes tipos de materiales y el desarrollo de obra en pequeño formato.
Since April I'm attending the monthly workshops coordinated by performer and textile artist Nilda Rosemberg. I have known Nilda for 4 years now and I have always liked how easily she connects with other artists and the way she thinks, always so open and inclusive.

Until now I had never been able to participate in her classes but this year we finally found a modality that could work for me and I joined, along with Ceci Fernández, artist, textile designer and passionate embroiderer, to the monthly workshops. During the meetings, we share our textile research, small experiments that speak of our curiosity about different types of materials and the development of small-format work.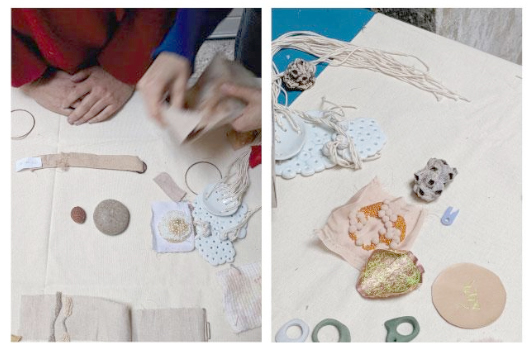 Fue en este contexto de exploración, tanto material como conceptual, que Nilda nos sugirió presentarnos juntas al V° Encuentro Textil de Umbral Espacio de Arte en el cual quedamos seleccionadas. Pero su propuesta no era un simple llamado a mostrar lo que estábamos haciendo, sino un desafío más grande: nos invitó a poner en diálogo nuestros trabajos, luego de notar que, aunque los materiales elegidos eran diferentes, nuestros acercamientos eran muy similares, ya que ambas nos referimos al cuerpo, ya sea como problemática o soporte.

Así fue que pusimos sobre la mesa nuestras cosas (bordados en suspenso, telas teñidas) y sacamos de cajas y bolsas nuestros materiales (hilos, canutillos, dibujos, porcelanas y piezas de metal). Observamos y conversamos. Nilda propuso llevar el encuentro a otro plano, fusionar nuestros trabajos sin fundirlos, propiciar el encuentro respetando nuestras particularidades.
It was in this context that Nilda suggested that we apply to participate together at the 5th Textile Encounter at Umbral Espacio de Arte and we were selected.

But her suggestion was not a simple call to show what we were doing, but a bigger challenge: she asked us to generate dialogue through our work. She noted that, although the materials we use are different, our approaches are quite similar, since we both refer to the body, either as a topic or support for our art.

Una mesa en el patio ofició de escenario, una tela clara fue el punto de reunión. Las manos de Ceci se movieron constantemente, tranquilas y seguras. Ubicaban objetos en distintos lugares y combinaciones. Me dí cuenta de que manipula las cosas como si bordara. Yo colocaba los objetos sobre otras superficies que el patio ofrecía, paredes, puertas, ventanas, y plantas. Cumplido el tiempo, devolvimos cada cosa a su lugar y abandonamos el patio, replegándonos al interior del taller para reflexionar sobre las nuevas conecciones que habíamos descubierto.

De ese momento de diálogo surgió nuestra obra que trata del encuentro de lo diferente y la búsqueda de coincidencias y puntos en común en el espacio amplio del soporte textil. Como si se tratara de conversaciones, una pieza interpela a la otra.
So we put our things on the table (embroidered objects and tinted fabrics) and we took our materials out of boxes and bags (threads, beads, drawings, porcelain and metal pieces). We observe and exchanged ideas. Nilda proposed taking the meeting to another level, merging our works but maintaining our personalities. She wanted us to respect our individualities. She asked us for dialogue, not confusion.

A table in the patio became the stage, a white cloth, the meeting point. Ceci's hands moved constantly, calm and safe. They placed objects in different places and combinations. I realized that she manipulates things as if embroidering. I placed our small works on other settings (walls, windows, plants and doors). Once the time was over, we returned everything to the boxes and retreated inside the house to discuss the new connections we discovered in our pieces.

From that moment of dialogue arose the work we created about the encounter of the different and the search for coincidences and points in common in the wide space of textile.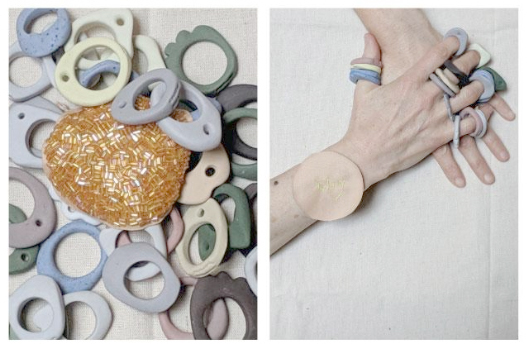 La variedad de técnicas y materiales enriquece el encuentro y abre la posibilidad a nuevas ideas y soluciones. La inclusión de objetos de origen diverso (un diario personal, ramas y cortezas, arcilla, hojas, glitter y mostacillas, contenedores de vidrio) introduce la idea de tiempo presentando diferentes momentos del hacer que nos convoca e invita al espectador a imaginar caminos posibles desde la idea a la creación del objeto, un recorrido que nunca es lineal ni predecible. El diálogo entre todos estos elementos sería la bisagra que permite imaginar posibles futuros.

La trama, entre tanto, se manifiesta dos maneras:

- desde lo técnico, la trama de materiales diversos enlazados por hilos (canutillos, mostacillas, hilo de obra y dijes de porcelana) se cruza con la urdimbre, otorgando una individualidad a cada uno de los objetos textiles.

- desde el punto de vista poético, tomando el concepto de trama como el conjunto de acontecimientos que dan forma a un relato, podemos imaginar cada pequeña interacción entre piezas como los diferentes sucesos que modelan la historia de nuestro encuentro plástico.
Diverse materials linked by threads (beads, yarn and porcelain charms) intersects with the warp, granting an individuality to each of the objects. The variety of techniques and materials enriches the work and opens up the possibility of new ideas and solutions.

The inclusion of objects of diverse origin (a personal diary, branches and bark, clay, leaves, glitter and glass containers) introduces the idea of time, presenting different moments of making that invites the viewer to imagine the journey from the idea to the creation of the object, a path that is never linear or predictable. The dialogue between all these elements would be the hinge that allows us to think about possible futures.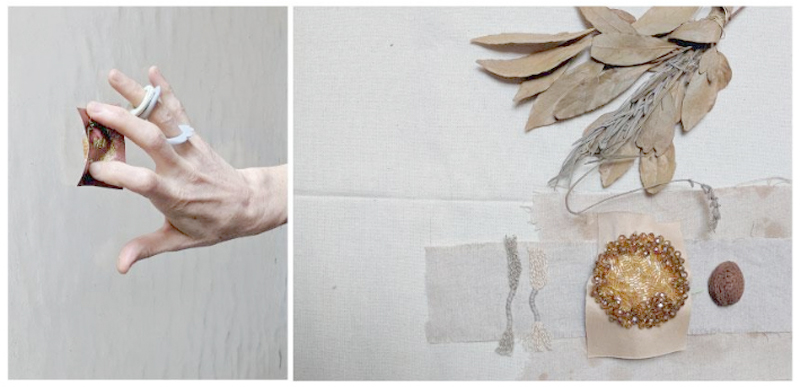 Ceci Fernandez y yo estaremos presentando "La trama como diálogo" en el marco del V° Encuentro De Textil en Umbral Espacio de Arte, Av. Díaz Vélez 3980, en el barrio porteño de Almagro.

Les invitamos el próximo sábado 7 de septiembre a partir de las 19 hs para compartir la apertura con nosotras.

Ceci Fernandez and I will be presenting "Warp as a dialogue" within the framework of the V° Textile Encounter in Umbral Espacio De Arte, 3980 Díaz Vélez Av., Buenos Aires City.

We invite you to join us at the opening night, next Saturday, September 7 at 7 pm.