BNOTEBOOK IN BLOOM
CUADERNO EN FLOR
Reinventing my necklaces
Reinventando mis collares

Monday, 30 Sep 2019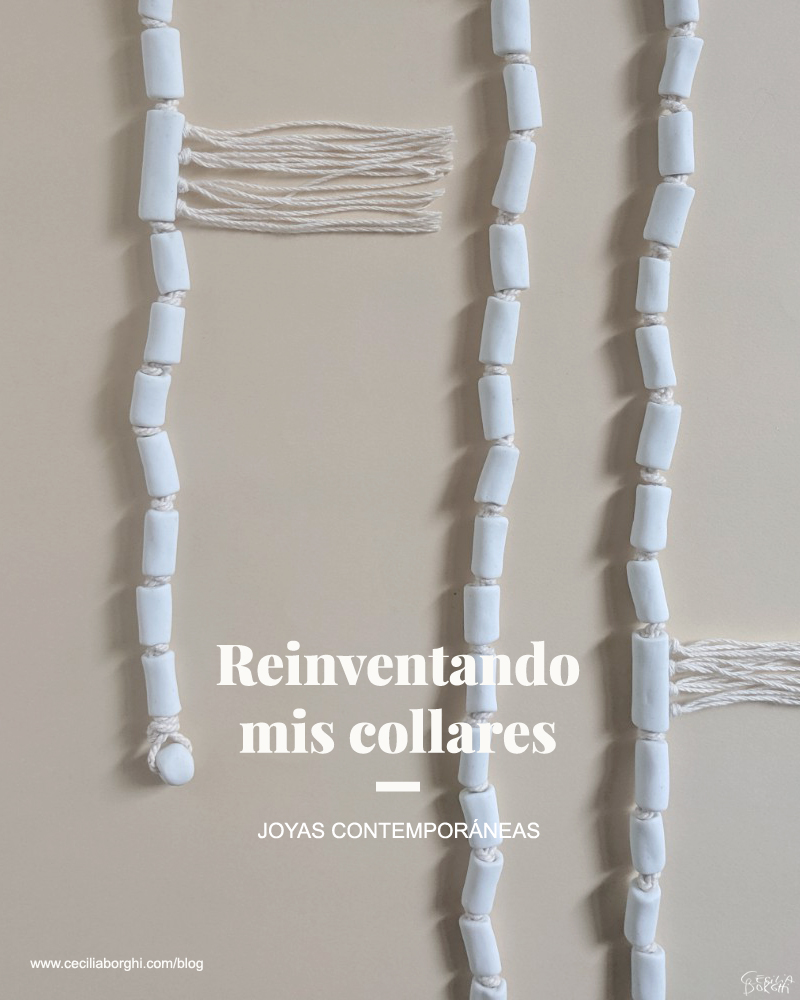 Volver a pensar algo, mirarlo con otros ojos, darle una segunda oportunidad, retomar una idea, desarrollarla, llevarla más allá.
Reinventar.
Eso hice con algunos de los primeros collares de porcelana que diseñé y que hoy presento en versiones repetibles.
Rethink something, look at it with different eyes, give it a second chance, retake an idea, develop it, take it further.
To reinvent it.
I did that with some of the first porcelain necklaces I designed years ago and which I introduce today in new versions.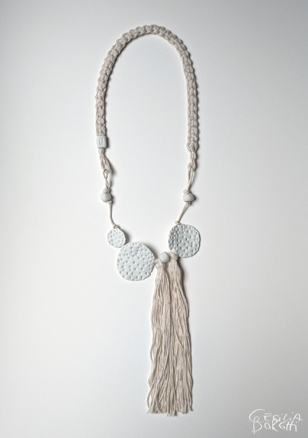 LLegué a ellos porque las piezas originales me gustaban mucho pero no me terminaba de convencer su forma final. Di muchas vueltas, tres años de anudar y desanudar hasta llegar a estas formas finales.
Mi intención fue lograr tres modelos que resultaran livianos, adaptables a diferentes situaciones y que transmitieran la idea de que los materiales sencillos también pueden ser valiosos.
I came back to them because I liked the original pieces a lot but I wasn't quite convinced about the final outcome. It took me three years of knotting and undoing until reaching these final forms. I intended to create designs that are light, adaptable to different situations and that convey the idea that simple materials can also be valuable.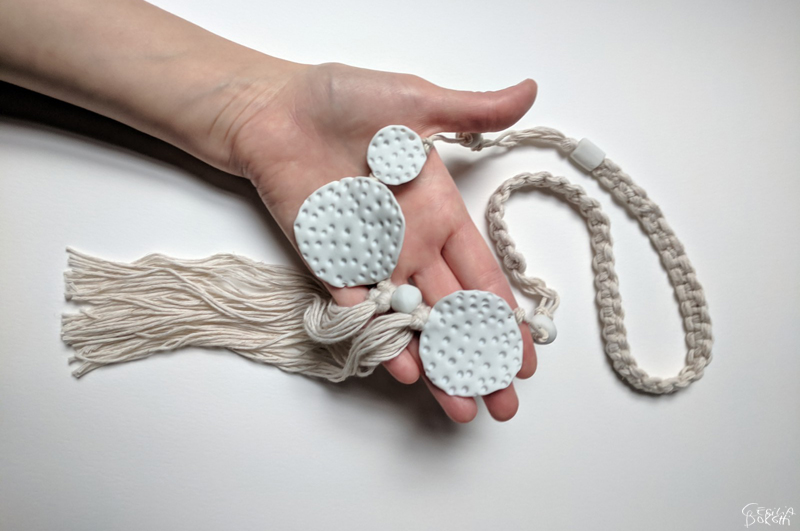 El collar Coral incluye una banda de lino trenzado. El lino es una de mis fibras favoritas, porque se ubica en el punto exacto entre lo rústico y lo sofisticado, una línea delgada que siempre exploro en mi trabajo.
The Coral necklace includes a braided linen band. Linen is one of my favourite fibres because it is rustic and sophisticated, a thin line that I always explore in my work.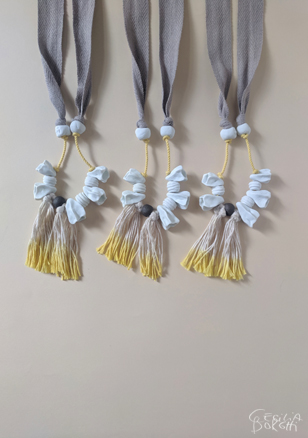 El collar Estambres es mi apuesta para lucir un tono de amarillo cálido y brillante. La cúrcuma es una raíz (similar al jengibre pero mas chiquita) que al rallarla o triturarla produce un tono amarillo brillante que lo impregna todo.
The Stamens necklace is my bet to wear a warm and bright yellow tone. Turmeric is a root (similar to ginger but smaller) that when grating or crushing produces a bright yellow hue that permeates everything.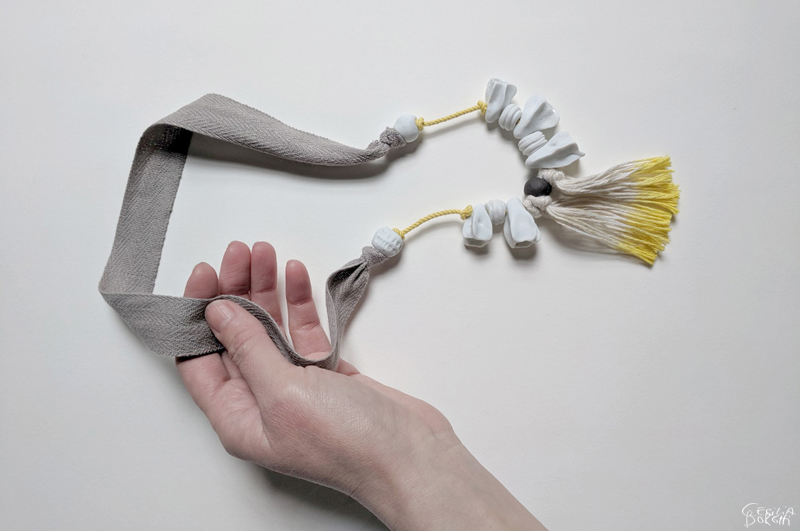 Supe del poder tintóreo de la cúrcuma por mi amiga Lesley, que preparara los curris más deliciosos que haya probado, suele quejarse de cómo se le mancha todo de amarillo cada vez que hace esta comida. Yo utilizo la curcuma molida en polvo que desprende un aroma distintivo. Este collar es un guiño a las flores y su polen.
I learned about the dyeing power of turmeric by my friend Lesley, who prepares the most delicious curries and often complains about how everything gets stained yellow every time she makes this meal. I use ground turmeric powder that has a distinctive aroma. This necklace is a nod to the flowers in bloom and their pollen.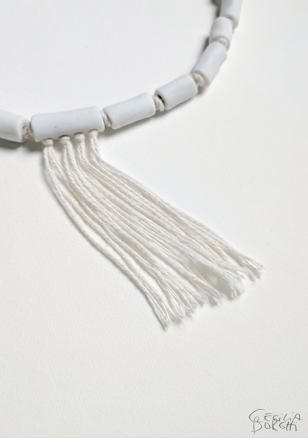 Con el collar Raíces busqué ir en una dirección más abstracta. Sin embargo, quien haya visto un tallo de suculenta echar raíz en un vaso de agua podrá entenderla idea detrás del diseño. Suculentos dijes de porcelana modelada a mano le dan resistencia, los nudos como pequeñas articulaciones le dan movilidad y los hilos de algodón se escapan en dirección a la tierra.
With the Roots necklace, I sought to go in a more abstract direction. However, anyone who has seen a succulent plant to grow roots in a glass of water can understand the idea behind the design. The cylinder charm gives it resistance, knots like small joints gives it mobility and cotton threads escape in the direction of the earth.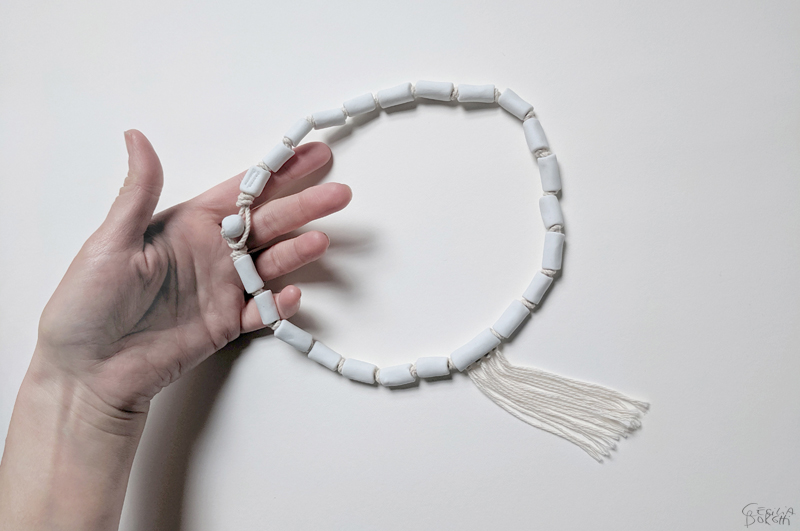 Estos nuevos modelos de collares ya están disponibles en la tienda online de Patrón. Les invito a conocerlos en detalle y a tenerlos en cuenta como regalos diferentes, creados con intención y respeto: www.patronba.com
These three new designs are now available in the online store of Patron (delivery only in Argentina). I invite you to think of them as different gifts created with intention and respect: www.patronba.com