LÁMINAS



Estas ilustraciones fueron creadas especialmente para El Pez Enmarcado. Se trata de 4 láminas, versiones digitales de dibujos realizados a pincel y tintas naturales de palta, cebolla, nogalina y yerba mate. Están impresas en papel texturado, lo cual les otorga una apariencia muy similar al dibujo original, y terminadas con marco de madera natural.

Participar de este proyecto fue una manera de incorporar a mi trabajo una nueva tecnología (en este caso la impresión digital) y hacerlo de manera inteligente (las copias se imprimen en pequeñas cantidades para evitar excedentes). Las imágenes son abstractas y están inspiradas en el paisaje urbano bonaerense, cuyas autopistas y descampados marcaron mis años de infancia y adolescencia.

Hay cuatro diseños combinables y todos están disponibles con las siguientes características:

- Impresión digital de alta calidad
- Impreso en papel texturado de 250 gr.
- Medida final del marco 32x42 cm
- Marco color natural lustrado
- Varillas madera kiri L15x20 mm
- Opción sin enmarcar

Las cuatro láminas están dispoinibles en la TIENDA ONLINE de El Pez Enmarcado.
PRINTS


These illustrations have been made for El Pez Enmarcado. The images were made by hand, with natural homemade inks on paper and later digitalized and printed on textured paper and a wood frame.

This project allowed me to incorporate new technology (in this case digital printing) into my work and to do it intelligently (copies are printed in small quantities to avoid surpluses). The images are abstract and are inspired by Buenos Aires urban landscape, with highways and open fields that marked my childhood and teenage years.

There are four combinable designs with the following features:

- High-quality digital printing - Printed on 250 gr textured paper.
- Final measurement of the frame 32x42 cm
- Brushed natural colour frame
- Kiri wood rods L15x20 mm

The four plates are available in the El Pez Enmarcado ONLINE STORE, in Argentina only.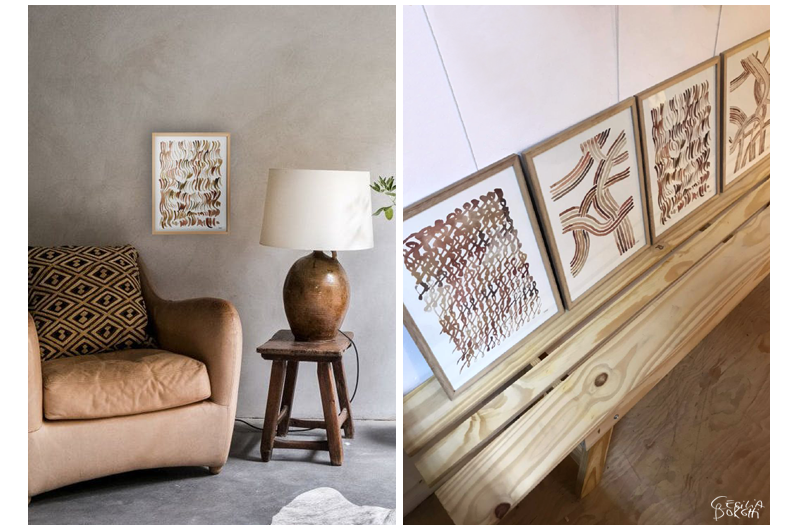 DISPONIBLES EN LA TINEDA ONLINE DE EL PEZ ENMARCADO