NOTEBOOK IN BLOOM
CUADERNO EN FLOR
Finding colour
Encontrando el color

Thursday, 16 Aug 2018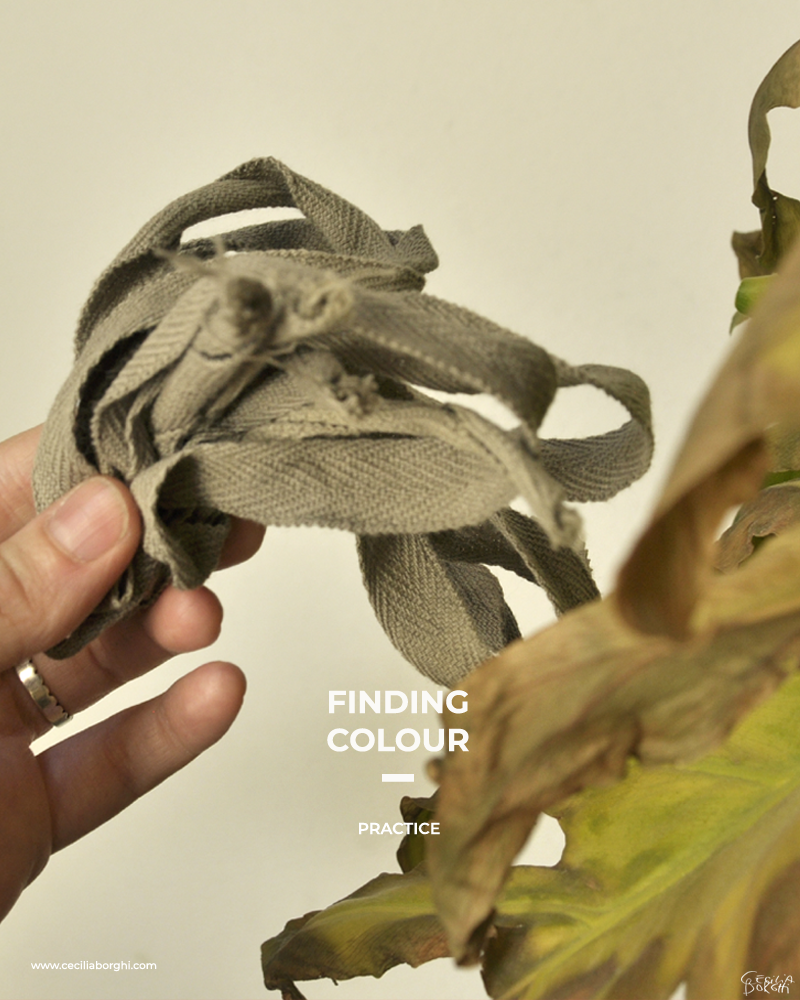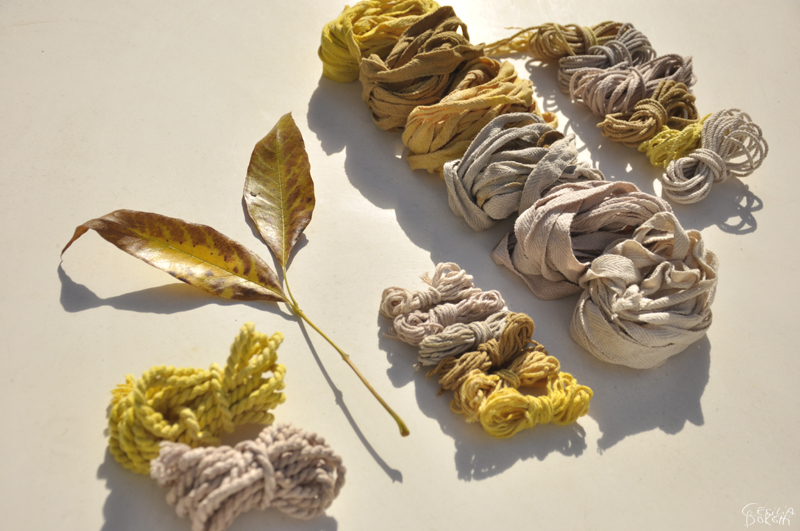 Pero cuando llegaba a las cordones donde enhebraba los dijes nunca estaba segura por dónde comenzar. Comprar cintas de tonalidades atractivas era fácil, pero esa idea no me convencía: ¿qué colores elegir? y ¿por qué unos y no otros? ¿buscaría los colores de moda o me concentraría en tonos neutros? Sentí la necesidad de infundir a esta búsqueda la misma organicidad con la que me conduje durante el proceso de modelado y diseño, ser reflexiva y consciente tanto del procedimiento como de los resultados.

Cinco años atrás experimentaba con anilinas sintéticas para teñir recortes de tela de lino. Trabajaba en la cocina de mi casa pero no me sentía muy cómoda usando este material en el mismo lugar donde preparaba comida. Pero mi cocina era ( y todavía lo es) el único lugar del que disponía para teñir.
I was not sure where to start. Buying ribbons tinted in bright hues seemed easy, but that idea did not convince me: what colours to choose? and why some and not others? Would I look for trendy palettes or concentrate on neutral tones? I felt the need to instil into this search the same organic approach in which I conducted myself during the process of modelling and design, to be reflective and aware of both the procedure and the results.

Five years ago, I began to experiment with synthetic dyes. I worked in my kitchen but I did not feel very comfortable using this material in the same place where I prepared food. But my kitchen was (and still is) the only place I have to dye.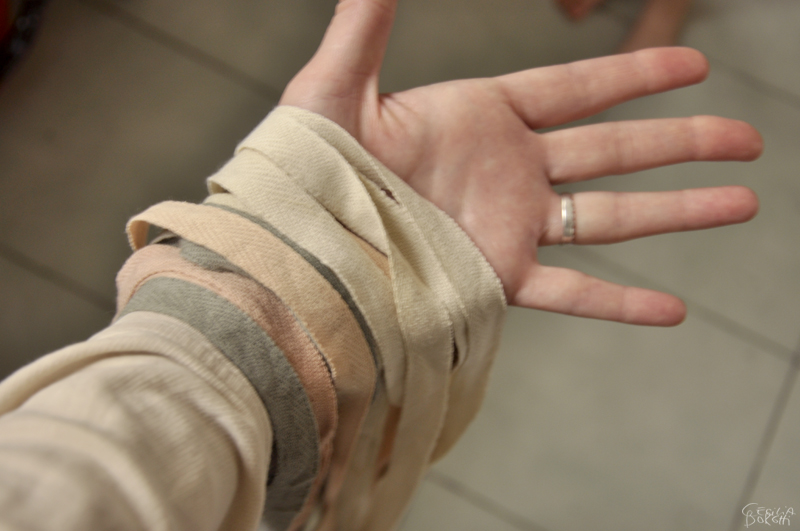 Finalmente me decidí por probar con tintes naturales. ¿Y qué sabía yo de tintes naturales? No mucho: que son sólo una amplia gama de tostados, que tienen poca intensidad, que se desvanecen con facilidad. Investigando un poco (porque la verdad no precisé mucho esfuerzo para llegar a mis primeras certezas y resultados) descubrí que las afirmaciones anteriores eran falsas y, paradójicamente, también verdaderas.

Es cierto que la mayoría de los colores que se obtienen utilizando tintes naturales son suaves o indefinidos si se utiliza poca cantidad de material tintóreo. Como aprendería más tarde, aumentando la cantidad de concentración y haciendo buen uso de fijadores e intensificadores, los colores resultantes pueden llegar a tener mucha intensidad.
Until I finally felt inclined to try natural dyes. And what did I know about natural dyes? Not much: that they are only a wide range of earthy tones, that they have low intensity and that fade easily. And researching a little (because it truly didn't require much effort to get some conclusions) I discovered that the previous statements were all false and, paradoxically, also true.

It is true that most of the colours obtained using natural dyes are soft or undefined if a small amount of dyeing material is used. As I would learn later, by increasing the amount of concentration and making good use of fixatives and intensifiers, the resulting colours can become very bright.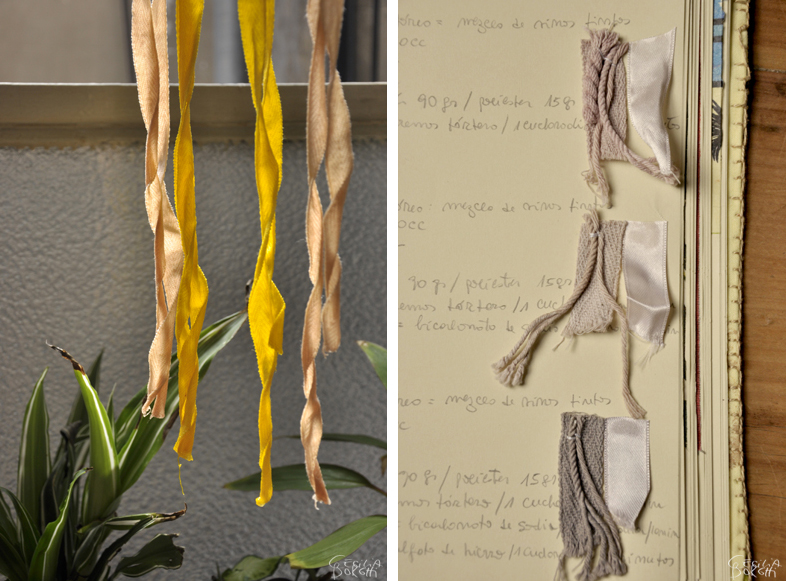 Los tonos más fáciles de conseguir son los derivados de materiales como la palta y la cebolla, que entregan una hermosa gama de tierras y rosados. Pero no son los únicos, ya que, pueden obtenerse rojos, azules y amarillos si se cuenta con las materias primas adecuadas. El amarillo de la cúrucuma es más brillante y hermoso que el que se logra partir de un tinte sintético comercial y aunque su intensidad tiende a disminuir con el paso del tiempo, su belleza no se pierde, sino que cambia dando paso a un matiz suave.

Diferentes tintes presentan mayor o menor resistencia al desvanecimiento por exposición a la luz solar o los lavados. Pero en ese aspecto no difieren de los tintes sintéticos que, aunque en menor medida, también sufren modificaciones producto del uso y la exposición al sol y eso no es más que un simple recordatorio del paso del tiempo.

El proceso de teñido con tintes naturales es largo y trabajoso, requiere de atención y cuidado y además implica recolectar el material tintóreo y comprar en distintos comercios el resto de los elementos.
The easiest tones to obtain are those derived from materials such as avocado and onion skin, which deliver a beautiful range of browns. But they are not the only ones since you can get blue, yellows and reds using the right raw materials. The yellow from turmeric root is brighter and more beautiful than the one obtained using commercial synthetic dyes and although its intensity tends to diminish with the passage of time, its beauty is not lost but transformed, giving way to a softer shade.

Different dyes have greater or less resistance to fading due to exposure to sunlight or washing. But at the end of the day, they do not differ from the synthetic dyes that also suffer modifications due to the use and that is nothing more than a simple reminder of the passing of time.

The process of dyeing with natural dyes is long and laborious, requires attention and care and also involves collecting the materials and buying the rest of the elements required.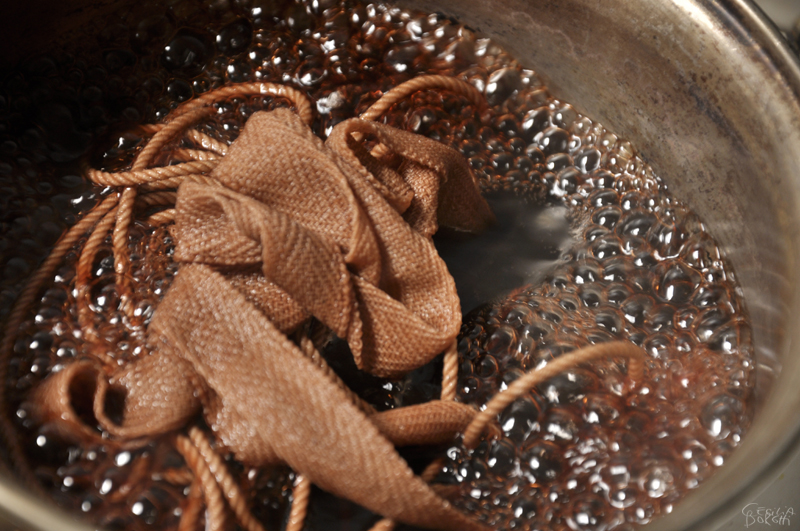 El primer paso fue fácil, simplemente probé a sumergir telas de algodón en una mezcla de agua hirviendo con cúrcuma y vinagre, ya que sabía que todo lo que la cúrcuma toca lo mancha y no sale, como sucede con las servilletas después de comer un curry. Y el amarillo que obtuve era simplemente hermoso. Aunque se trataba apenas de un experimento, me sirvió para sentir curiosidad y ganas de ver qué más podía hacer desde mi cocina.

Finalmente me decidí a hacer un curso en Hebra Lab y pude apreciar la meticulosidad con la que Carolina encara el trabajo de teñir lana con tintes de palta, cebolla, yerba mate y cochinilla. Sus observaciones prácticas me fueron de mucha ayuda, especialmente a la hora de reflexionar sobre qué materiales tenía sentido utilizar y cuáles no.
The first step was easy, I simply tried to dip cotton fabrics in a mixture of boiling water with turmeric and vinegar, since I knew that everything turmeric touches stains it and does not come out, as it happens with napkins after eating a curry. And the yellow that I got was just beautiful. Although it was just an experiment, it helped me to ignite my curiosity and discover what else I could do from my kitchen.

After several trials and errors, I decided to take some dying lessons at Hebra Lab where I could appreciate the thoroughness with which Carolina faced the work of dyeing wool with avocado and onion skin and yerba mate. Her practical observations were very helpful, especially when it came to reflecting on what materials made sense to use and which ones did not.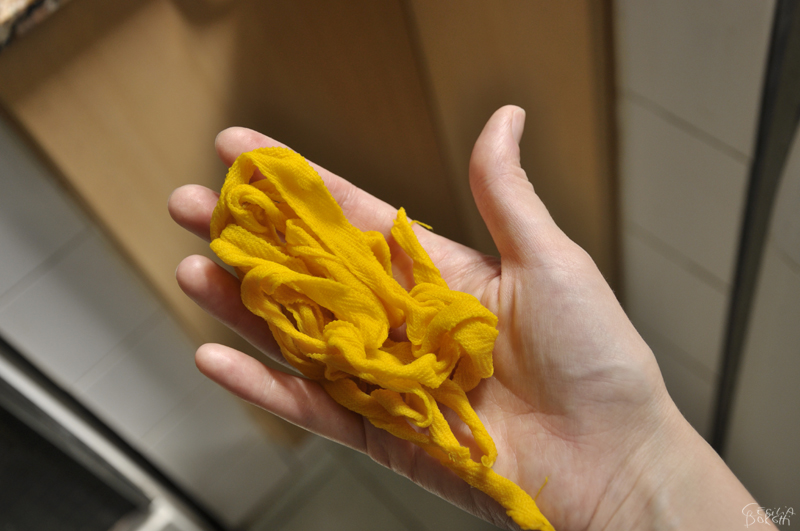 Hay mucho para explorar, pero en mi caso, la exploración no es el fin en sí, sino un camino por el cual llegar a aquellos colores que son funcionales a mi trabajo. Una vez obtenidos una serie de colores interesantes comienzo a componer gamas combinándolos con los dijes de porcelana esmaltados. Mi interés se centra en el tratamiento de la materia, soporte de la obra que, en un plano ideal, transporta una idea porque la lleva imbuida en cada paso de su creación. La obra final es un objeto en cuya confección las ideas han sido aplicadas y las convicciones respetadas a base de esfuerzo y decisión por llevar adelante un ideal.

Quise llegar al color de manera orgánica. Mi objetivo era crear una paleta de colores que surgiera de un proceso de trabajo manual y búsqueda, en lugar de idearla mentalmente y luego dedicarme a encontrar cada uno de los colores elegidos.
There is a lot to explore, but in my case, exploration is not an end in itself, but a path through which to reach those colours that are functional to my work. Once obtained, I start to combine them with the glazed porcelain charms. My interest focuses on the treatment of the raw materials that, once together, will make up the final work that conveys an idea that it is imbued with each step of its creation. It is an object in which ideas have been applied and convictions respected based on effort and decision to carry forward an idea.

I wanted to reflect on the colour from an organic point of view. By this, I mean that my goal was to obtain a colour palette as a result of the process of manual work and research, instead of mentally devising it and then dedicating myself to finding each of the desired colours.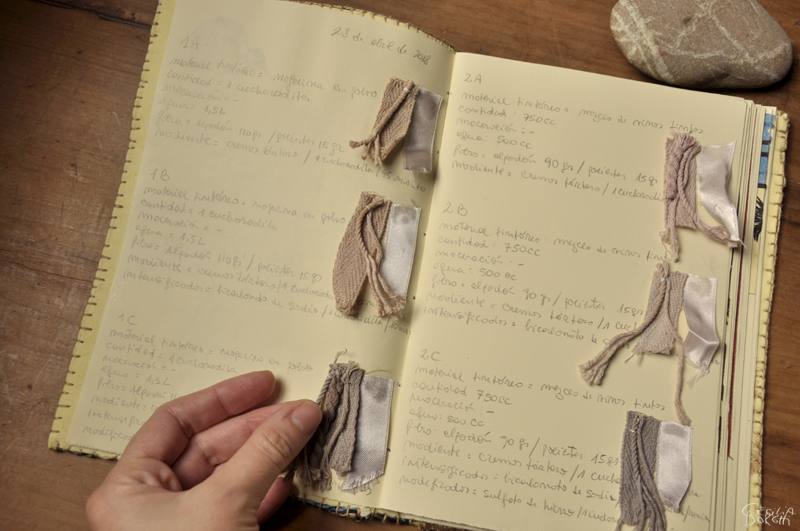 Mientras recorría con la vista las estanterías de la mercería mayorista donde esperaba adquirir diferentes tipos de cordones y cintas de algodón para confeccionar mis collares, no podía evitar sentir ganas de comprar rollos de diferentes colores, brillantes y variados.

Pero ya estaba decidida a continuar por el camino de la experimentación y reflexión, más trabajoso pero también más enriquecedor y acorde a mi búsqueda.
While I scanned the shelves of the wholesale store where I expected to buy different types of untinted cotton ribbons to make my necklaces, I could not help feeling the urge to buy rolls of many different bright colours.

But I was already determined to continue on the path of experimentation and reflection, which is more laborious but also more enriching.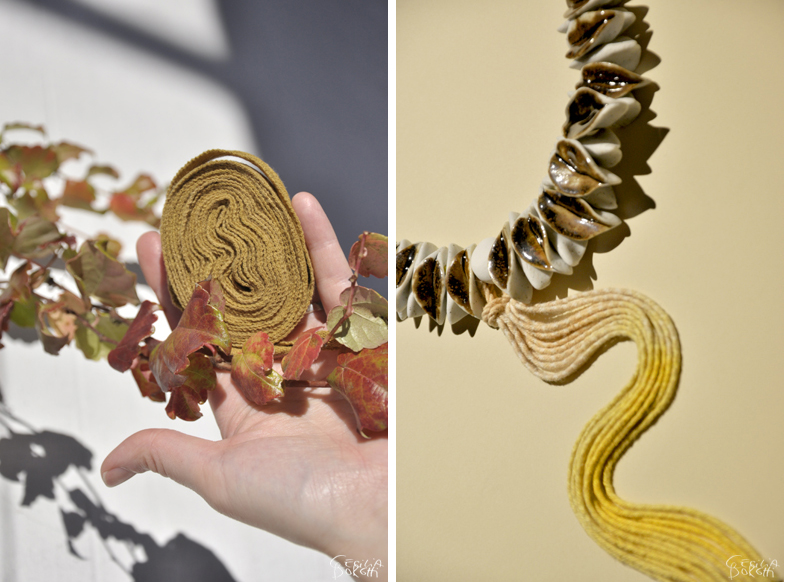 Los soportes que finalmente elegí fueron cinta y cordón de algodón producidos industrialmente. Tratarlos con materiales naturales los resignifica otorgándoles un nuevo estatus, el de materia prima valiosa. Este acercamiento me interesa mucho y se alínea con mi creencia de que la producción industrial es indispensable en el mundo contemporáneo, pero es imperante que se adecúe a la realidad actual, pasando de un modelo de superproducción, obsolescencia y descarte a otro enfocado en la calidad y el cuidado del medioambiente. Invertir el proceso y devolver lo industrial al ámbito de lo artesanal para resignificarlo es mi propósito.

Lo que podría haber resuelto en apenas unas semanas si me hubiese inclinado por elegir cintas de colores terminó transformándose en una búsqueda que se prolongó en el tiempo y ya lleva más de un año. Pero yo quería expresarme a través del color y eso requiere esfuerzo y dedicación.
The materials that I finally chose were industrially produced cotton ribbons and cords. Treating them with natural materials resignifies them by giving them a new status, that of valuable raw material. This approach interests me a lot and is aligned with my belief that industrial production is indispensable in the contemporary world, but it is imperative that it adapts to current reality, going from a model of overproduction, obsolescence and discarding to another focused on quality and the care of the environment. Inverting the process and returning the industrial to the area of craftsmanship to resignify it is my purpose.

What could have been solved in just a few weeks if I had been inclined to choose commercial coloured ribbons ended up a search that has lasted over a year. But I wanted to express myself through colour and that requires time and dedication.