NOTEBOOK IN BLOOM
CUADERNO EN FLOR
Lightening the weight
Alivianando el peso

Thursday, 13 May 2021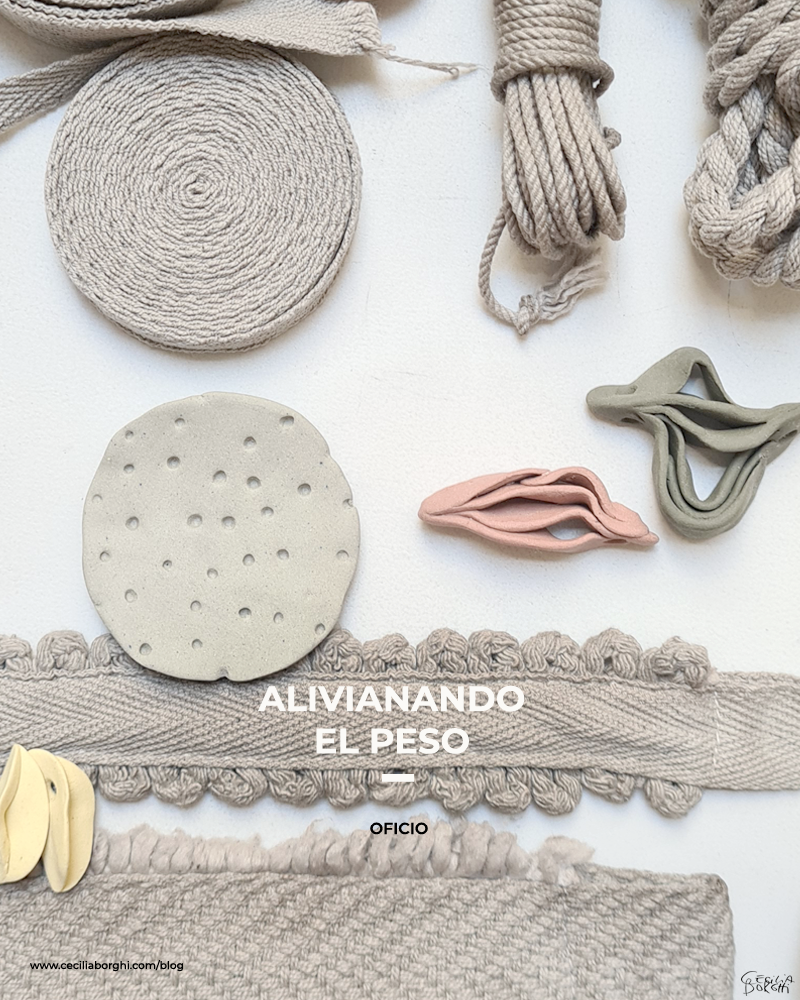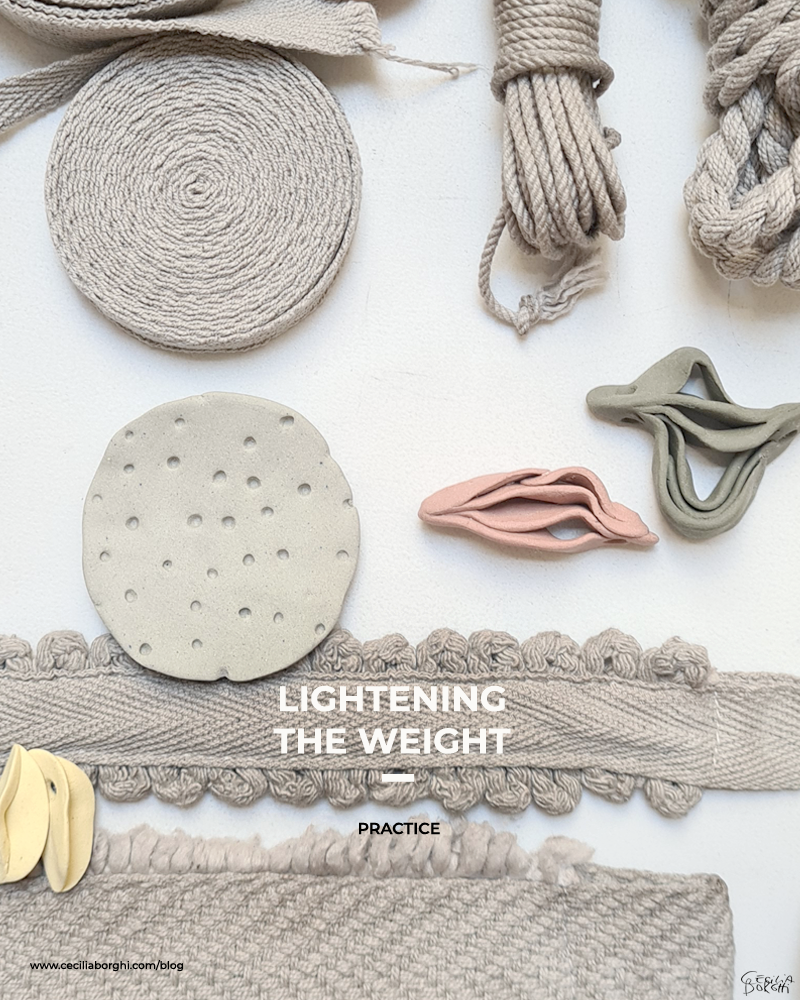 Cuando las razones se encuentran en el hacer.

Texto e imágenes: Cecilia Borghi



Casi todas mis series de trabajos comienzan de manera inesperada.

No suelo planearlas de antemano, simplemente comprendo que estoy trabajando en un tema mucho después de haber comenzado a elaborarlo, sin pensarlo concientemente.
When answers are found in the making.

Text and images: Cecilia Borghi



Almost all my series of works begin unexpectedly.

I don't usually plan them in advance, I just understand that I am working on a topic long after I have started elaborating it, without consciously thinking about it.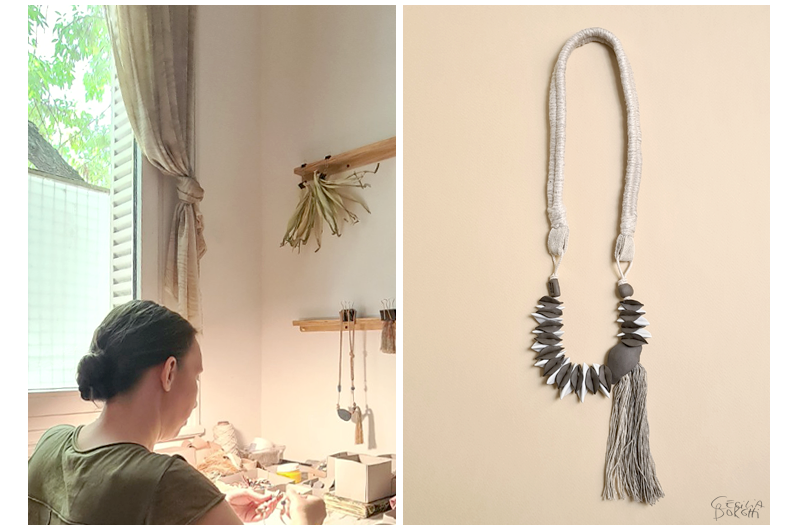 Esta soy yo haciendo algo que me caracteriza: si miro una cosa fijamente por mucho tiempo significa que estoy pensando en como modificarla. A la derecha el collar AVE N° 9 con dijes de porcelana y gres y un cordón torzado a mano. Está disponible en la tienda online de SACH San Telmo.
This is me doing something that characterizes me: if I stare at a thing for a while it means that I am thinking about how to change it. On the right, the AVE N ° 9 necklace with porcelain and stoneware charms and a hand-twisted cord. It is available at SACH San Telmo online store.
Trabajar con distintos materiales plásticos es también un modo de pensar, diferente al mental, se trata de una reflexión sensorial que permite comprender algo a través de nuestros sentidos, en lugar de hacerlo a través de un razonamiento lógico.

La vista y el oído son los sentidos privilegiados de nuestro tiempo. Sin emabrgo, para mí, el tacto y el olfato son constantes fuentes de imágenes e ideas.
Working with different materials is also a way of finding knowledge. A sensory reflection allows us to understand things through our senses, instead of doing it through logical reasoning.

Sight and hearing are the privileged senses of our time. However, for me, touch and smell are constant sources of images and ideas.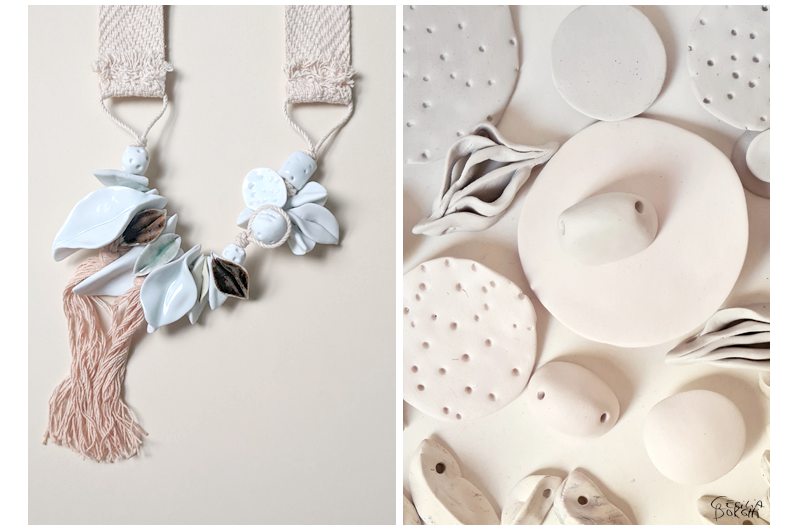 El collar Ave N° 4 que se encuentra a la venta en PATRÓN Concept Store, Malabia 1644, Palermo Viejo y dijes en crudo esperando entrar al horno para ser horneados a 1250°.
Bird N° 4 necklace available at PATRÓN Concept Store and raw beads ready to be fired in the kiln at 1250°
Algo en lo que he estado trabajando por mucho tiempo es en crear una sensación de ligereza al vestir mis collares.

Podría parecer una contradicción el hecho de crear piezas cada vez más grandes y pretender que sean más livianas. Pero es posible lograrlo si nos enfocamos en las sensaciones. Mi intención es generar la impresión de liviandad en relacion a un volumen importante.
Something that I have been working on for a long time is in creating a feeling of lightness when wearing my necklaces.

It might seem like a contradiction to create bigger pieces and try to make them lighter. But it is possible to achieve this if we focus on the sensations. My intention is to generate the feeling of lightness in relation to a big volume.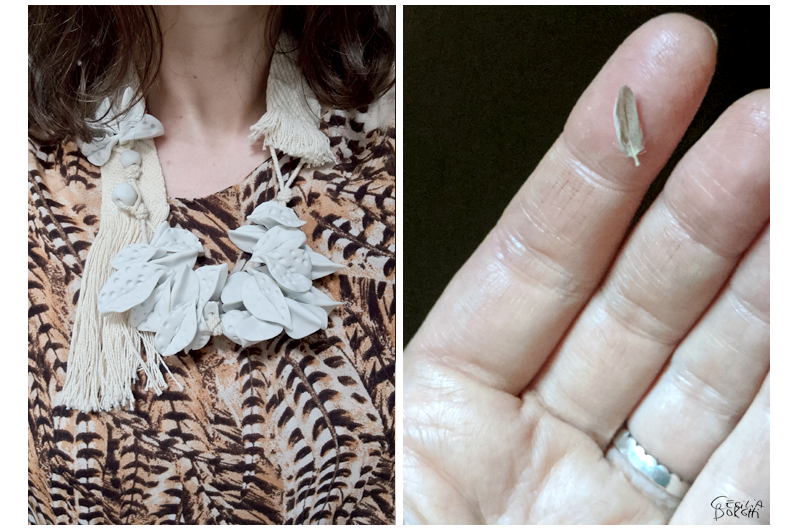 Aquí el collar Ave N°8 en venta en la tienda web de SACH San Telmo sobre un vestido completamente estampado. A la derecha, una micro pluma.
Here is the Bird N°8 necklace available at SACH San Telmo, over a fully printed dress. On the right, a mini-feather.
Aunque la intención estaba y los resultados iban sucediendo, todavía me faltaba entender cómo esta busqueda podía ser expresada en una forma o, en este caso, en mis collares.

Hacía rato que venía trabajando en collares de muchos dijes y cordones anchos cuando la palabra AVES se me vino a la mente. El catalizador fue la invitación a exhibir algunas piezas en una vitrina antigua. Y ese vocablo se fijó en mi mente y lo sentí acertado, incluso aunque todavía no estaba segura de la razón.
Although the intention was there and the results were happening, I still had to understand how this search could be expressed in my necklaces.

I had been working on necklaces with lots of beads and wide strands for a long time when the word BIRDS came to mind. The catalyst was an invitation to display some pieces in an antique wooden and glass display case. And that word got stuck in my mind and it sounded right to me, even though I wasn't yet sure why.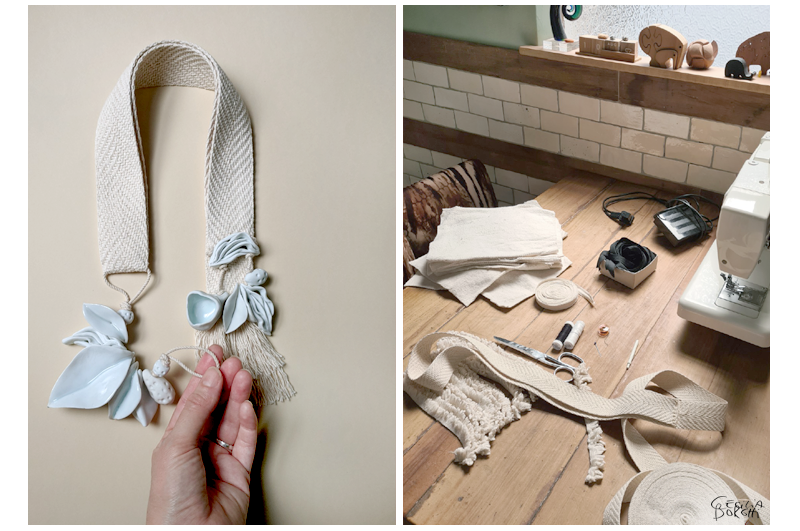 El collar Ave N°5 tiene un cierre oculto en el frente. Sus cordones de algodón fueron cosidos parte a máquina y parte a mano.
The Bird N°5 has an opening disguise in the front. The cotton cords that shape mi pieces are sowed by hand and also using a sowing machine.
Leyendo sobre las aves aprendí que algunos de sus huesos son huecos, lo que les otorga levedad y les permite levantar vuelo más allá del tamaño de sus cuerpos.

La porcelana es un material denso y la inclusión de dijes de formato grande en un collar suele volverlo pesado. Pero comprendí que la solución podían dármela los textiles y comencé a experimentar con distintos modos de ensamblar las partes para lograr piezas que distribuyeran el peso de forma pareja alrededor del cuello y generaran una cierta sensación de liviandad.
Reading about birds I learned that some of their bones are hollow, which gives them lightness and allows them to take flight beyond their size.

Porcelain is a dense material and the inclusion of large-format charms in a necklace often makes it heavy. But I imagined that the solution could be in the textiles. So I began to experiment with different ways of assembling the parts to achieve textile pieces that distribute the weight evenly around the neck and generate a certain sensation of lightness.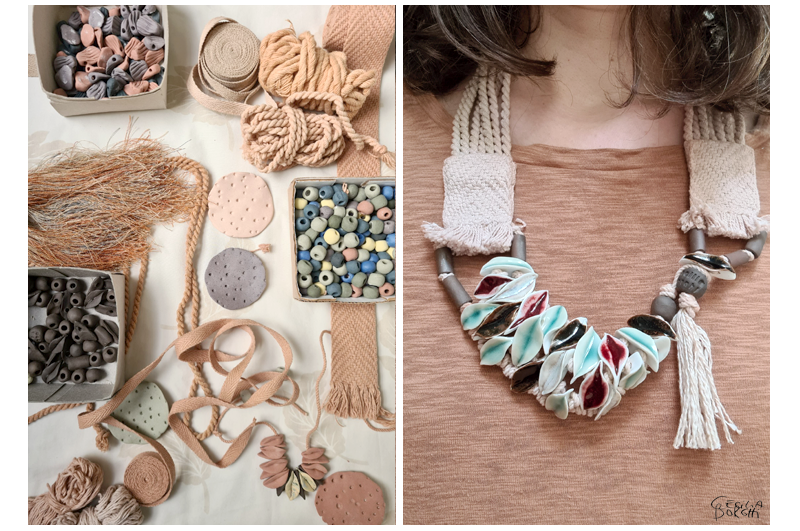 Dijes de porcelana, cordones y flecos de telas recicladas junto al collar Ave N°11 que está disponible en la tienda web de SACH San Telmo.
Porcelain beads, cotton cords and recycled textiles next to the Bird N°11 necklace, available at SACH San Telmo.
La distribución del peso pude lograrla con textiles anchos y planos que se amoldan al cuello y apoyan sobre la piel en lugar de surcarla.

Este tipo de soporte tiene además su propio peso, lo que provoca una cierta caída hacia atrás, compensando el peso de los dijes de porcelana en el frente y repartiendo el volumen gentilmente sobre una superficie más amplia.
Weight distribution can be achieved with wide and flat textiles that mould to the neck and rest on the skin instead of furrowing it.

This type of support also has its own weight which causes a certain fall backwards, compensating for the weight of the porcelain beads on the front and distributing the weight gently over a larger surface.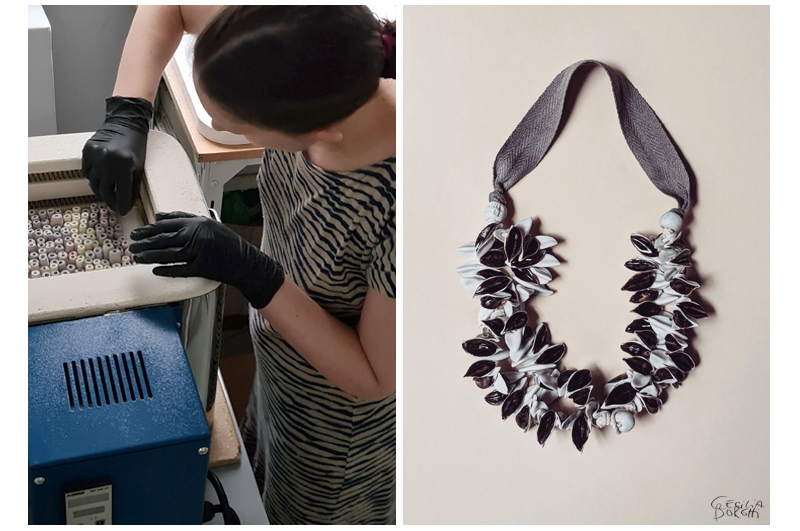 Y finalmente acá me tienen, cargando el horno dije por dije. A la derecha el collar Ave N°1 que lo encuentran en SACH San Telmo.
And finally, here I am, loading the kiln bead by bead. On the right Bird N°1 necklace, available at SACH San Telmo.
El descubrir un modo de trabajar en piezas más vistosas sin descuidar la experiencia de vestirlas fue muy importante para mí ya que me interesa crear objetos artísticos que se sientan vivos.
Deseo que mis obras no sean cosas inertes sino que se transformen en una experiencia. Deseo que sean vividos, que cambien, que el paso del tiempo y el uso los afecte, los marque y los desgaste. Y que en ese transcurrir dejen una huella en quien los ha elegido. Porque poder aceptar la idea de que el cambio y la finitud no son algo malo ni bueno, sino que simplemente son parte constitutiva de nuestras vidas, es también un modo de sacarnos un gran peso de encima.
Discovering a way to work on bigger necklaces without neglecting the experience of dressing them was very important to me since I am interested in creating art objects that feel alive.

I want my works not to be inert things but to become an experience. I wish that they are lived, that they change, that the passing of time and the use affect them, mark them and wear them out. And most important, that they leave memories on who has chosen them. Because being able to accept the idea that change and finitude are neither good nor bad, but a constitutive part of our lives, is also a way to get rid of a lot of weight.