MI RECORRIDO



Actualmente me dedico a crear collares únicos y en serie en porcelana y algodón y dibujos a tinta y lápiz. Me interesa acentuar el carácter manual de cada trabajo.
MY PATH



Currently, I make one of a kind and series of necklaces in porcelain and cotton. I also create drawings in ink and pencil. I am interested in accentuating the manual nature of my work.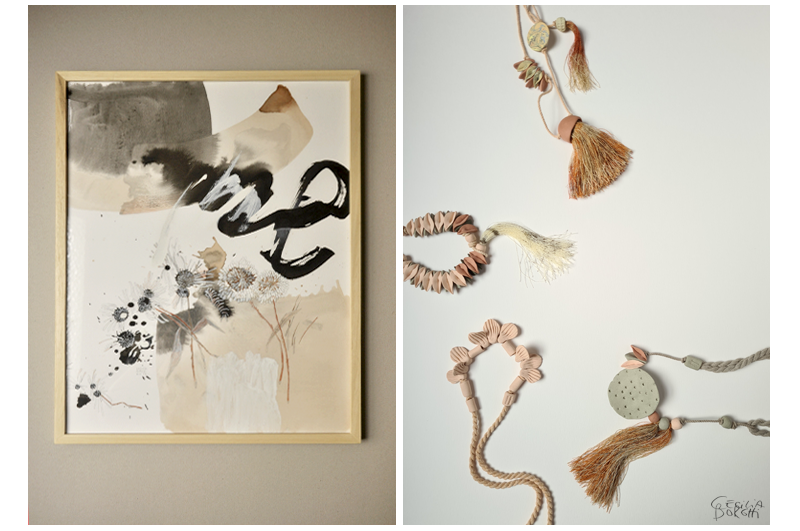 Durante 2020 me dediqué a desarrollar la serie de collares que titulé Ave, donde los textiles anchos y planos compesan el peso de la porcelana dando sensación de liviandad a pesar de su tamaño.

También experimenté con tintas naturales en Conurbana, una serie de paisajes abstractos inspirados en el conurbano bonaerense.
In 2020 I developed the Birds series, necklaces with wide and flat textiles that compensate the weight of porcelain, giving a sensation of lightness despite its size.

I also experimented with natural inks in Conurbana, a series of abstract landscapes inspired by the Buenos Aires suburbs.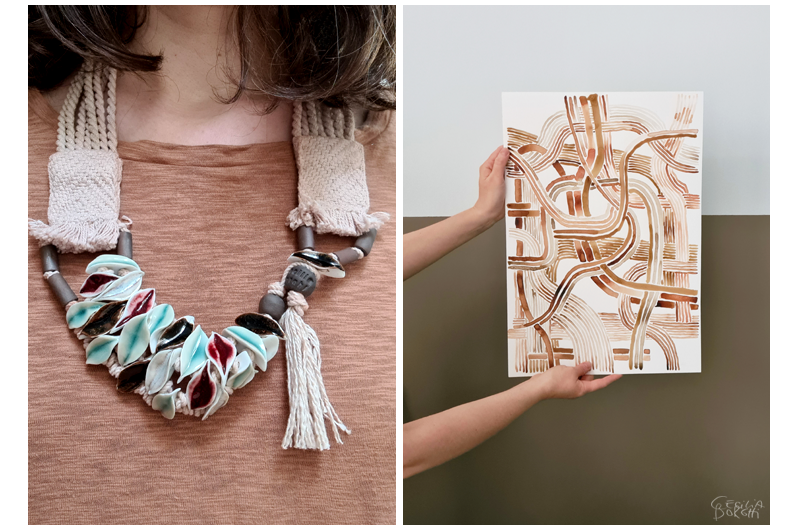 En 2019 fui invitada por Puentestudio a dar la versión presencial de mis apuntes El Gesto Propio en Mar de Plata.

Guiada por la artista textil y performer Nilda Rosemberg realicé una obra en conjunto con Ceci Fernandez, artista especializada en bordado. Nuestro trabajo fue seleccionado y expuesto en el V° Encuentro de Textil en Umbral Espacio de Arte, BsAs.
In 2019 I was invited by Puentestudio situated in the coastal city of Mar del Plata, Argentina, to give a one day workshop based on my drawing practice.

Earlier that year, I was selected along with with artist Ceci Fernandez to presente a colaborative instalation for the textile exhibition at Umbral Espacio de Arte.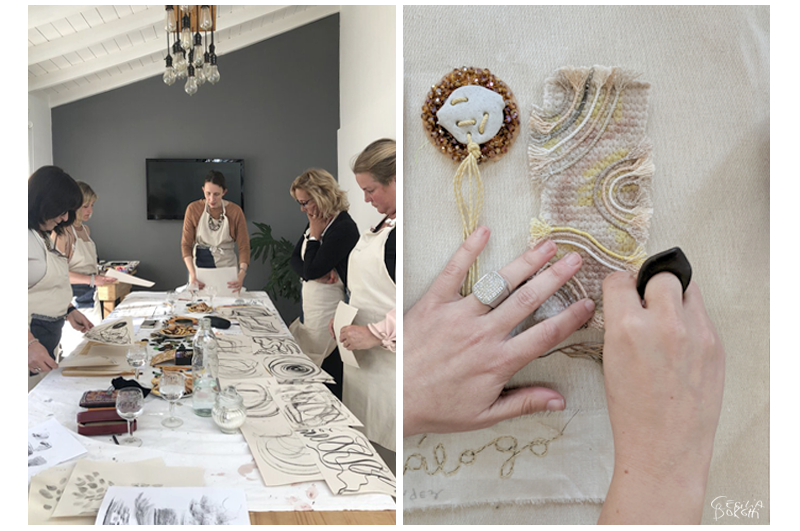 En 2018 hice una serie de 24 dibujos con tinta y tintes naturales sobre papel para Merecido Home Decor. A partir de esta experiencia comencé a trabajar con tintes de origen vegetal sobre distintos tipos de papel.
In 2018 I was commissioned by Merecido Home Decor, a store and home styling project in Buenos Aires, to produce 24 original inks on paper based on their signature palette. I used natural dyes on cotton sheets to capture the soft shades that distinguished their settings.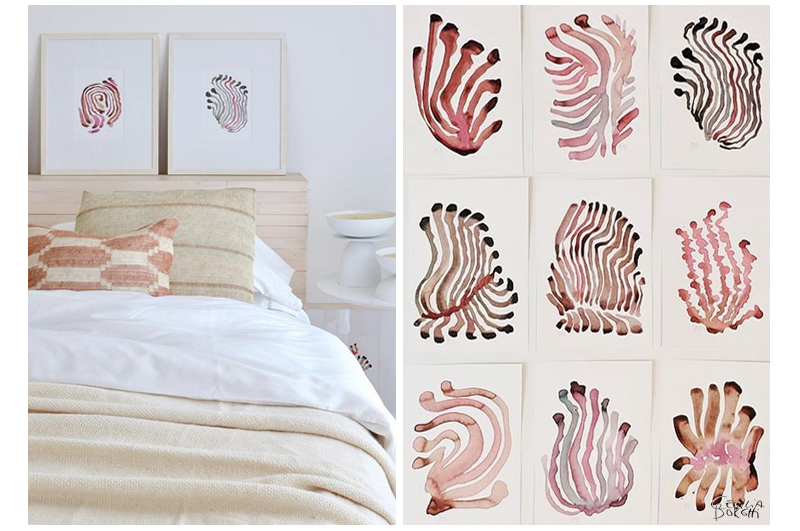 A comienzso de ese año se realizó la reimpresión de un estampado que diseñé para Laura Patrón Costas quien me encargó la tarea de crear una imagen que trasnmitiera, a mi manera, las ideas de océano y orilla del mar.

La imagen fue plasmada sobre chalinas de gasa de 1x2m. No podría haber quedado más feliz con el resultado.
In 2018 designer Laura Patrón Costas launched the second edition of a print I created for her summer collection. The design included sea-inspired shapes printed on a 1x2m cotton scarves.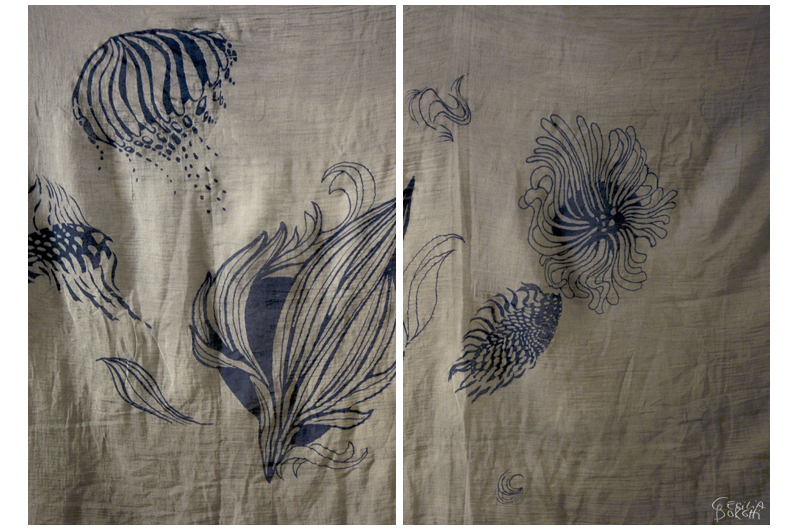 Durante 2017 comencé a desarrollar una serie de dibujos a los que llamé dúos combinables. Se trata de una obra dividida en dos hojas. Al ponerlas juntas se genera una continuidad de la imagen que cambia de aspecto según se combine en posición vertical o apaisada.

Fue en esta época que comencé a interesarme por el teñido con tintes naturales.
In 2017 I started a series of works on paper which I describe as combinable duets. A floral motif spreads over two sheets of paper. When setting one along with the other the image shows a continuity.

It was about this time when I began to experiment with natural dyes on cotton cords.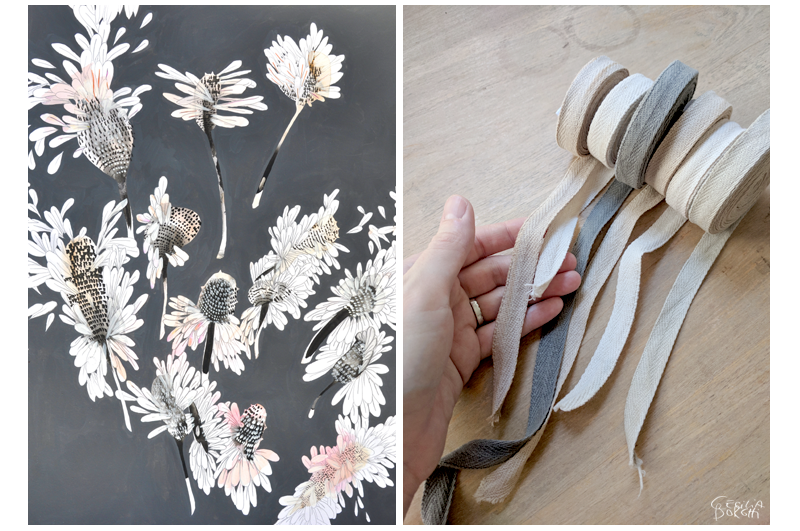 Ese mismo año fui invitada a realizar la primera vidriera temática de Tienda Tokonoma en la que incluí mis flores de porcelana e intervine el vidrio con una imagen gestual en pintura látex.

Además realicé 20 obras en tinta y lápiz para Pulso, galería de arte online focalizada en dibujo, ideada por Kenia Mihura. Estos trabajos de pequeño formato fueron creados como obsequios para los asistentes de un evento especial.
That same year I was invited to set the first thematic window at Tokonoma Art and design former store in Buenos Aires. I displayed a set of my porcelain flowers which would be seen through a painting on the window glass.

I also created a bespoke set of ink drawings for Pulso online gallery.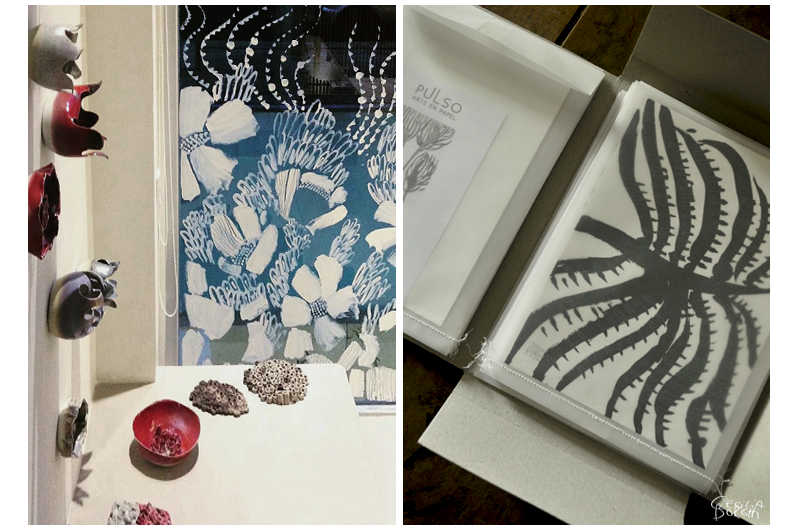 En 2016 mi trabajo captó la atención de la curadora norteamericana Bryna Pomp gracias a quien fui invitada a participar en MAD About Jewelry 2016, evento internacional de joyería artística contemporánea que se realiza anualmente en el Museo de Arte y Diseño de Nueva York.

Una selección de esos collares fue luego exhibida en el marco de la muestra BIGIÙ: Gioielli ceramici en Salerno, Italia.
The porcelain necklaces I created caught the attention of North American curator Bryna Pomp, thanks to whom I was invited to participate in MAD About Jewelry 2016, an international event that takes place annually at the Museum of Art and Design in New York.

A selection of pieces was later exhibited at BIGIÙ: Gioielli ceramici in Salerno, Italia.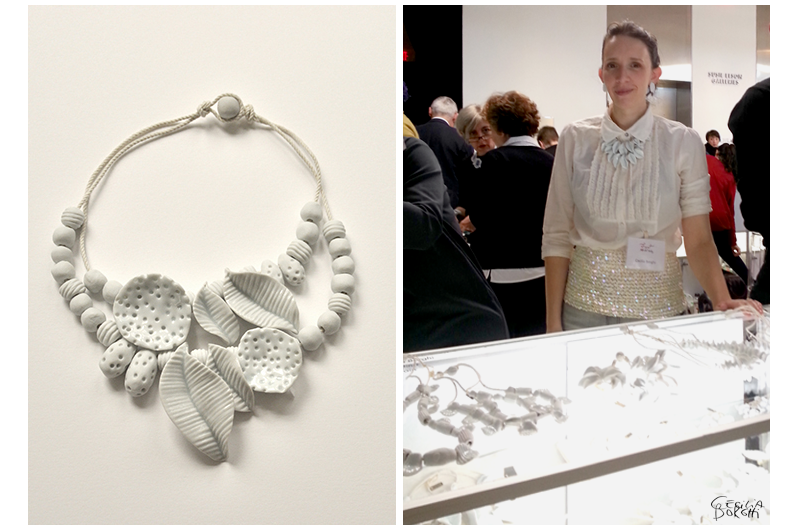 A mediados de 2015 la Revista Living Argentina me encomendó la ilustración de un dossier de 10 páginas en celebración de sus 10 años. Las ilustraciones incluían diferentes sectores del hogar desplegados sobre las aguadas de tinta que caracterizan mis dibujos.
In 2015 I was invited to illustrate a 10 pages spread with iconic interiors for Living Magazine Argentina.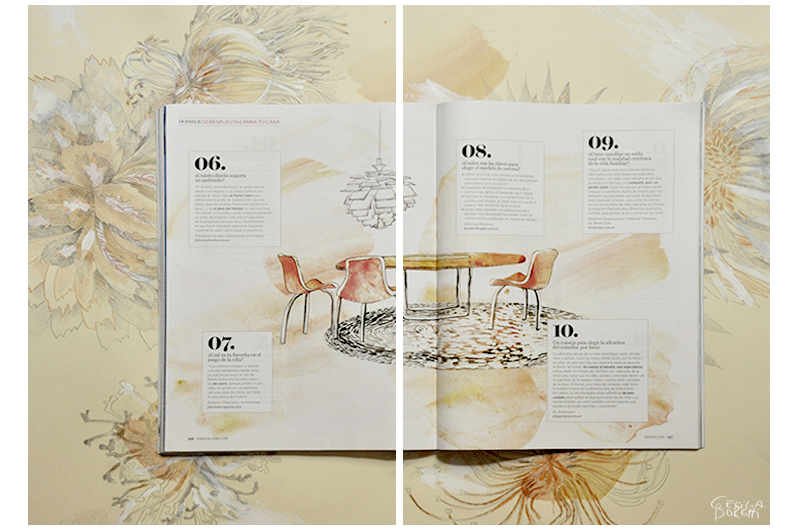 Ese año mi obra Jardín de las Hespérides, fue seleccionada para el Premio Itaú Artes Visuales y exhibida en el Centro Cultural Recoleta (Bs As) y en el complejo La Nave Cultural (Mendoza).
Mi work Garden of the Hesperides was selected and exhibited for the Itaú Art Prize Argentina and displayed at venues in Buenos Aires and Mendoza, Argentina.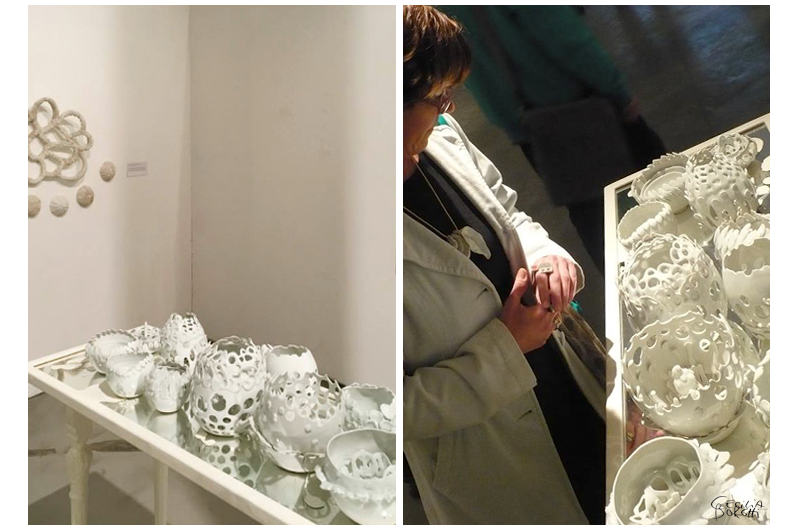 2014 fue el año en el que comencé a darle forma a mis collares de porcelana. Algunas de estas primeras piezas fueron incluidas en la selección de joyería de Tienda Patrón, espacio en que continuó dando a conocer mi trabajo.

Dibujos de mi serie Inflorescencia fueron seleccionados para las exhibiciones Pop Up Art, curadas por Violeta Quesada y Kenia Mihura, realizadas en el amplio subsuelo de la tienda.
In 2014 I began to develop my porcelain necklaces: the first batch was exhibited a Patrón Concept Store in Buenos Aires.

I also started a series of works on paper titled Inflorescence that was included in the art group show Pop Up Art curated by Violeta Quesada and Kenia Mihura.
A comienzos del año 2013 participé de la muestra Bestiario curada por Sylvie Argerich en Sputnik Galería junto a Leila Córdoba y el proyecto Rita Flores, Misiones, 1989. La sala de ingreso incluyó mis flores de porcelana y dibujos de la serie Cotidiano. En la trastienda me dí el gusto de mostrar otra faceta de mi trabajo: cuencos y cucharas con esmaltes de reducción de la serie Señas Particulares.

Hacia fin de año, mi obra Venus fue seleccionada para el 102° Salón Nacional de Artes visuales (celebrado en el Palais de Glace, Bs As.) y recibió una mención del jurado.
In 2013 I was invited to participate Bestiario group exhibition, a contemporary ceramics art show curated by Silvye Argerich. My porcelain flowers and some drawings were displayed in the entrance hall while a selection of bowls and porcelain spoons were part of the back show.

That same year my piece Venus was selected for the national art prize 102° Salón Nacional de Artes Visuales in the ceramics category and was awarded with a Jury mention.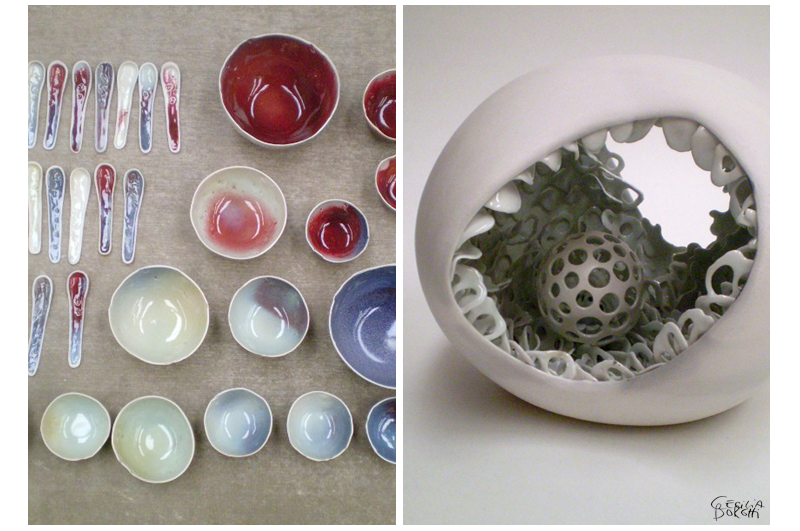 Jardin de porcelana es una obra compuesta por 15 piezas en forma de flor, está inspirada en los decorados que suelen cubrir la superficie de floreros, platos y otros objetos utilitarios.

Las imágenes llegaron al sitio web internacional de diseño Designboom y de ahí a una gran variedad de publicaciones incluyendo China Ceramics Illustrated.
Porcelain Garden (2012) was an installation consisting of 15 indidual porcelain pieces inspired by the decorative floral motifs often found in utilitarian home objects.

This work was featured in online site Designboom, reaching to a wide arch of publications that included China Ceramics Illustrated magazine.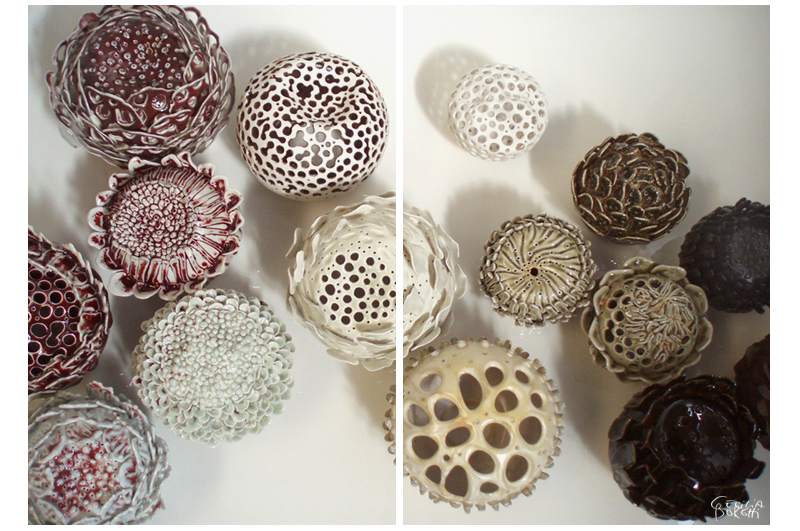 Los dibujos de la serie Cotidiana, que realicé entre 2010 y 2011 fueron la puerta de entrada a la exploración de imágenes de tipo onírico.

Las obras sobre papel negro indagaban en las imágenes nocturnas, producto del sueño y el estado de vigilia. Los dibujos sobre papeles claros eran representaciones de la vida cotidiana observada a través de la lente de la ensoñación. Parte de esta serie fue también exhibida en Sputnik Galería.
Drawings of the Cotidiano series I made in between 2010 and 2011 were my first exploration of oniric images.

The works on black paper were inspired by the stage of dreaming. The drawings on beige paper were representations of everyday life seen through a reverie lens. Some of these works were also exhibited at Sputnik Galería.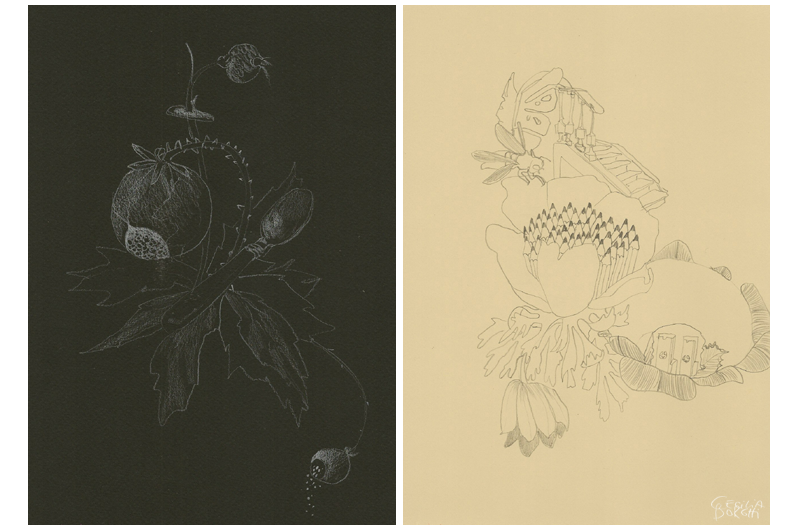 El conjunto Fenix del año 2010 fue merecedor de una mención en el 99° Salon Nacional de Artes Visuales en la categoría Cerámica. La técnica de modelado libre de apliques con barbotina que había comenzado a explorar se extendió a mis dibujos, replicándola con chorreaduras de pintura sintética.

Este diálogo entre dibujo y cerámica resultó en el descubrimiento de un modo de trabajo basado en la experimentación cruzada de técnicas que hoy se refleja en múltiples aspectos de mi obra.
Fenix (2010), a set of six porcelain shapes was deserving of a Mention in the 99th National Visual Arts Salon in the Ceramics category. The free modelling slip appliqué technique that I had begun to explore in that work spread later to my drawings, replicated with drips of synthetic paint.

This dialogue between my drawings and ceramics resulted in cross-experimentation. This way of working is reflected in multiple aspects of my work.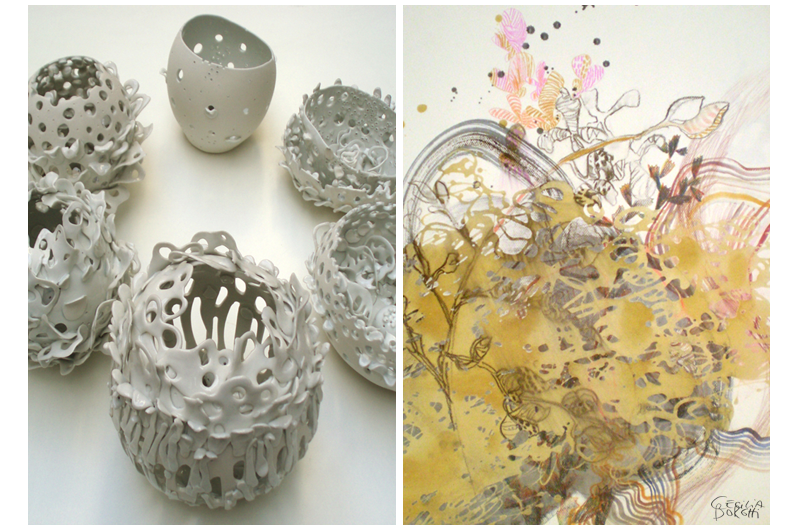 Jardín Colgante de 2009 representó mi ingreso inesperado al mundo del arte al recibir una mención del jurado en la categoría Cerámica del 98° Salón Nacional de Artes Visuales.

Fue exhibida en el Palais de Glace, en la vidriera del Hospital Vélez Sarfield de Museo Urbano y marcó el estilo de mi trabajo por los siguientes siete años.
Hanging Garden (2009) represented my unexpected entry into the art world by receiving a jury mention in the Ceramic category of the 98th National Hall of Visual Arts.

It was exhibited at the Palais de Glace and marked the style of my work for the next seven years.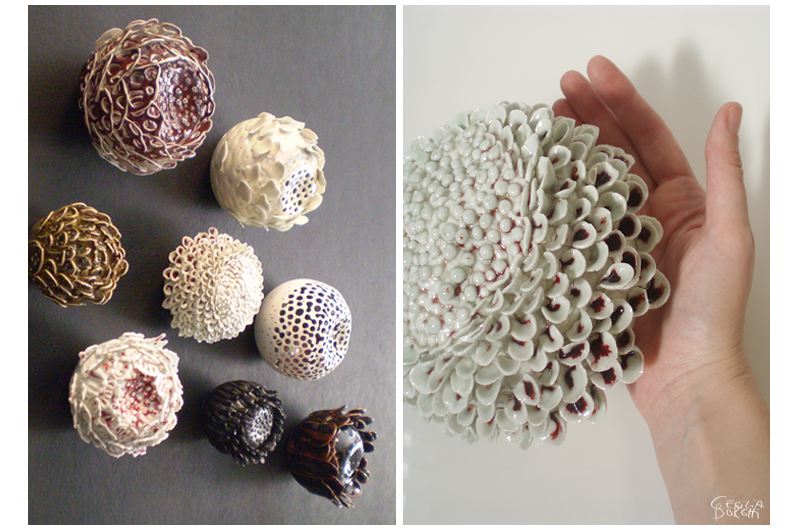 Me presenté en sociedad en abril de 2008 en la Feria Puro Diseño 08 con una colección de piezas en porcelana perforada que aceptaban con incomodidad la etiqueta de "utilitarias". Esa serie titulada Marea fue luego acompañada por los floreros Árbol y la taza Espuma. Estas piezas llegaron a la tienda del SFMOMA (Museo de Arte Moderno de San Francisco, USA) en el año 2010.

Este andar sinuoso entre los mundos del diseño, el arte y la artesanía han marcado mi labor desde un comienzo y son el reflejo de mi curiosidad e interés por el mundo del trabajo manual y los oficios.
In 2008 I presented my design porcelain pieces in work in Puro Diseño trade show. The collection included perforated pieces that uncomfortably accepted the "utilittarian" label. The Tide bowls were later flanked by the Tree vases and the Foam cup. A selection of these pieces was presented in the gift shop at SFMOMA (USA) in 2010.

This sinuous walk between the worlds of design, art and crafts have marked my practice from the beginning and are the reflection of my curiosity and interest in manual work.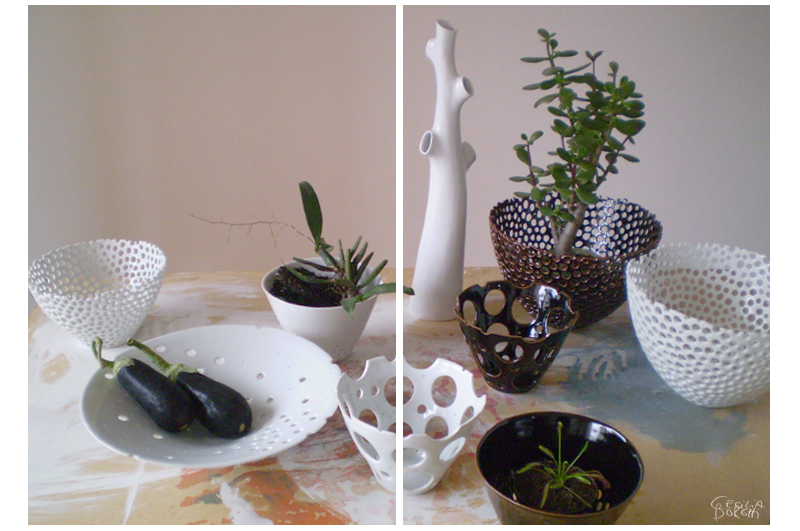 Cecilia Borghi replantea lo decorativo: sus piezas de porcelana esmaltadas modeladas a mano son tan exquisitas por sus texturas y matices como inquietantes por su exuberante crecimiento orgánico. Sus dibujos de jardines nocturnos, los jardines de porcelana colgantes con diseños de reminiscencia floral o submarina y Fénix, un conjunto de formas ovoides invadidas por gérmenes de vida en perpetua regeneración, configuran un universo barroco y fascinante.

Sylvie Argerich, directora y curadora de Sputnik Galería, Buenos Aires.
Cecilia Borghi rethinks the decorative: her hand-modelled porcelain pieces are as exquisite for their textures and nuances as disturbing for their exuberant organic growth.
Her drawings of night gardens, the hanging porcelain gardens with floral or underwater reminiscent designs and Phoenix, a set of ovoid shapes invaded by germs of life in perpetual regeneration, make up a fascinating and baroque universe.

Sylvie Argerich, director and curator at Sputnik Gallery, Buenos Aires.