BIO: de dónde vengo y a dónde voy




Mis dibujos, objetos cerámicos y joyas contemporáneas, representan diseños florales inspirados en los decorados de los floreros y figurines que poblaban las estanterías de la fábrica de porcelanas de mi familia.
Fue ahí donde aprendí un oficio, descubrí un material que me atrae por su gran versatilidad y una forma de pensar que se manifiesta a través de la línea.
Ese lugar dejó de existir pero su historia remite a una época en la que el trabajo manual y las artes decorativas eran muy apreciados.

Provengo de una familia de escultores y ceramistas. Los días de mi infancia tuvieron como telón de fondo la fábrica de porcelanas. Casi sin querer, jugando, aprendí algunos de los oficios que llevan a la creación de objetos decorativos en materiales cerámicos.
BIO: where I come from and where I go




My drawings, ceramic objects, and contemporary jewellery represent floral designs inspired by the decorations of the vases and figurines that populated the shelves of my family's porcelain factory.
It was the place where I learned a craft, I discovered a material that attracted me because of its great versatility and a way of thinking that manifests itself through the line.
That place ceased to exist but its history harks back to a time when manual work and decorative arts were highly appreciated.

I come from a family of sculptors and ceramicists. The days of my childhood had the porcelain factory as a backdrop. While playing there, I learned some of the skills that lead to the creation of decorative objects crafted in ceramic materials.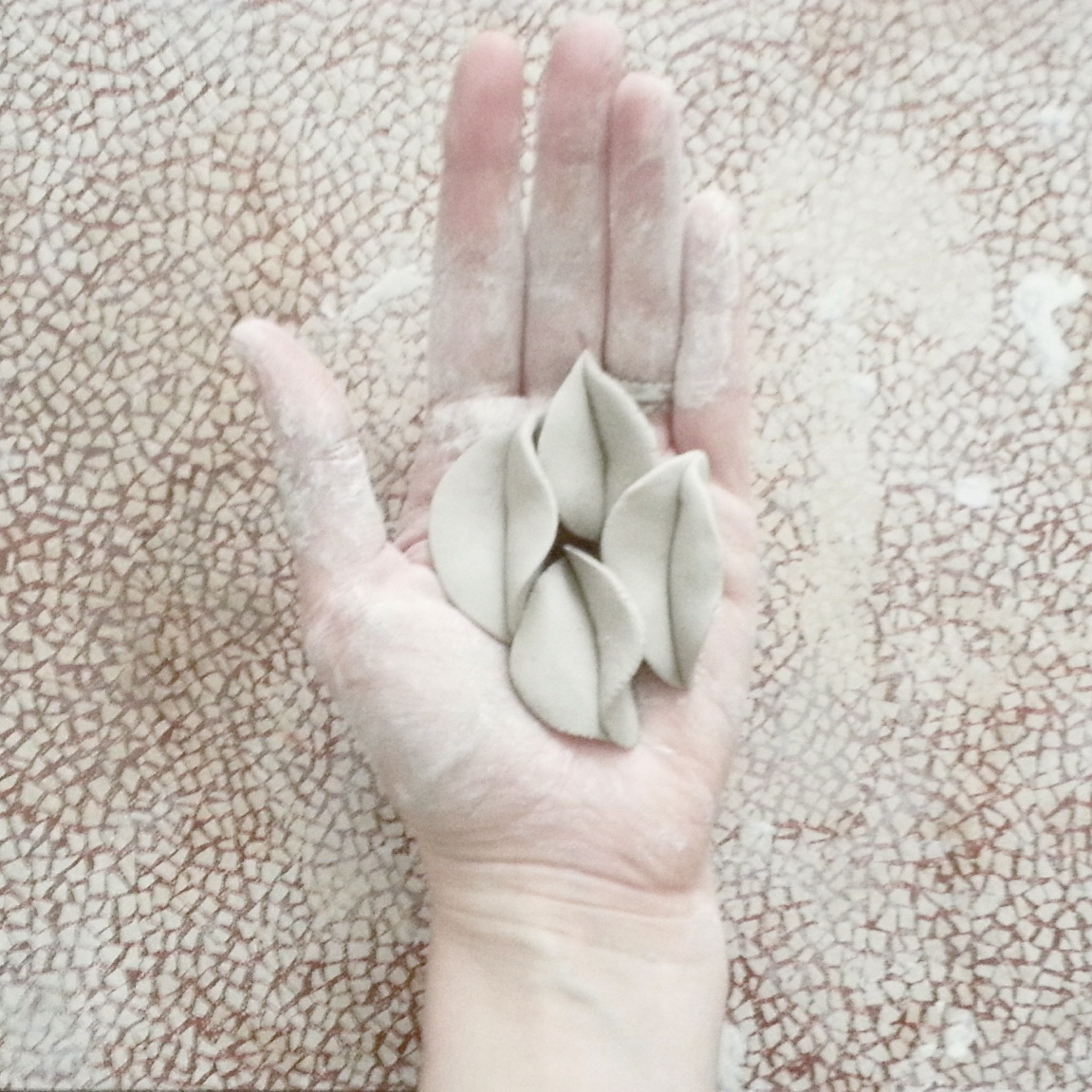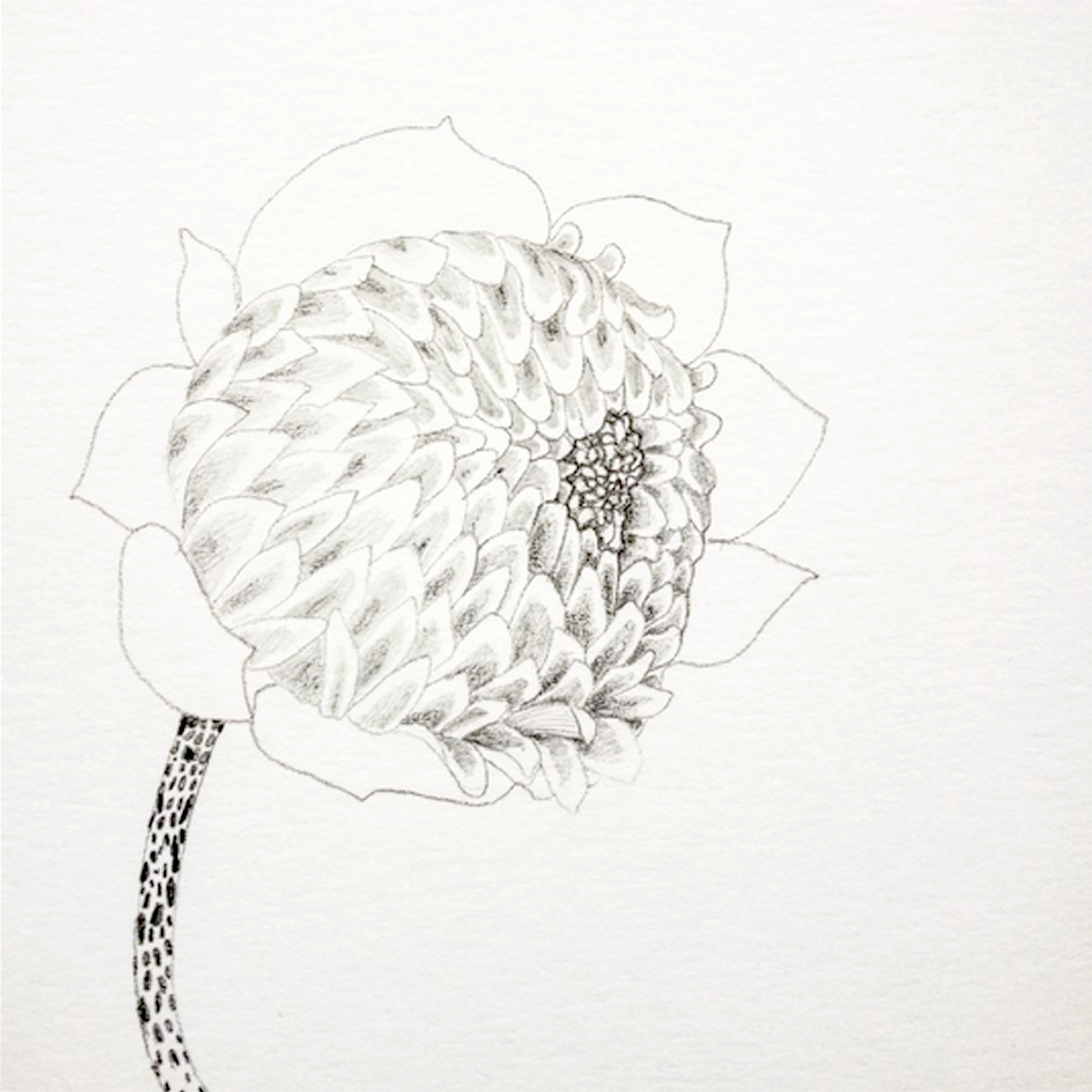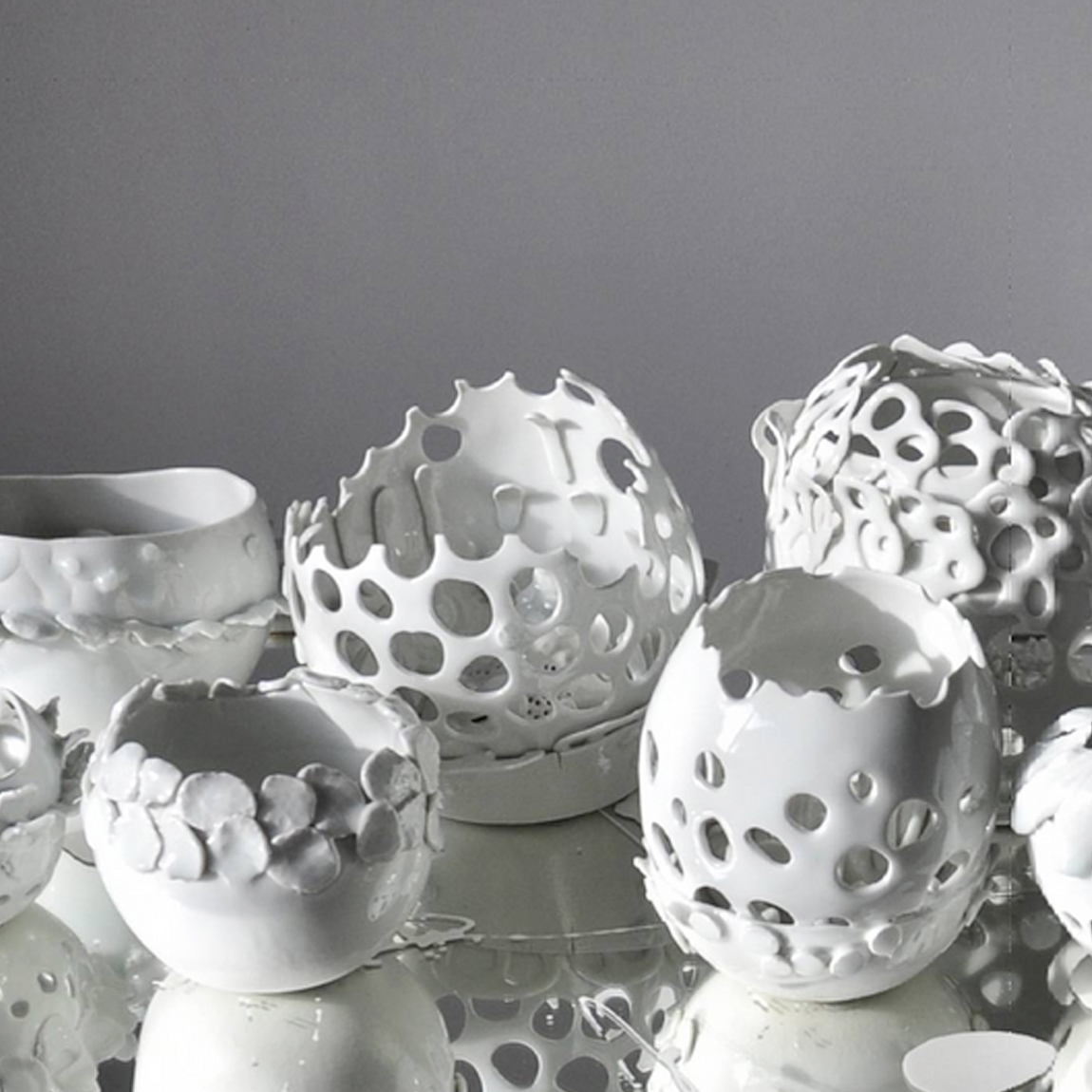 Durante mi adolescencia estudié en la Escuela Rogelio Yrurtia donde recibí una educación artística tradicional cursando talleres de pintura, escultura, dibujo y grabado. Más tarde me especialicé en pintura de caballete en La Cárcova, en las cátedras de Horacio D'Alessandro y Miguel Ángel Bengochea, con Ricardo Laham y Jesús Marcos como ayudantes.
El descubrimiento de libros de mitología griega y arte japonés de mi abuelo, la exuberancia del estilo Art Noveau y los espectáculos de ballet a los que me llevaba mi mamá fueron mis grandes inspiraciones durante mi paso por la Escuela Superior, a veces para gran decepción de mis maestros.

Ya en aquella época me gustaba sacar fotos con mi reflex y tomé cursos de composición fotográfica y revelado en blanco y negro. También me dí el gusto de aprender serigrafía, habilidad que me sería útil algunos años después cuando me ofreciera de ayudante de mi papá en el taller de producción de calcos vitrificables que él mismo había instalado y donde producía parte de los decorados que se aplicaban a los floreros hechos en la fábrica.

El final de mis años como estudiante de bellas artes coincidió con una breve incursión en la carrera de Letras en la UBA, desarrollando un particular interés por las clases de Literatura española medieval dictadas por el Doctor Germán Orduna.
Aunque los libros siempre fueron importantes en mi vida, desde aquel entonces juegan un rol fundamental en el desarrollo de mis ideas.
During my teenage years, I studied at the Rogelio Yrurtia School where I received a traditional art education in painting, sculpture, drawing and engraving. Later I specialized in easel painting in Ernesto de La Cárcova school, under the professorship of Horacio D'Alessandro and Miguel Ángel Bengochea, with Ricardo Laham and Jesús Marcos as tutors. The discovery of books of Greek mythology and Japanese art of my grandfather, the exuberance of the art nouveau style and the ballet that my mother took me to were my great inspirations during that time, sometimes to the disapproval of my teachers.

Already at that time, I liked to take pictures with my reflex camera so I took courses on photographic composition and black and white processing. I also learnt about screen printing, a skill that would be useful some years later when I worked as an assistant in the ceramic decals workshop installed by my father for the vases made in the factory.

The end of my years as a student of fine arts coincided with a brief foray into Literature in the Universidad de Buenos Aires, developing a particular interest in medieval Spanish classes by Dr Germán Orduna. Although books were always important in my life, since then they have played a fundamental role in the development of my ideas.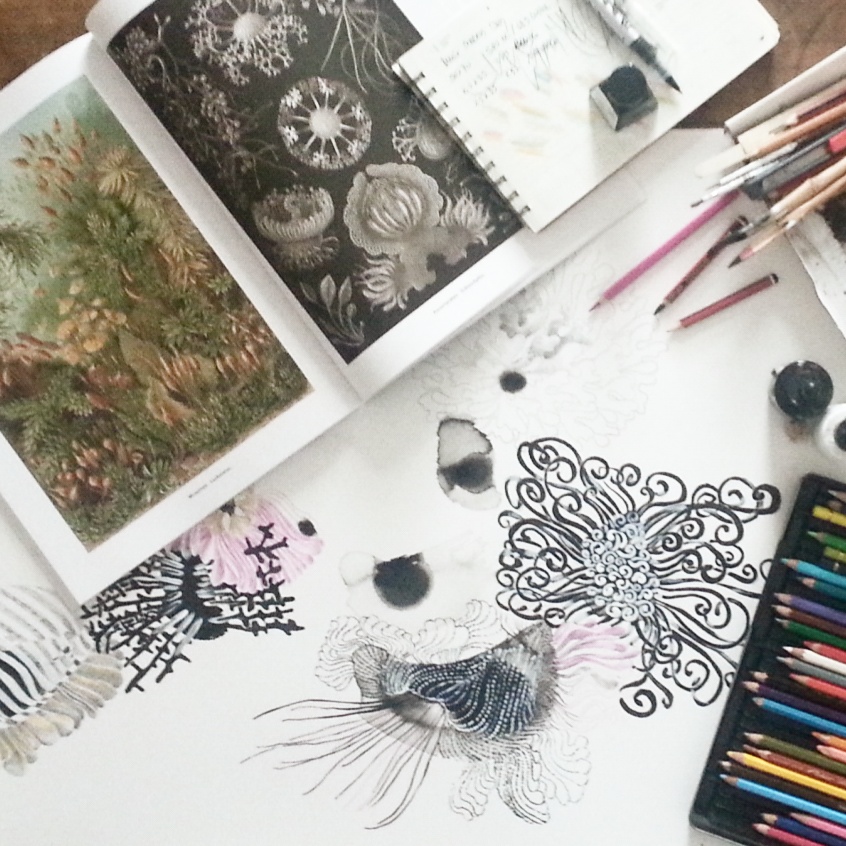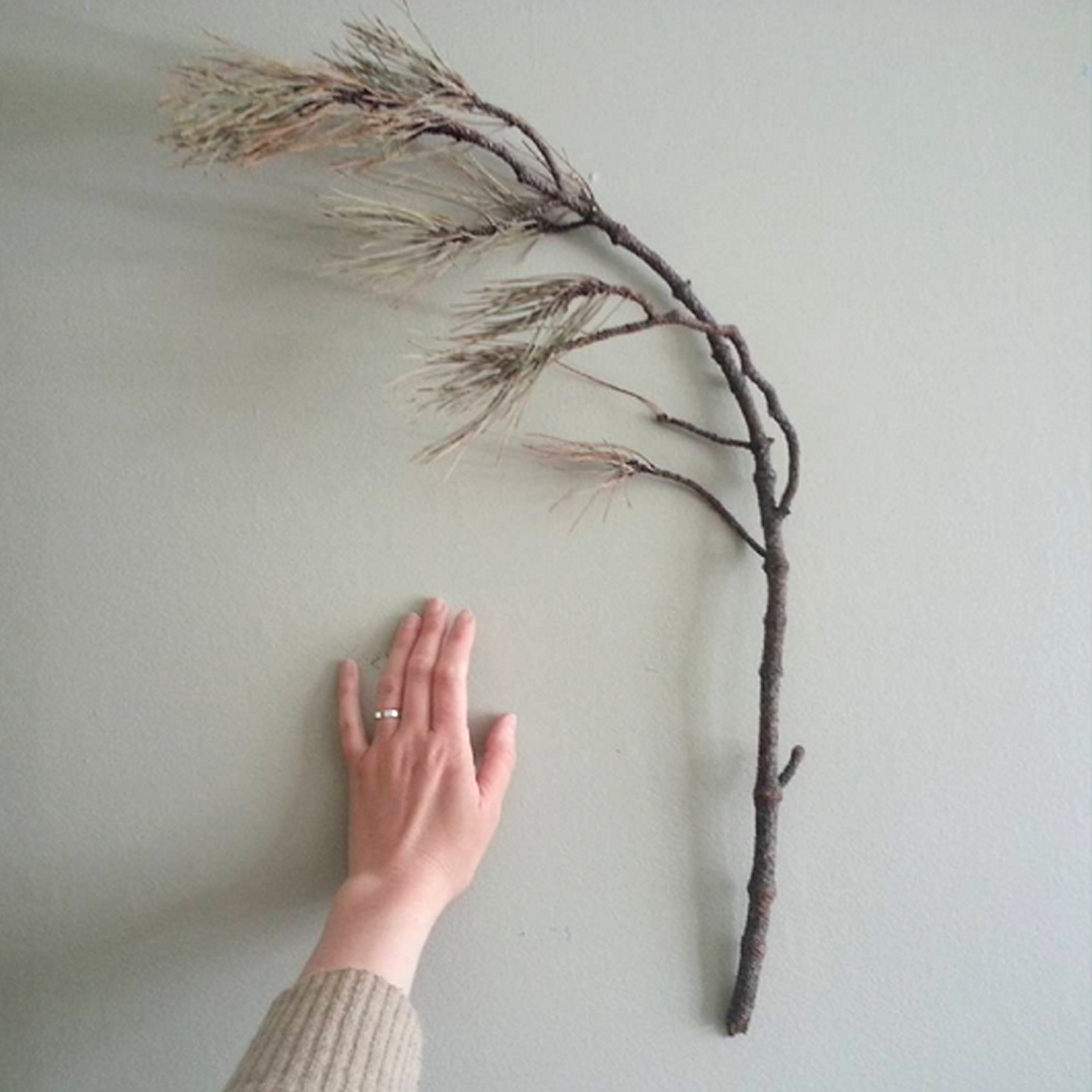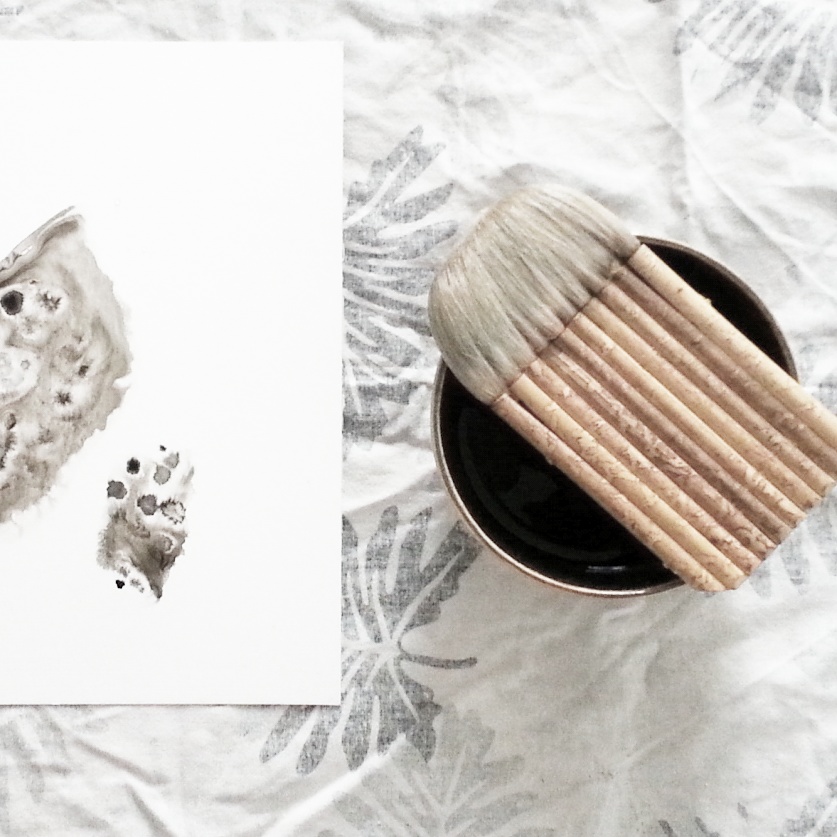 El paso de la escuela a la fábrica me sirvió para adquirir otras habilidades y descubrir nuevos intereses. Todavía me faltaba recorrer más camino antes de comenzar a producir mi obra propia. Por aquellos años concurrí al taller de Julio Lavallén a quien siempre admiré por su técnica y maestría de la pintura de figura humana y que me ayudó a afianzar mi pasión por el dibujo.

El espacio de trabajo en la fábrica demostró ser muy enriquecedor y de a poco me atreví a crear mi propia línea de porcelanas. Incentivada por mis padres, en el año 2008 participé en Feria Puro Diseño donde presenté mi primera colección de objetos en porcelana dando inicio a un ciclo en el cual disfruté aprendiendo a producir y vender mi propio trabajo en toda la República Argentina e incluso exportando a tiendas como Cómodo en Chile y S.F. MoMA Museumstore, Estados Unidos.

Un año más tarde decidí presentarme al 98° Salón Nacional de Artes Visuales con una serie de flores en porcelana y para mi total sorpresa recibí una mención especial del jurado. Este hecho inesperado me ayudó a imaginar la posibilidad de entrar al mundo del arte por la tangente, eligiendo un material que en aquel momento todavía era considerado como perteneciente un arte menor o decorativo pero que tomaría un gran protagonismo en los tiempos venideros.
The transition from school to the factory helped me acquire other skills and discover new interests. I still had some way to go before starting to produce my own work. In those years I attended lessons at Julio Lavallén's studio, who I always admired for his technique and mastery of human figure painting and helped me to consolidate my passion for drawing.

The workspace in the factory proved to be very enriching and I gradually ventured to create my own porcelain range. In 2008, encouraged by my parents, I presented my first collection of porcelain objects starting a cycle in which I enjoyed learning to produce and sell my own work in Argentina and even exporting to stores like Cómodo in Chile and SF MoMA Museumstore, United States.

A year later I undertook to participate in Argentina's National Art Prize with a series of porcelain flowers and, to my surprise, I received a special mention from the jury. This unexpected event helped me imagine the possibility of entering the art world tangentially, choosing a material that, at that time, was still considered as belonging to a minor or decorative art but that would gain prominence in the years to come.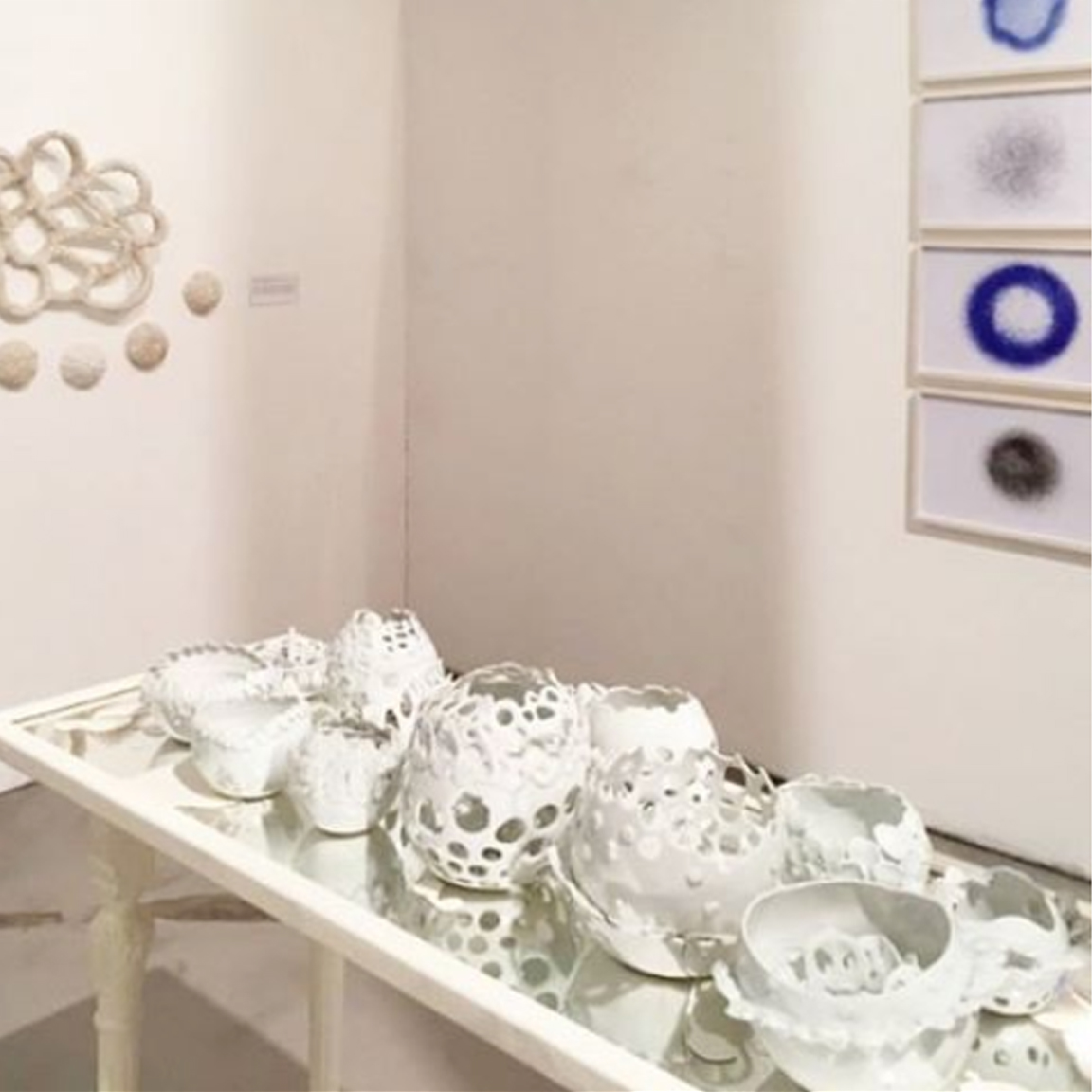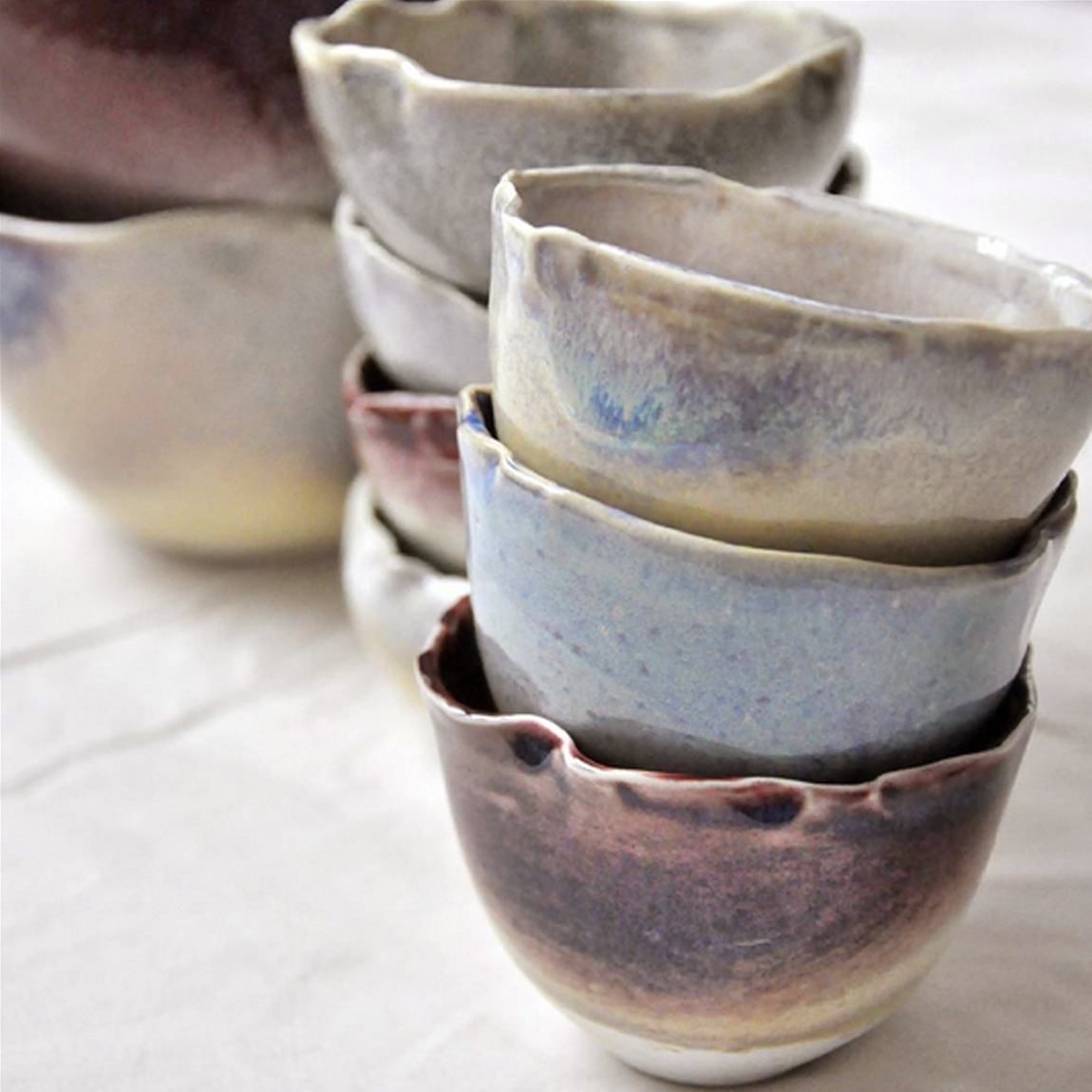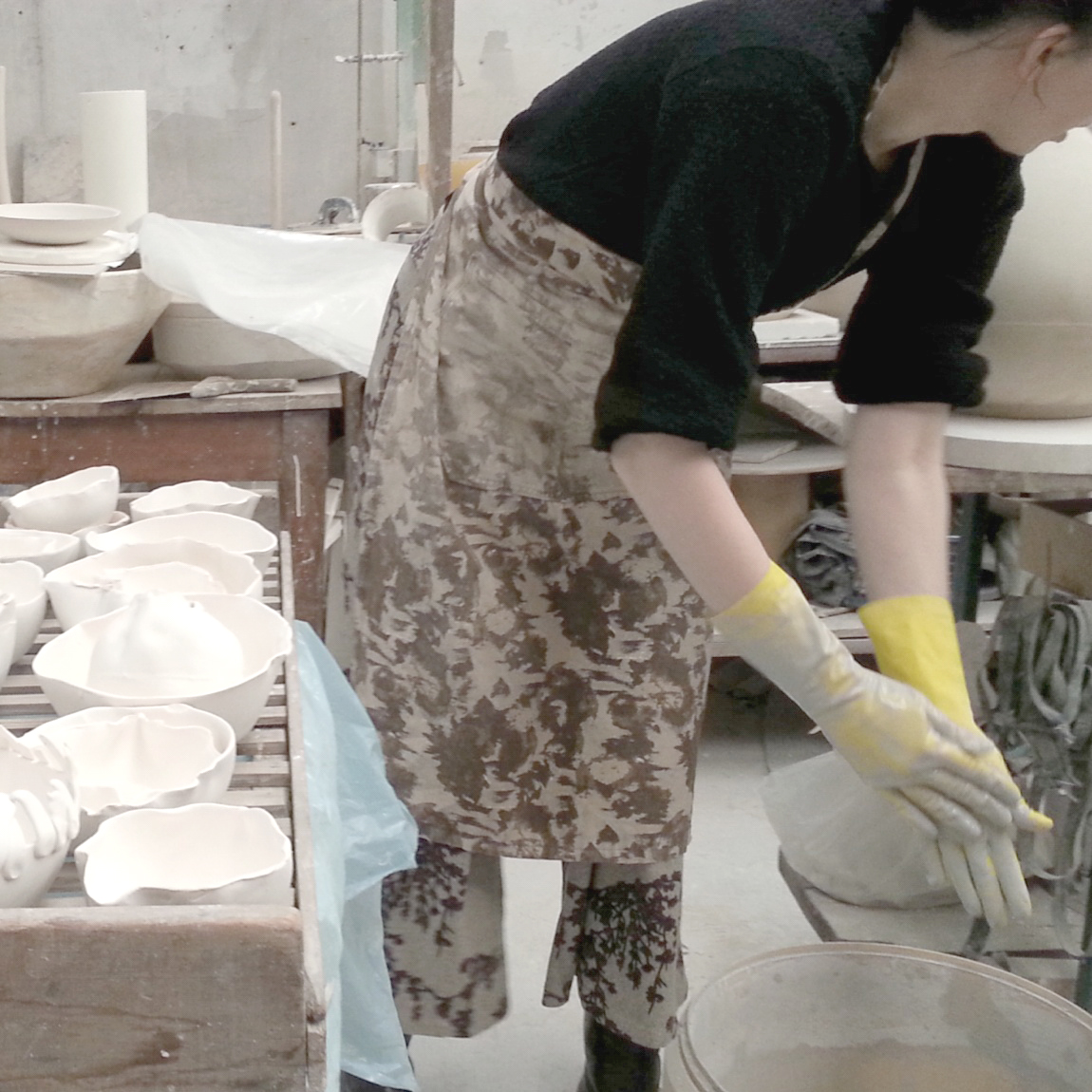 En 2013 fui invitada por la curadora y galerista Sylvie Argerich a formar parte de la muestra Bestiario en Galería Sputnik y me alejé de la producción en serie para enfocarme exclusivamente en la creación de piezas únicas, reencontrándome con el dibujo como lenguaje en diálogo con mis porcelanas.

En esta nueva etapa tuve la suerte de ser distinguida en salones nacionales, exhibir mi obra en diferentes galerías y museos argentinos y del exterior y ver mi trabajo difundido en publicaciones de la talla de China Ceramics Illustrated y Designboom.

La transformación vino acompañada por una profundización en la estética de lo vegetal que me permitió despegarme de la tradición de mis maestros y comenzar así a recorrer mi propio camino, celebrando el hecho de que las formas orgánicas, las curvas y la asimetría me mantuvieran siempre en el terreno de lo femenino.
In 2013 I was invited by the curator Sylvie Argerich to be part of the exhibition Bestiario, featuring contemporary ceramic art pieces, in Sputnik Gallery and I moved away from serial production to focus exclusively on the creation of unique pieces, rediscovering drawing as a language in dialogue with my porcelain.

In this new stage, I was lucky to be selected to exhibit my work in different galleries and museums in Argentina and abroad and see my work featured in publications such as China Ceramics Illustrated and Designboom.

This transformation was accompanied by a deepening in the aesthetics of the vegetal that allowed me to detach myself from the tradition of my teachers and begin to walk my own path with impunity, celebrating the fact that organic forms, curves and asymmetry always kept me in the terrain of the feminine.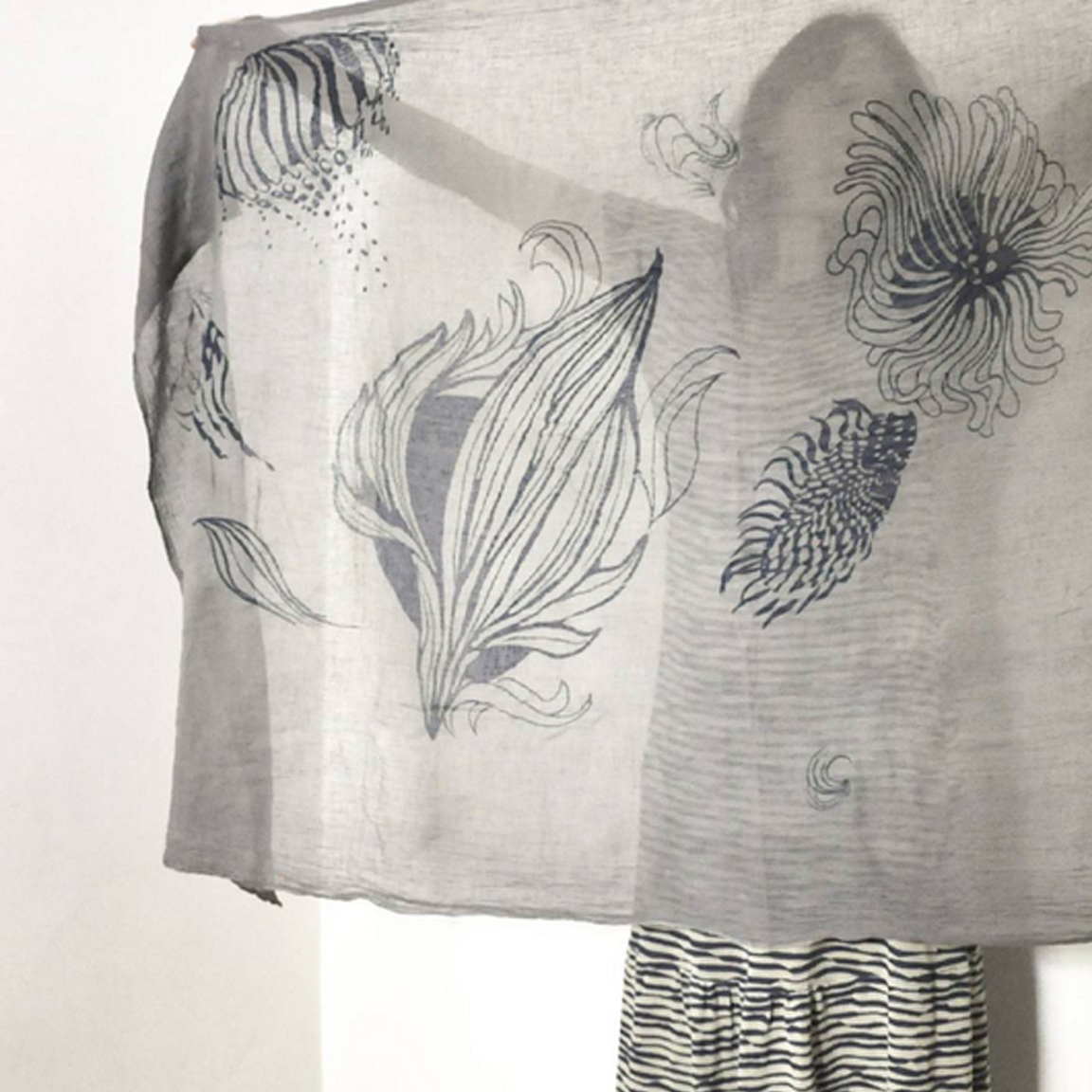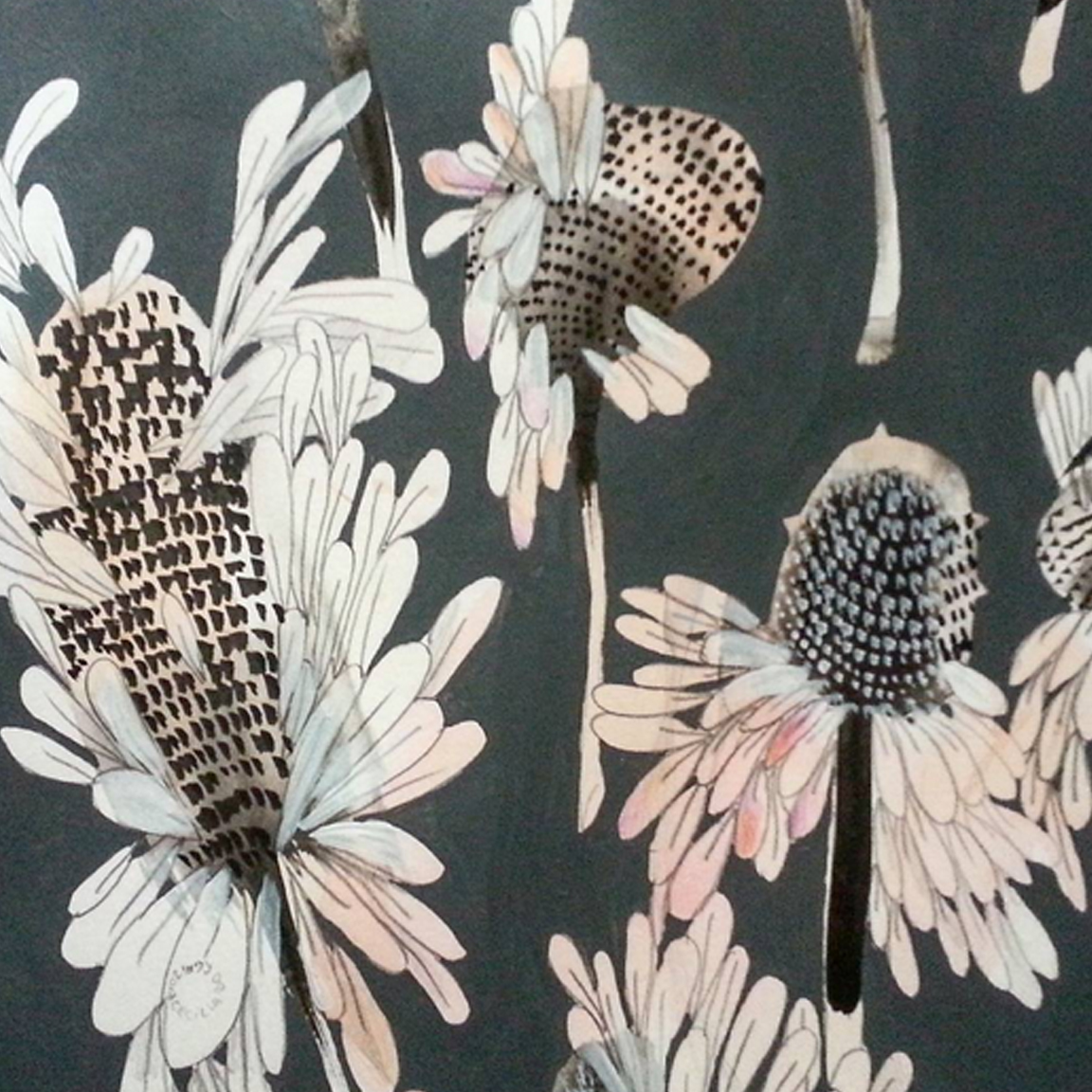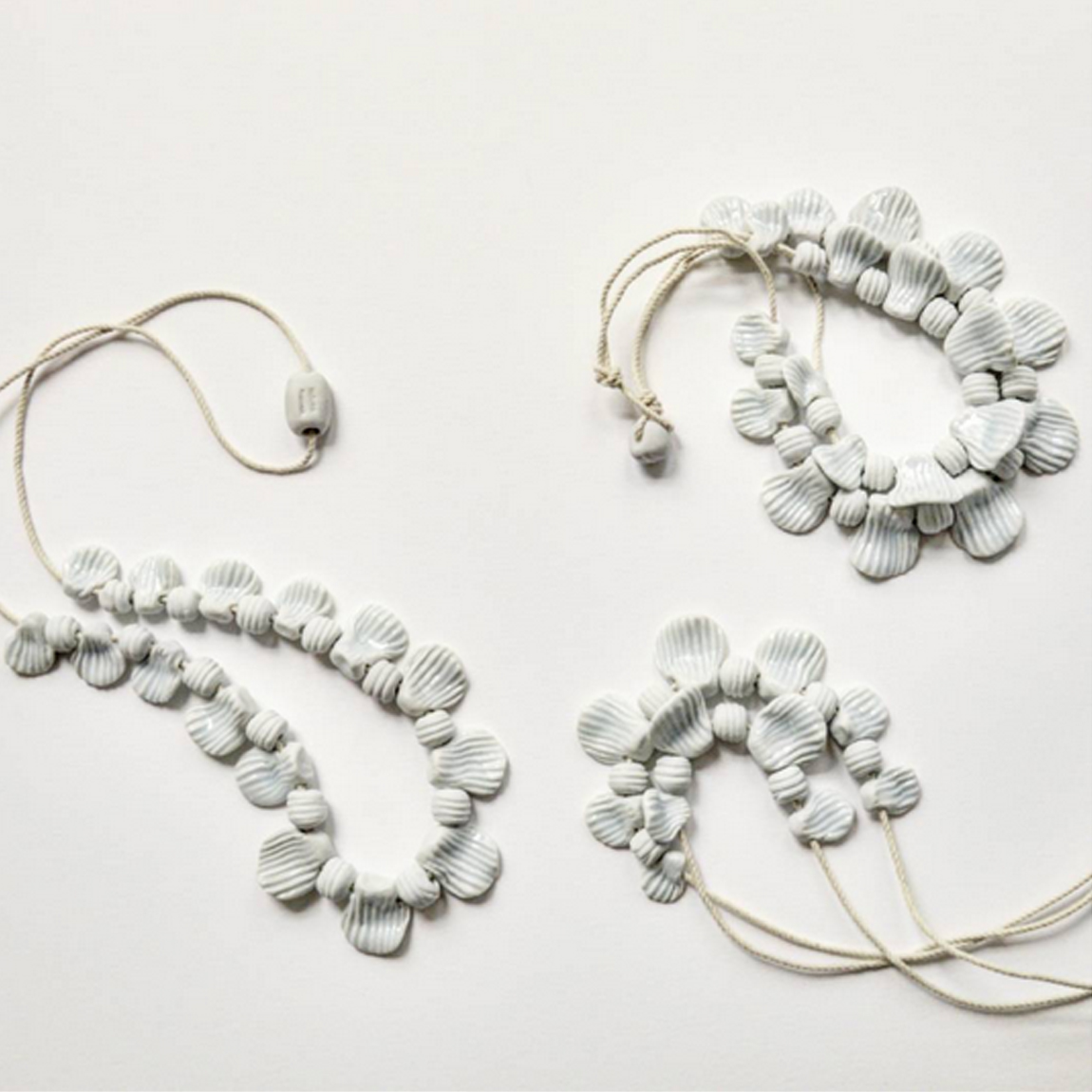 En 2014, la joyera Laura Patrón Costas, me motivó a desarrollar una línea de collares con dijes de porcelana que me llevó explorar un nuevo espacio, el del cuerpo humano.
Las joyas que fui creando captaron la atención de la curadora norteamericana Bryna Pomp gracias a quien fui invitada a participar en LOOT: MAD About Jewelry 2016, evento internacional de joyería artística contemporánea que se realiza anualmente en el Museo de Arte y Diseño de Nueva York.

La búsqueda de nuevos caminos me impulsó a asistir al taller Libro Ilustrado, Libro Álbum dictado por Cecilia Afonso Esteves, y de a poco me animé a experimentar en el terreno de la ilustración aceptando una propuesta para realizar un dossier especial por los diez años de Revista Living y encarando el desafío de desarrollar un estampado para la primera colección textil de Patrón, tienda especializada en joyas de autor y accesorios de diseño.

La curadora Oli Martinez me devolvió al mundo de la cerámica integrando mi trabajo a la amplia colección de piezas de renombrados ceramistas argentinos que presenta en Tokonoma, tienda que desde el año 2015 marca tendencia ofreciendo objetos que se ubican en la intersección entre el arte y el diseño.
In 2014, the jeweller Laura Patrón Costas, motivated me to develop a line of porcelain necklaces that led me to explore a new space, that of the human body. The pieces I created caught the attention of North American curator Bryna Pomp, thanks to whom I was invited to participate in LOOT: MAD About Jewelry 2016, an international event that takes place annually at the Museum of Art and Design in New York.

The search for new paths impelled me to attend the workshop by illustrator Cecilia Afonso Esteves and I felt encouraged to experiment in the field of illustration by accepting a proposal to make a special dossier for the tenth anniversary of Living Magazine. I later accepted the challenge of developing a print for the first textile collection of Patrón, a store specializing in designer jewellery and accessories.

The curator Oli Martinez returned me to the world of ceramics by integrating my work into the wide collection of pieces by renowned Argentine ceramicists and potters that she presents in Tokonoma, a store that since 2015 has been setting the trend of offering objects that are located at the intersection between art and design.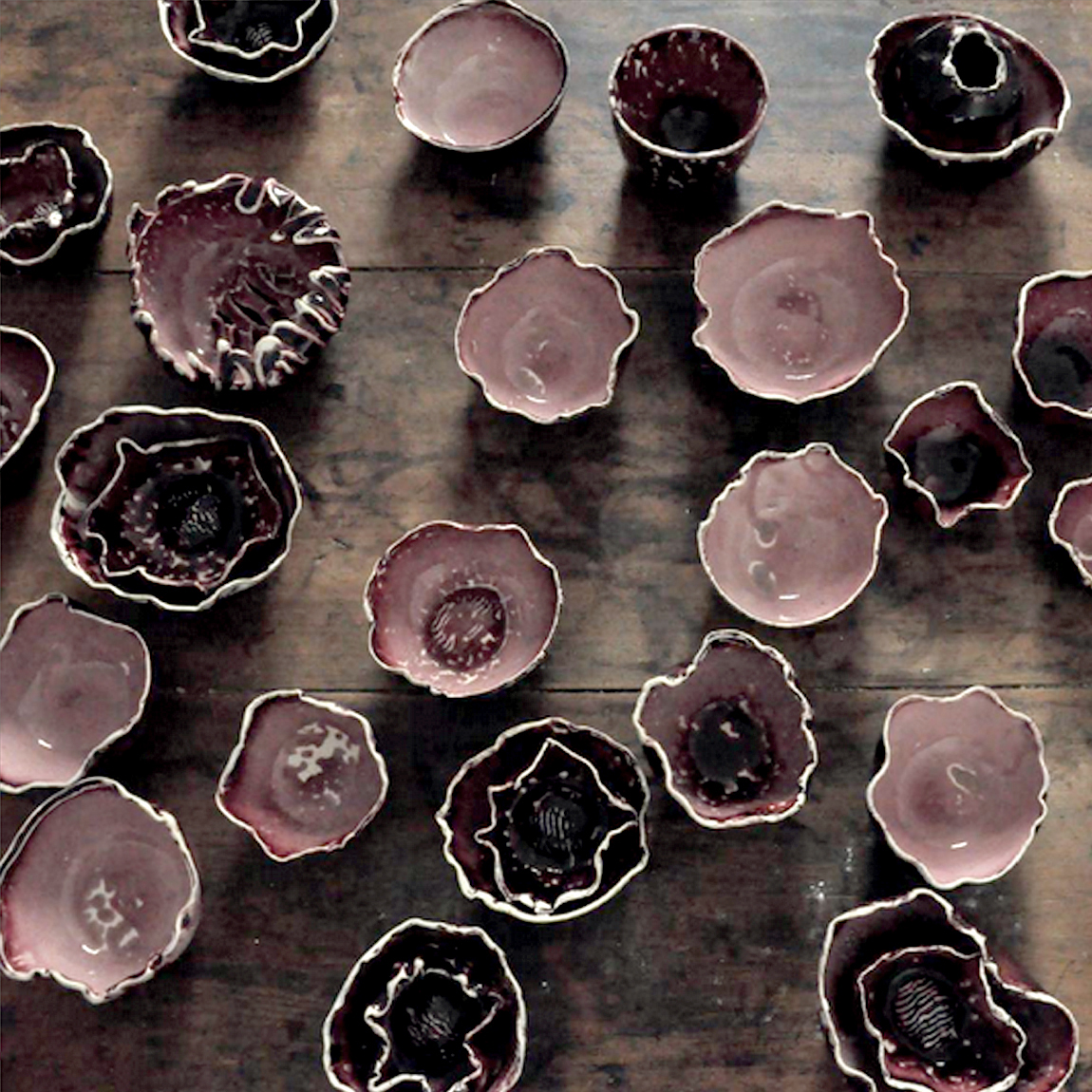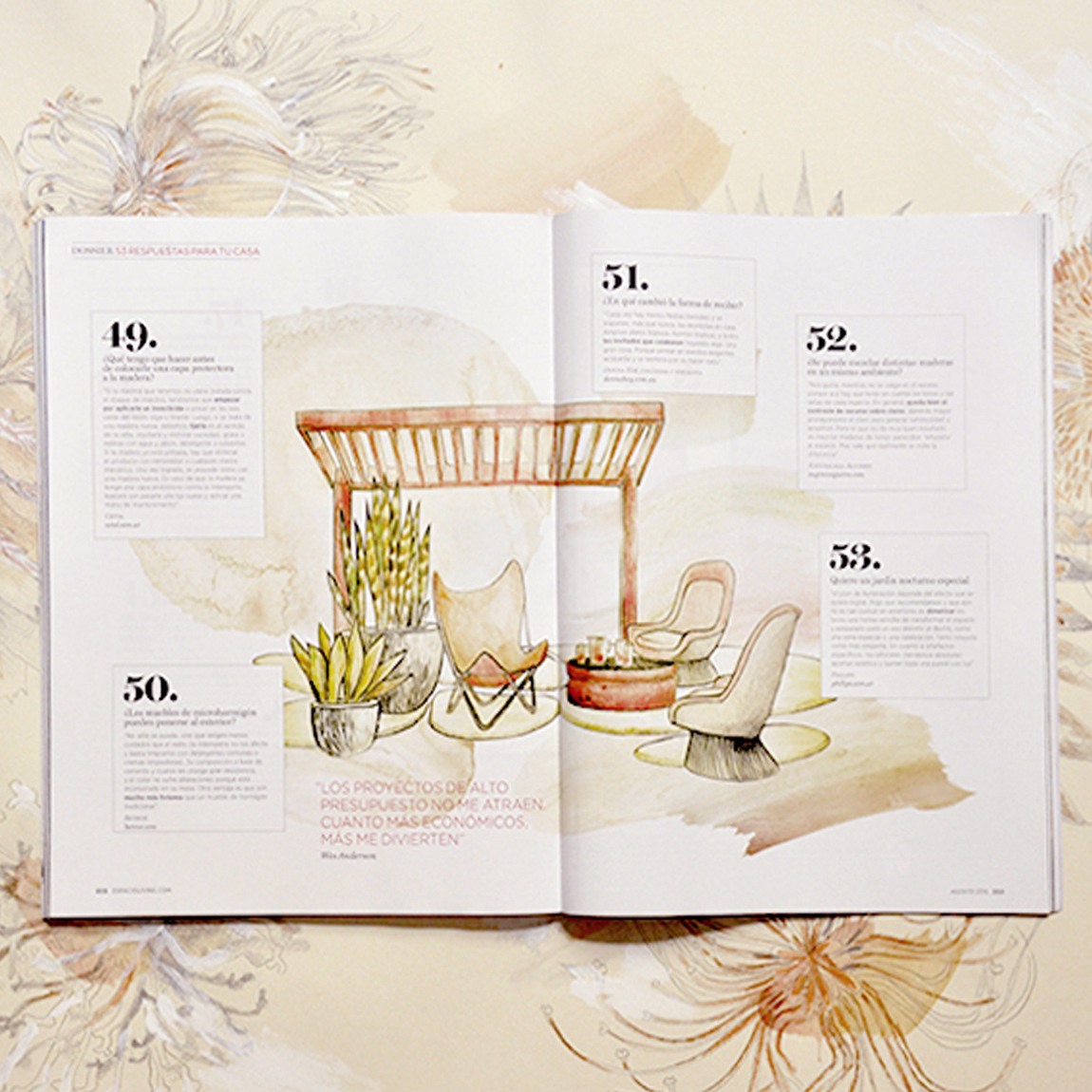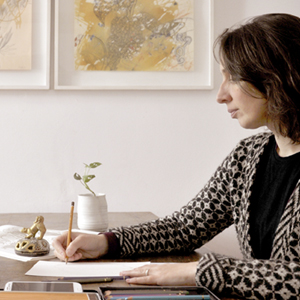 Actualmente continúo trabajando en mi propia obra y colaboro en proyectos de artistas y diseñadores que encuentran en mi trabajo las cualidades necesarias para complementar sus proyectos.

Las tiendas que presentan mi trabajo son:

- Patrón : Malabia 1644, Palermo - joyería, porcelanas y dibujos
- Tokonoma : Cabrera 5037, Palermo - objetos en porcelana
- Merecido: Arenales 1239, Rue Des Artisans, Recoleta - dibujos y joyería en porcelana
- Sentido: Cabello 3791 PB A, Recoleta - dibujos y piezás únicas en porcelana
- El Pez Enmarcado: venta online de dibujos e ilustraciones

A pesar de lo incierto de la travesía, estoy segura de que es éste el camino que deseo recorrer, revalorizando el lugar de los oficios, intentando repensar las formas de habitar este mundo y dedicando a cada tarea el tiempo requerido, permitiendo siempre que las manos expresen su poética.
I continue developing my own craft and I collaborate on projects of artists and designers who find in my work the necessary qualities to complement their projects.

Currently my work is only available in Buenos Aires City, Argentina, at selected stores:

- Patrón : 1644 Malabia st. Palermo district - jewellery, porcelain objects and drawings
- Tokonoma : 5037 Cabrera st. Palermo district - porcelain objects
- Merecido: 1239 Arenales st. Rue Des Artisans, Recoleta district - drawings and porcelain jewellery
- Sentido: 3791 Cabello st. PB A, Recoleta district - drawings and porcelain objetcs


Despite the uncertainty of the journey, I am sure that this is the path I want to travel, revaluing the place of the trades, trying to rethink the ways of inhabiting this world and dedicating to each task the time required, always allowing the hands to express their poetics.
CV
CECILIA BORGHI


Nacionalidad: argentina
Lugar de residencia: Ciudad de Buenos Aires


EXHIBICIONES
Y
RECONOCIMIENTOS

2016

- LOOT: MAD About Jewelry
Museum of Arts and Design - Nueva York, Estados Unidos
Invitada a participar

- BIGIÙ: Gioielli ceramici
Palazzo della Guardia - Salerno, Italia
Invitada a participar


2015
- Premio Itaú Artes Visuales
Centro Cultural Recoleta - Ciudad de Buenos Aires, Argentina
Seleccionada

2013

- 102° Salón Ncional de Artes Visuales
Palais de Glace - Ciudad de Buenos Aires, Argentina
Mención del jurado, categoría cerámica

- Bestiario
Galería Sputnik - Ciudad de Buenos Aires, Argentina
Muestra grupal, invitada a participar


2010

- 99° Salón Nacional de Artes Visuales
Palais de Glace - Ciudad de Buenos Aires, Argentina
Finalista, categoría cerámica

- Jardín
Almacén Secreto Club de Artistas - Ciudad de Buenos Aires, Argentina
Muestra individual


2009

- 98° Salón Nacional de Artes Visuales
Palais de Glace - Ciudad de Buenos Aires, Argentina
Mención del jurado, categoría cerámica

- VIII Salón Diario La Capital
Museo Castagnino de Rosario - Santa Fé, Argentina
Finalsita



ESPECIALIZACIONES

2018

- Tintes naturales por Carolina Dalmastro
Estudio particular - Ciudad de Buenos Aires, Argentina
Técnicas de teñido

- Taller intensivo de litografía por Lorena Pradal
UNA Extensión Cultutal - Ciudad de Buenos Aires, Argentina
Litografía


2017
- El Texto de la Obra por Silvia Gurfein
Estudio particular - Ciudad de Buenos Aires, Argentina
Técnicas de escritura

2013
- Libro Ilustrado y Libro Álbum por Cecilia Afonso Esteves
Estudio particular - Ciudad de Buenos Aires, Argentina
Ilustración

2010
- Clinica de producción y Análisis de obra por Daniel Fischer
Galería Bisagra - Ciudad de Buenos Aires, Argentina
Clínica de obra



ESTUDIOS

1995 / 1998
- Escuela Superior de Bellas Artes Ernesto de la Cárcova
Ciudad de Buenos Aires, Argentina
Capacitación artística, cátedra de Pintura.

1990 / 1994
- Escuela Municipal de Bellas Arte Rogelio Yrurtia
Ciudad de Buenos Aires, Argentina
Bachiller y Maestra Nacional de Dibujo

CV
CECILIA BORGHI


Born in: Argentina
Based in: Buenos Aires City


EXHIBITIONS
Y
RECOGNITION

2016

- LOOT: MAD About Jewelry
Museum of Arts and Design - NYC, United States
Invited to participate

- BIGIÙ: Gioielli ceramici
Palazzo della Guardia - Salerno, Italy
Invited to participate


2015
- Premio Itaú Artes Visuales
Centro Cultural Recoleta - Buenos Aires, Argentina
Selected

2013

- 102° Salón Ncional de Artes Visuales
Palais de Glace - Buenos Aires, Argentina
Mención del jurado, categoría cerámica

- Bestiario
Galería Sputnik - Buenos Aires, Argentina
Group exhibition, invited to participate


2010

- 99° Salón Nacional de Artes Visuales
Palais de Glace - Buenos Aires, Argentina
Finalist, ceramics cathegory

- Jardín
Almacén Secreto Club de Artistas - Buenos Aires, Argentina
Solo show


2009

- 98° Salón Nacional de Artes Visuales
Palais de Glace - Buenos Aires, Argentina
Jury mention, ceramics cethegory

- VIII Salón Diario La Capital
Museo Castagnino de Rosario - Santa Fé, Argentina
Finalsita



TRAINING

2018

- Tintes naturales by Carolina Dalmastro
Buenos Aires, Argentina
Natural dyeing techniques

- Taller intensivo de litografía by Lorena Pradal
Buenos Aires, Argentina
Lithography


2017
- El Texto de la Obra by Silvia Gurfein
Buenos Aires, Argentina
Writting techniques for artists

2013
- Libro Ilustrado y Libro Álbum by Cecilia Afonso Esteves
Buenos Aires, Argentina
Illustration

2010
- Clinica de producción y Análisis de obra by Daniel Fischer
Buenos Aires, Argentina
Art clinic seminar



EDUCATION

1995 / 1998
- Escuela Superior de Bellas Artes Ernesto de la Cárcova
Buenos Aires, Argentina
Degree in painting

1990 / 1994
- Escuela Municipal de Bellas Arte Rogelio Yrurtia
Buenos Aires, Argentina
Training in painting, sculpture, engraving and drawing